Pengzhou City, Sichuan Province: Recap of Recent and Earlier Persecution Cases against Falun Gong
(Minghui.org) Since the Chinese Communist Party (CCP) started its "Zero-Out" campaign in 2020 – an escalated harassment operation targeting every Falun Gong practitioner on the government's blacklist – the Pengzhou City Political and Legal Affairs Committee in Sichuan Province have mobilized local police and residential committees to harass Falun Gong practitioners and their family members in an attempt to force the practitioner to renounce their belief.
Falun Gong, also known as Falun Dafa, is a mind-body practice based on the principles of Truthfulness-Compassion-Forbearance.
The Political and Legal Affairs Committee, an extra-judiciary agency given power to override the public security and judiciary branches, has been tasked with orchestrating the specific persecution policies.
According to the available information collected by Minghui.org, in 2021 alone, 202 Falun Gong practitioners in Pengzhou City were harassed and had their fingerprints taken against their will. There were another 45 practitioners who were arrested, 25 who had their homes raided, 9 detained and 2 sentenced. 
Many other practitioners were also targeted before the latest zero-out campaign. Particularly tragic, a four-and-half-year-old boy was left home alone after both of his parents were arrested and sent to labor camps for practicing Falun Gong. He fell into a freezer in May 2000 and was frozen to death. 
Below are some of the recent and earlier persecution cases.
Deaths and Sentencing
Ms. Huang Sulan, of Chengdu City, was arrested by Pengzhou City police on January 20, 2022. She died in a secret detention facility in a hotel three days later. Her remains were deposited at Pengzhou Funeral Hall. She was in her 50s.
Mr. Yang Xingye, of Zhihe Town, was arrested on April 11, 2020 for handing out Falun Gong materials. He was sentenced to four years in July 2021 by the Pengzhou City Court, and died in Pengzhou Detention Center on December 10, 2021.
Ms. Chen Dechun, 71, is a retired employee of the Changqing Factory. She was sentenced to three years and six months in prison by the Pengzhou City Court on March 9, 2021 for handing out materials about Falun Gong and persuading people to quit the CCP.
Arrests and Harassment
Ms. Ye Fang was arrested and had her home raided by several police officers on January 19, 2022. She was first held at the Xinjin Brainwashing Class and then the Chengdu City Detention Center.
Mr. Liu Jia, a 53-year-old Chengdu City resident, went to the nearby Pengzhou City on January 6, 2022. He was arrested by the Pengzhou police and is detained in the Chengdu City Detention Center. Another Falun Gong practitioner, Gong Min, of Pengzhou City, was arrested with him.
Mr. Zhou Jinba, a retired military officer from Pengzhou City, was arrested by several officers of the Guangming Police Station on January 6, 2022. His home was also raided. It's not clear where he is detained now.
Mr. Nie Zonghua was arrested and had his home raided by a dozen police officers at around 2 a.m. on December 1, 2021. They confiscated his bank card, social security card, salary card, and two cars. Mr. Nie is now being held at the Pengzhou City Detention Center.
Mr. Zeng Fanfeng, a worker for an electric power company, was arrested and had his home raided on November 30, 2021. He is now detained in Pengzhou City Detention Center.
Ms. Cai Daofeng was arrested at her daughter's house on November 23, 2021 by Zeng Yun, the director of Gexianshan Township's 610 Office (an extralegal agency created specifically to persecute Falun Gong), and several others. She was taken to Gexianshan Government Building and beaten to the point of being unable to walk because she refused to renounce her belief in Falun Gong.
Mr. Deng Chuanjiu from Gexianshan Township, was taken to the city government by agents of Pengzhou City 610 Officer on October 15, 2021, when he was supposed to be released after serving a four-year term for his faith. Because he refused to sign the statement to renounce Falun Gong, he was beaten and drenched in cold water by Zeng Yun, the director of the 610 Office. On November 22, Liao Xiaohui, deputy mayor of Gexianshan Town, and Zeng Yun, again arrested Mr. Deng and took him to the township government office. They poured cold water on him, and beat him all over with metal pipes and batons.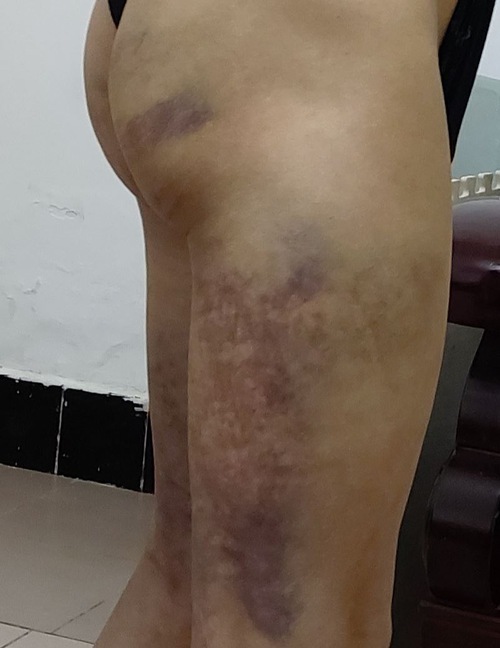 Severe bruising on Mr. Deng after being beaten
Ms. Wu Xiuying, from Danjingshan Town, had her home raided on October 5, 2021. She was then taken to Pengzhou City Psychiatric Hospital where she was injected with unknown drugs and held for twenty-seven days.
Previous Death Cases
Ms. Li Yongxiu from Longfeng Township was repeatedly arrested and held in in Pengzhou Brainwashing Center and a psychiatric hospital. She was given poisonous injections that caused her body to swell. She was tortured to the point that she could not take care of herself. She passed away on February 21, 2016 after a long period of harassment and intimidation.
Ms. Liao Changqiong, around 60 and from Munyang Town, was arrested multiple times since the onset of the persecution. In late December 2000, she went to Beijing to appeal for Falun Gong and was arrested by Zheng Guihua, the Party secretary in Munyang Town. She was severely beaten. The officers were wearing leather shoes. They kicked Ms. Liao all over and stepped on her, causing her to pass out several times.
After Ms. Liao's family took her home with a tricycle, they found that she had been tortured to the point that there was almost no unharmed flesh left on her body. She had ascites in the abdomen and rectal prolapse. She was bedridden for three and a half years.
In August 2010, Liu Zhengfang and several others from Mengyang 610 Office arrested Ms. Liao and took her to the Three Saint Temple Brainwashing Center in Guihua Town in order to force her to give up Falun Gong. It was suspected that they put toxic drugs in her meals, as her whole body felt weak and achy after she returned home. Her condition deteriorated daily. She passed away on February 29, 2012.
Mr. Hu Dingfang, from Longfeng Township, was surrounded by police officers from the Guankou Police Station while he was heading to grocery shopping in November 2009. He was stomped and beaten. He was bedridden and passed away in less than six months.
Ms. Tan Yanfang from Mengyang Township, was arrested and taken to a covert torture hall in June 2000, where she was tortured. The officials attempted to extort a huge amount of money from her. As she couldn't pay it, the officials forced her to do hard labor without pay during the day and beat her at night for two months. She was made to march the streets wearing a humiliating placard. The beating knocked out her incisors. She began to throw up blood every day later on and she was emaciated. She passed away in December 2003.
Ms. Ye Wenying was from Tianpeng Town. She was arrested by Jiang Huaigui and others from Pengzhou City West Police Station in June 2002 and placed in Pengzhou City Detention Center. Officers Wang Dong and Luo Ke beat her with metal rods and kicked at her chest. Once, Luo Ke dropped Ms. Ye against the concrete floor from a meter high and he said, "This is fun!" Ms. Ye suffered muscle atrophy, incontinence, and damaged stomach functions due to the torture. She was carried home on November 28, 2003 and passed away the same day. She was 61.
Ms. Liu Bangxiu was from Munyang Town. She was arrested and taken to Pengzhou Brainwashing Center by officers Liu Zhengfang and Qiao Lijun in 2003. Wang Dong and Luo Ke force-fed her with a paste made of 400 grams of cooking salt and a little cornstarch, and then took her to a cell with no water source. Ms. Liu felt extremely thirsty and writhed in agony all night. The officers later took her to a psychiatric hospital for further persecution. Not long after being taken home in 2003, she suffered from back pain and died suddenly shortly after. She was 34.
Ms. Tang Fafen, from Munyang Town, was arrested with her husband Zheng Weigang by Pengzhou City's 610 Office personnel in October 2002. She was held in the city's brainwashing center for months. The poor living condition caused her body to be covered with bloody scabies. Ten days after she was taken to Nanmusi Labor Camp on March 3, 2003, her life was in grave danger. She passed away two days after she was sent home. She was 32.
Mr. Tang Xiaocheng, from Longfeng Township, was arrested one night in May 2002, while riding his bicycle to put up Falun Gong posters. He was beaten and his mouth and nose bled. He was held at the Pengzhou City Psychiatric Hospital and died one month after being released. He was 40.
Mr. Yuan Shengqian, from Zhuwa Township, was arrested for going to Beijing to appeal for the right to practice Falun Gong. Officers of the local 610 Office beat him and forced him to march on the street with a humiliating placard hanging on his body. While he was in Xinhua Labor Camp, he was tortured and suffered serious internal injuries. He passed away on April 27, 2002. He was 46.
Ms. Zhou Biru was from Jiulong Township. She was arrested at home on January 30, 2002 by Zhao Yuhai, a police officer from the Guankou Police Station. Her home was raided. They accused her of "attacking the police" and beat her. Later she was taken to a detention center and held there for a week. She passed away one month after returning home. She was 55.
Ms. Wang Zhiying, from Yongding Township, was tortured to death on February 23, 2001. On March 20, her family was notified to take her body home.
Mr. Luo Shaoxiang was from Yongding Township. He was arrested in January 2001, after being suspected of covering the travel expenses for several Falun Gong practitioners to Beijing to appeal for Falun Gong. He was tortured in the local police station and died on February 23, 2001. He was 36.
Little You Jinxi was four and a half years old when his father Mr. You Quanfu and mother Ms. Yang Qihui were given "re-education through labor" terms in February 2000 for practicing Falun Gong. They were taken to the labor camps in Ziyang and Zizhong respectively. The little boy was left crying at home alone. His two aunties, Ms. You Quanfen and Ms. You Quanfang, were also sentenced for their shared faith in Falun Gong. With no one to care for him, Jinxi fell into a freezer and was frozen to death in May 2000. The labor camp did not allow Mr. You to take care of his son's funeral or see off his body.
Related article in Chinese:
Views expressed in this article represent the author's own opinions or understandings. All content published on this website are copyrighted by Minghui.org. Minghui will produce compilations of its online content regularly and on special occasions.