81-year-old Woman Imprisoned to Serve a Three-year Term from Six Years Ago
(Minghui.org) Ms. Wang Yuhe, an 81-year-old Dalian City, Liaoning Province resident, was taken to the Liaoning Province Women's Prison on December 31, 2021 to serve a three-year term for practicing Falun Gong.
Falun Gong, also known as Falun Dafa, is a spiritual discipline that has been persecuted by the Chinese communist regime since 1999.
Ms. Wang's ordeal started when she was arrested on July 21, 2014, with her daughter Ms. Sun Caiyan. While Ms. Wang was released on bail on August 19 that year, Ms. Sun remained in custody and was sentenced to three years and three months by the Shahekou District Court. She was taken to the Liaoning Province Women's Prison on June 30, 2015. A day later, Ms. Wang was sentenced to three years by the same court. She was forced to live away from home to avoid serving time.
Because Ms. Sun refused to renounce Falun Gong in prison, she was constantly beaten and verbally abused. The guards once shoved her under a bed upon finding her doing the Falun Gong exercises. They also handcuffed her arms behind her back and didn't remove the handcuffs even when she went to bed. On another occasion, they confiscated her blanket and turned on the fan when it was raining and the temperature had dropped.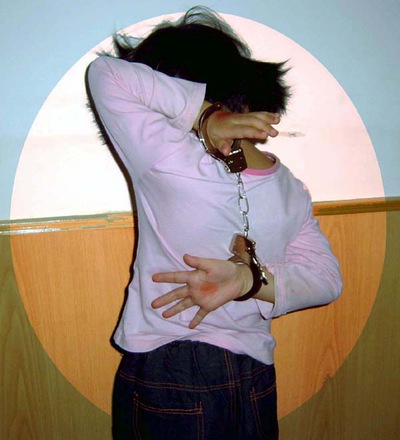 Torture reenactment: handcuffed with one's arms behind one's back
When Ms. Sun was released in October 2017, she was extremely weak. After she resumed practicing Falun Gong, her health gradually recovered. 
In 2018, Ms. Wang returned home. After the police found out, they came several times to harass her. 
Beginning in April 2020, the local police and residential committee staff members frequently harassed Ms. Sun and her husband Mr. Guo Qi. The harassment took a toll on Mr. Guo's health. He suffered sepsis and all of his internal organs failed. The 51-year-old man passed away on June 15, 2021, leaving behind his 49-year-old wife, 12-year-old son, 20-year-old daughter, and his mother and mother-in-law, both in their 80s.
Although judge Li Bianjiang who sentenced Ms. Wang in 2015 had retired, his successor Sun Xihe ordered the bailiff to take Ms. Wang back into custody shortly after Mr. Guo's death. 
On October 14, 2021, Liu Yu and another officer from the Heishijiao Police Station arrested Ms. Wang at her daughter's home. When Ms. Sun went to the court to demand the release of her mother, judge Sun refused and claimed that he was just following the law. 
With the surge of coronavirus cases in Dalian, the local detention center blocked Ms. Wang from receiving visitors, including her lawyer. Ms. Sun wasn't allowed to send in any food or clothes for her mother. Even when she was allowed to make a deposit into Ms. Wang's commissary account, Ms. Wang couldn't use the money, as no outside goods were allowed into the detention center. 
When Ms. Sun checked the balance on her mother's account on January 2, 2022, she found that the account had been cleared and she couldn't make any more deposits for her mother. She later found out that Ms. Wang has already been transferred to the prison on December 31.
Perpetrators' contact information:
Yu Dequan (于德泉), secretary, Dalian City Political and Legal Affairs Committee: +86-13604090009Sun Xihe (孙锡河), judge, Shahekou District Court: +86-411-82793652Liu Yu (柳钰), officer, Heishijiao Police Station: +86-18341109679
(More perpetrators' contact information is available in the original Chinese article.)
Related reports:
A Family's Uphill Battle to Get a Falun Gong Practitioner Released
Liaoning Man Dies After He and His Family Suffer Two Decades of Persecution
All articles, graphics, and content published on Minghui.org are copyrighted. Non-commercial reproduction is allowed but requires attribution with the article title and a link to the original article.