Having Endured Nine Years of Incarceration and Torture, Heilongjiang Woman Faces Prison Time Again
May 20, 2021 | By a Minghui correspondent in Heilongjiang Province, China
(Minghui.org) A Daqing City, Heilongjiang Province resident stood trial on November 22, 2020 for her faith in Falun Gong, a spiritual and meditation discipline that has been persecuted by the Chinese communist regime since 1999.
Ms. Wang Jianhui, a 50-year-old former hospital technician, was stopped by the police and arrested on the afternoon of November 22, 2020, while she was driving to visit a relative. After seizing her car and home keys, the police forced her to take them to her home for a search.
The items confiscated from Ms. Wang included over 50 Falun Gong books, a framed portrait of Falun Gong's founder, a laptop computer, two calendars, 107 informational cards about Falun Gong, ten pieces of paper printed with QR codes with links to access the uncensored Internet, and a personal stamp.
Ms. Wang's husband, also a Falun Gong practitioner, was taken to the police station along with her. After taking the couple away, the police returned to search their place, trying to look for a printer.
While Ms. Wang's husband was released early next morning, she was transferred to the Daqing City No. 2 Detention Center, where she has been held since.
The police later submitted her case to the Ranghulu District Procuratorate, which charged her with "undermining law enforcement with a cult organization," a standard pretext used to criminalize Falun Gong practitioners in China. The police revealed that they had been monitoring Ms. Wang's home and her cellphone for a long time before arresting her.
On April 27, 2021, Ms. Wang was tried by the Ranghulu District Court at the detention center through a video conference. Her lawyer entered a not guilty plea for her. In order to pursue a heavier sentence against Ms. Wang, the police changed the number of QR codes found at her home from 10 to 250. The prosecutor, Feng Guang, also accused Ms. Wang of being a repeat offender, as her latest arrest came less than five years after she served six years for practicing Falun Gong.
Ms. Wang testified in her own defense, and she argued that no law ever criminalizes Falun Gong in China and it's her basic human right to practice her faith. She urged the judge, Xue Qiang, to uphold justice and not sentence her.
Past Persecution
Ms. Wang took up Falun Gong in 1998. For upholding her faith after the communist regime ordered the persecution a year later, she has been arrested multiple times and incarcerated for a total of nine years.
Three-year Labor Camp Term
Ms. Wang went to Beijing in December 2000 and displayed a banner that said "Falun Dafa is Good" on Tiananmen Square. She was immediately arrested and taken to a detention facility. Five days after she went on a hunger strike to protest the arbitrary detention, the police released her, as the detention center was overcrowded with practitioners coming from around the country to appeal for the right to practice their faith.
Ms. Wang was arrested again in August 2001 while she was living in her mother-in-law's home in Shenzhen City, Guangdong Province. She was taken to the Daqing Detention Center by airplane, and was forced to pay all the travel expenses for her and the police. Weeks later, the police gave her three years at the Heilongjiang Province Harbin Women's Rehabilitation Center without any due process.
The rehabilitation center guards often beat Ms. Wang, deprived her of sleep, poured cold water on her, and then opened the window to let the wind blow on her. They sometimes also taped her mouth shut, blindfolded her, and forced her to squat for extended periods of time with a stool on top of her head. Once a beautiful woman, Ms. Wang's face was swollen and deformed as a result of the torture. She developed hypothermia. Her vision became blurred and her legs were so swollen and painful that she had difficulty walking.
Six-year Prison Sentence
Ms. Wang was arrested again on February 28, 2010. She was later sentenced to eight years by the Sartu District Court. She appealed the verdict with Daqing City Intermediate Court, which ruled to reduce her term to six years.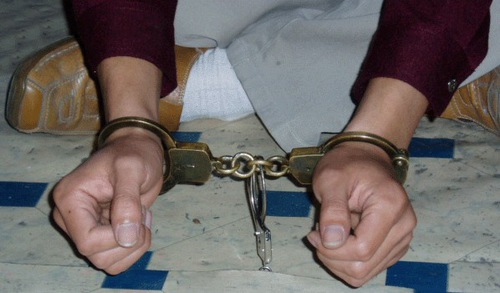 Torture reenactment: Hands cuffed to the ground
While serving time at the Heilongjiang Province Women's Prison, Ms. Wang was held at solitary confinement for extended periods of time. The guards once kept her handcuffed to the ground for 15 days and wouldn't release her when she was eating, sleeping, or relieving herself. She also wasn't allowed to wash herself.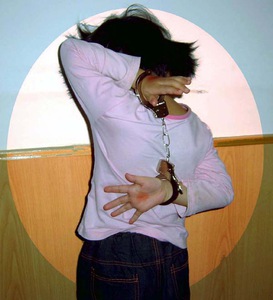 Torture reenactment: Handcuffed behind the back
The guards also handcuffed her hands behind her back, with one of her hands pulled over her shoulder to meet the other hand which was pulled up from behind her back. Then the inmates pulled her arms apart to increase the suffering.
"She was very healthy before being imprisoned. Because she practiced Falun Gong, she looked like she was in her 20s even though she was actually in her 40s. But now she looks over 60," said her family after visiting her.
After enduring six years of relentless torture, Ms. Wang was released in March 2016, only to be arrested in 2020 and facing prosecution again for her faith.
Related reports:
Daqing City, Heilongjiang Province: Fourteen Residents Arrested in Two Days for Practicing Falun Gong
Heilongjiang Women's Prison Notorious for Torturing Falun Gong Practitioners
Prison Official to Beaten Practitioner: "Just Endure It and Let Them Have Some Fun"
Heilongjiang Woman in Solitary Confinement for the Second Time in Three Months
Two Former Hospital Employees Brutally Tortured in Heilongjiang Province Women's Prison
Falun Gong Practitioners Still Persecuted in Heilongjiang Province Women's Prison
Atrocities Committed Against Practitioners at Heilongjiang Province Women's Prison
All articles, graphics, and content published on Minghui.org are copyrighted. Non-commercial reproduction is allowed but requires attribution with the article title and a link to the original article.
Category: Accounts of Persecution