Heilongjiang Woman in Solitary Confinement for the Second Time in Three Months
September 30, 2014 | By a Minghui correspondent from Heilongjiang Province, China
(Minghui.org) Falun Gong practitioner Ms. Wang Jianhui (王建辉) is again in solitary confinement for refusing to give up her belief. Her family found out on September 22, 2014, when they went to visit her in the Heilongjiang Women's Prison.
She was previously subjected to the same torture in July. Her family could hardly recognize her when they saw her in late August.
"She was skin and bones and looked 20 years older. She was so weak that she had difficulty breathing and walking," her family recalled.
According to a prison insider, "The room has nothing but a hard wooden bed and no bedding. Criminals' families can bribe the guards to send in good food and blankets. Regular detainees can also move around in the small cell. But guards handcuff and tie Falun Gong practitioners to the bed so that they can't move. It's even difficult for practitioners to get water."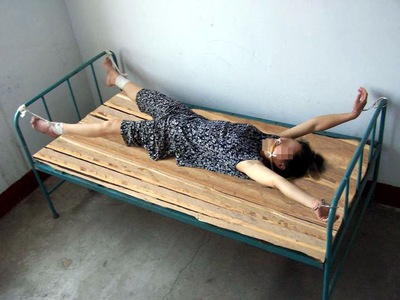 Torture reenactment: Restrained on a bed
Worried about Ms. Wang, her family went back to the prison to visit her again in September, only to discover that she had been put in solitary confinement for the second time.
The staff at the prison made them wait from 9 a.m. to 4 p.m. before finally telling them that they weren't allowed to see her.
Her family then went to the 610 Office, a Party-based extralegal security organization that oversees the persecution, located in the prison and demanded her release.
The director replied: "I can't do anything about it. She didn't comply with the prison rules. The head of the prison approved the solitary confinement."
Ms. Wang's family is very worried about her, "Now that fall is here, the temperatures in Harbin are dropping, and people are starting to wear sweaters. But she is still restrained on a bed in solitary all day long in very thin clothes."
Ms. Wang was arrested on February 28, 2010, for practicing Falun Gong. She was sentenced to six years in prison and taken to Heilongjiang Women's Prison on August 25, 2010. She has been constantly tortured by the inmates and guards over the past three years for not renouncing her belief.
"She was absolutely healthy before she was imprisoned three years ago. Because she practiced Falun Gong, she looked like she was in her 20s even though she was actually in her 40s. But now she looks over 60," according to her family.
Previous Report:
Two Former Hospital Employees Brutally Tortured in Heilongjiang Province Women's Prison