Deaths of 13 Falun Gong Practitioners Reported in April 2021
May 20, 2021 | By a Minghui correspondent
(Minghui.org) The month of April 2021 reported the deaths of 13 Falun Gong practitioners as a result of the persecution of their faith, bringing the year-to-date confirmed death cases to 40.
Falun Gong, also known as Falun Dafa, is a traditional spiritual discipline based on the principles of Truthfulness, Compassion, and Forbearance. Since the Chinese Communist Party ordered the persecution of Falun Gong in July 1999, countless practitioners have been arrested, detained, sentenced, and tortured. To date, over 4,500 deaths as a result of the persecution have been reported by the Minghui.org website. More are yet to be confirmed due to the information blockade in China.
Among the 13 newly confirmed deaths, three took place in 2020, January and February 2021 each had one case, and March and April 2021 each had four cases.
The 13 deceased practitioners, including eight women, came from 11 provinces and municipalities, with Guizhou and Heilongjiang each reporting two cases. Except for four practitioners whose ages were unknown, the other nine practitioners were between 53 to 83, with an average age of 68.
Three of the practitioners died in prisons, including a 57-year-old woman serving 11.5 years, a retired colonel serving 7.5 years, and a 69-year-old man serving a 7-year term. An 83-year-old man sentenced to seven years died hours after he was taken back home on oxygen.
Some practitioners' deaths were caused by prolonged harassment, incarceration, torture, and drug administration. A Shanghai woman was detained in a psychiatric hospital over 20 times and became delirious after being injected with toxic drugs. A former history teacher lost most of his teeth and developed a severe heart condition leaving him unable to do any physical work, before he died at 53.
Below is a snapshot of some cases. The full list of 13 cases can be downloaded here (PDF).
Deaths in Custody
69-year-old Man Suddenly Dies in Prison
Mr. Lu Guanru, a Daqing City, Heilongjiang Province resident, passed away on April 4, 2021, while serving a seven-year term for practicing Falun Gong. While the Tailai Prison claimed that the 69-year-old man died of a stroke, his family suspects that he may have been tortured to death.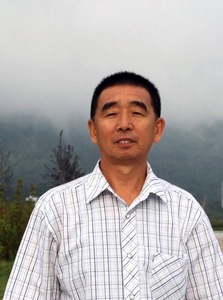 Mr. Lu Guanru
Mr. Lu was arrested on November 9, 2018, in a sweep of more than 60 Falun Gong practitioners in both Daqing and Harbin City, the capital of Heilongjiang Province. While he was held at the Daqing City Detention Center, the police interrogated him, forced him to stand for long hours, and wear shackles.
When Mr. Lu went on a hunger strike to protest the persecution, the guards force-fed him, which caused him to vomit blood and suffer heart failure. He was on the verge of death and was resuscitated at the hospital several times.
Mr. Lu appeared in Ranghulu District Court on June 6, 2019. His two lawyers entered a not guilty plea for him, and he testified in his own defense. The judge sentenced him to seven years with a 40,000 yuan fine on July 1, 2019. He appealed the verdict, but the Daqing City Intermediate Court upheld his sentence without a hearing on July 23.
Despite his serious medical condition, the detention center took him to Hulan Prison on July 30, 2019, to serve time, without notifying his family. The prison guards said that they would accept him even if he was incapacitated.
Mr. Lu was transferred to the Tailai Prison in November 2019 and died there on April 4, 2021.
Mr. Lu, a former construction finance manager, took up Falun Gong in 1994 and credited the practice for curing his medical condition. After the persecution started, he was detained twice and served more than one year of forced labor. At the labor camp, he was beaten, subjected to freezing temperatures, and had his hands tied with thin ropes. He was also forced to do hard labor, which caused him to age rapidly. After his release, Mr. Lu was forced to live away from home for the next 18 years to avoid further persecution.
When his daughter got married in 2006, Mr. Lu and his wife could only afford to purchase a new set of clothes for the newlyweds. His daughter cried while they were clothes shopping together.
"I knew she didn't want us to do anything more for her, knowing how hard it was for us to make a living. But this [buying clothes] was the only thing I could do for her," Mr. Lu recalled.
Accountant Dies While Serving 11.5 Years
While awaiting the result of her appeal against an 11.5-year prison sentence in the detention center, Ms. Mao Kun, an accountant of Chengdu City, Sichuan Province, was suddenly taken to a hospital emergency room around April 9, 2021. Her family was asked to apply for medical parole on her behalf. But before they even got a chance to submit the application, Ms. Mao passed away in the hospital on the evening of April 11. She was 57.
Similar to Mr. Lu's case, Ms. Mao's family also suspects that torture may have been responsible for her sudden death.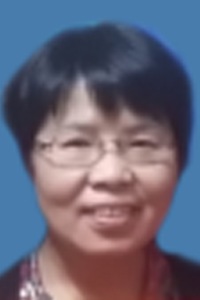 Ms. Mao Kun
Ms. Mao was arrested at home on July 10, 2019. Her arm was broken and her face was bruised during the violent arrest. Dozens of officers ransacked Ms. Mao's home from 4 p.m. the day of the arrest until 2 a.m. the next day. Many personal belongings and informational materials about Falun Gong were confiscated. Ms. Mao's parents, in their 80s and who lived with her, were terrified by the police raid. They wept in the hallway while the police were ransacking their home.
During Ms. Mao's court hearing on December 28, 2020, she recounted how the police beat her during the arrest. She testified that a group of officers pounded on the door. Before she could open it, the officers broke in. One punched her in the eye and knocked her down. They held her down and handcuffed her hands behind her back, breaking her arm in the process.
Ms. Mao's lawyer asked her, "Do you remember what the police officer who beat you looks like?" Ms. Mao said she did.
Before she could describe the officer, the prosecutor stopped her and denied that the police had used violence during her arrest. He claimed that it was the falling door that injured her.
The judge later sentenced Ms. Mao to 11.5 years with a 20,000-yuan fine. This was the second time she was sentenced, after a previous 5.5-year term given by the Wuhou District Court on October 10, 2008. Prior to that, she was given one year in Nanmusi Forced Labor Camp in late 1999 and her term was extended for nine months. She was arrested again on December 10, 2001, only a few months after she was released, and given another year in the same labor camp.
Retired Colonel Dies in Prison, Family Suspects Foul Play
Mr. Gong Piqi's family received a call from a prison guard on the evening of April 12, 2021, and was told that the 66-year-old retired colonel in Qingdao City, Shandong Province had just been taken to the hospital for resuscitation.
Moments later, the prison guard called again and said Mr. Gong, who was serving a 7.5-year term in Jinan Prison (also known as Shandong Province Prison) for practicing Falun Gong, had died of a sudden stroke.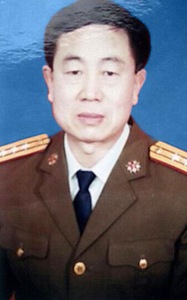 Mr. Gong Piqi
When Mr. Gong's family went to the hospital the next morning, the doctor and prison authorities refused to let them see his body. With his family's strong protest, Mr. Gong's older brother and nephew were finally allowed to take a look at his body, but not take photos or videos.
Mr. Gong's head was injured and swollen and there was blood in his ears, according to his brother.
During the one and half years before Mr. Gong's death, the prison never allowed his family to visit him, citing the pandemic as the reason. His family said they had no knowledge about his health situation and whether he was tortured in the prison.
According to surveillance video provided by the prison guards, Mr. Gong fell ill and stayed in bed on the evening of his death. A prison doctor had come to take his blood pressure, but the doctor left without providing any treatment to him. At around 8:32 p.m., Mr. Gong fell on the ground and was unable to move, but the ambulance didn't arrive until 9 p.m.
While the prison guard who called his family claimed that Mr. Gong's deadly stroke was caused by his non-compliance with treatment for his high blood pressure, his family questioned why the prison had failed to inform them earlier of his condition or release him on medical parole.
His family said there have been too many unanswered questions, such as how long Mr. Gong had the high blood pressure, what treatment the prison provided to him, whether they had records of it, why the doctor didn't provide any treatment to him the day before his death, and why it took half an hour for the ambulance to arrive.
Mr. Gong was seized during a group arrest of more than 20 Falun Gong practitioners between October 16 and 17, 2017. He was detained at the Pudong Detention Center in Jimo, Shandong Province. The Shibei District Court held two hearings of him on May 24 and June 22, 2018, before sentencing him to 7.5 years with 20,000 yuan fine on July 20, 2018.
Deaths After Prolonged Harassment and Incarceration
Cancer Patient Cured by Practicing Falun Gong Dies after 20 Detentions in Mental Hospitals
After Ms. Lu Xiuli from Shanghai was diagnosed with late-stage breast cancer and had a mastectomy, she remained very weak, and her face was pale. Years later, however, Ms. Lu's doctor was amazed at how fit she was and how her complexion glowed when most of the other breast cancer patients she knew had passed away.
The secret to Ms. Lu's magical recovery wasn't any form of medical treatment—it was from practicing Falun Gong, an ancient spiritual discipline that includes five exercises that can boost energy circulation and thus improve health.
For upholding her faith after the communist regime ordered the persecution in 1999, Ms. Lu was involuntarily held in mental hospitals 20 times between 2002 and 2018. She would be held anywhere from four months to over a year, although usually less than a year. Every time, she was force-fed unknown drugs.
In late 2018, shortly after Ms. Lu was discharged from a mental hospital, she was arrested again and then taken to Songjiang Blue Harbor Senior Center on the outskirts of Shanghai.
According to local Falun Gong practitioners who visited Ms. Lu at the mental hospital, despite the persecution she suffered before, she remained clear-headed and could communicate clearly with them. But when they visited her at the senior center shortly after she was admitted, she was delirious and confused. The only thing she could express clearly was that she hoped to get out of there.
It was also reported that the police warned some local practitioners that they [the practitioners] wouldn't be able to find Ms. Lu anymore until she died.
When Ms. Lu was released from the senior center a few months later in the spring of 2019, she was completely confused. She was unable to cook or do laundry, nor did she remember what had happened at the senior center.
Those who had visited Ms. Lu at the senior center said it was a private facility, with conditions far worse than the other mental hospitals. Ms. Lu had been held in a big room with nearly 100 patients with mental disorders. Although the room was connected to a backyard so the patients could walk outside, the whole area was fenced in with wire mesh.
Two or three nurses were in charge of caring for the nearly 100 patients around the clock. Each patient had a very small bed. Because the nurses were unable to care for so many at one time, the patients often stole cash, fruit, or yogurt from each other. So each patient was also given a small cabinet with a lock to store their personal belongings.
The nurses told the practitioners who visited Ms. Lu that all of the patients there had been deserted by their families, who didn't expect them to leave the facility alive.
Because no patients' families ever visited, Ms. Lu was unable to borrow their cellphones to call her family. Whenever another practitioner went to visit her, that practitioner would then be contacted by the police, suggesting the police were still closely monitoring Ms. Lu.
When Ms. Lu's husband was hospitalized in critical condition in November 2020, she was taken back to the senior center. She passed away in February 2021, three months after her husband's death.
83-year-old Man Dies Hours After Being Sent Home on Oxygen
An 83-year-old man who had been serving time for his faith in Falun Gong died hours after he was sent home on oxygen on March 26, 2021.
Mr. Huang, a Qingdeng, a Leqing City, Zhejiang Province resident, was arrested at home on April 17, 2019. It's reported that the police targeted him upon finding out that he had sent text messages to the public about the persecution of Falun Gong.
After nearly a year in detention, Mr. Huang was sentenced to seven years by the Leqing City Court on March 12, 2020. He was admitted to Hangzhou Second Prison on an unknown date.
A prison guard called Mr. Huang's family in mid-November 2020 and said Mr. Huang was found to have six diseases and had been sent to the hospital for resuscitation. Despite his critical condition, the prison refused to release him on bail.
Mr. Huang's family received another call from the prison in March 2021 and was told that he had been taken back to the hospital for resuscitation.
Days later, at around 2 p.m. on March 26, 2021, Mr. Huang was sent home on oxygen. His entire body was black and blue. His family suspected that he had been given toxic drugs before being released. He died that evening.
Health Destroyed after Three Prison Terms, Former History Teacher Dies in Despair
When Mr. Lu Songming returned home in 2018 after serving a third prison term for practicing Falun Gong, he had almost died several times due to torture in custody. Having lost the ability to work due to a severe heart condition, he relied on picking left-over vegetables in the farmers' market to get by. He was easily exhausted after carrying heavy items and had to lie down frequently to rest. After struggling with poor health for three years, the 53-year-old man passed away on the evening of March 28, 2021.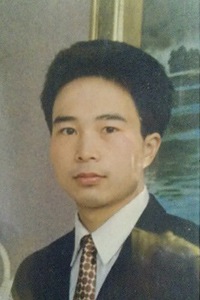 Mr. Lu Songming
Mr. Lu lost his mother at a young age and was raised by his father. After he graduated from the Hunan Province Normal University in 1990, he became a history teacher in a middle school in Xiangtan City, Hunan Province.
When the Chinese communist regime ordered the persecution of Falun Gong in 1999, he had been practicing it for three years. For upholding his faith, he was fired by the middle school and sentenced three times, for a total of 14 years. While serving time, he was subjected to various tortures, including being hung up by his handcuffed wrists, beaten, shocked with electric batons, and forced to do long hours of intensive labor. The torture and abuse completely destroyed his health. He developed a severe heart condition and was on the verge of death a dozen times.
By the time Mr. Lu was released in 2006 after the first prison term, his wife had been forced by the authorities to divorce him. The court granted his house and custody of his son to his wife, leaving him homeless and penniless. He had to take odd jobs to make a living, including repairing shoes on the street and selling peanuts.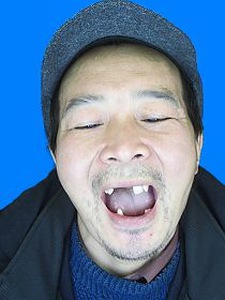 Mr. Lu Songming had only six teeth left when he was released on February 3, 2012, after his second prison term.
Following his latest arrest on August 31, 2014, Mr. Lu's father, in his 80s, frequented the police station, the Procuratorate, the court, the 610 Office (an extralegal agency created specifically to persecute Falun Gong), detention center, and local government, to seek his son's release, but to no avail. The elderly man was also denied by the detention center to visit him.
While serving his third term at Wangling Prison, Mr. Lu was forced to sit on a small stool without moving, for up to 16 hours each day. The torture caused him to suffer frequent heart attacks and he was often resuscitated.
Even after the doctor issued several notices of critical condition, the guards didn't stop forcing him to sit on the small stool. Sometimes Mr. Lu rolled on the ground due to the severe chest pain, which also induced dangerously high blood pressure. Yet the guards didn't allow him to rest in bed, which was highly recommended by the doctor.
With nowhere to seek justice, Mr. Lu was forced to stage a hunger strike to protest the persecution, which caused his health to deteriorate further.
In the fall of 2017, a guard who had just started to work at the prison subjected Mr. Lu to the sitting and standing torture again, which immediately induced acute chest pain. Although the doctor recommended his release on medical parole, the prison still insisted on keeping him in custody and the guards often forbade him from buying daily necessities. He was often starved and didn't have enough clothes or even a blanket to keep warm.
Mr. Lu was released on August 31, 2018 in serious condition. He died three years later after struggling with poor health and substandard living conditions.
Sentenced for Peacefully Defying Communist Tyranny, Beijing Woman Dies after Ailments Relapse in Prison
In the eyes of Ms. Zhang Shuxiang's family, she was a kind and considerate person. A petite woman, she exhibited enormous inner strength in standing up to the Chinese Communist Party's tyranny.
With plenty of free time after retiring, the Beijing resident rode her bike every day, talking to whomever she met about the CCP's brutality and how it has been persecuting her faith in Falun Gong.
Ms. Zhang's tireless grassroots efforts since the onset of the persecution in 1999 came to a halt when she was arrested on June 21, 2017, by a plainclothes officer. The police ransacked her home without showing a search warrant or their police IDs. The criminal detention notice her family received later didn't have a signature either. Her Falun Gong pamphlets and several hundred yuan in cash were taken away, but the police never provided a list of confiscated items.
In less than two months, on September 4, the police submitted Ms. Zhang's case to the Procuratorate. When her lawyer went to visit her on September 12, the guards turned him away, saying he didn't have the required documents.
From being abused in custody, Ms. Zhang's high blood pressure, which had been cured by practicing Falun Gong, recurred, yet the authorities refused to release her on bail.
Shortly after the Pinggu District Procuratorate indicted her on September 25, Ms. Zhang was tried in the Pinggu District Court on October 17. The judge barred her husband from attending the trial, with the excuse that he signed the investigation record when the police ransacked their home and was therefore considered a prosecution witness.
Ms. Zhang was sentenced to three years and fined 6,000 yuan on November 26, 2017. She was held in the sixth ward after being taken to the Beijing Women's Prison on May 24, 2018.
Inmate Yang Chunwei was instigated by the guards to order Ms. Zhang to write a statement to renounce Falun Gong. When Ms. Zhang refused to comply, Yang wrote a statement herself and told Ms. Zhang to copy it. When she saw that Ms. Zhang wrote instead how she wouldn't give up practicing Falun Gong, Yang tore it up and ordered her to write it again.
Along with 60 other practitioners imprisoned for their faith, Ms. Zhang was transferred to the third ward on August 1, 2018, and subjected to intensified torture.
In addition to the high blood pressure, Ms. Zhang's diabetes also relapsed. Claiming to be "helping her" to control her blood sugar, the inmate assigned to monitor Ms. Zhang gave her very little food at each meal and didn't let her drink water. Ms. Zhang soon became emaciated and incontinent.
Her age (she was in her 70s) made things worse. Ms. Zhang began to experience organ failure and was on the verge of death. She was taken home in an ambulance on April 3, 2019.
Although her family took her to the hospital, Ms. Zhang remained very weak and bedridden.
Agents from the Justice Bureau took Ms. Zhang for a physical exam on August 27, 2019. Seeing that she still had severe diabetes, they took her home. Others from the Justice Bureau returned on September 17, 2019, and took photos of her. They ordered her to have a physical exam every three months and report the results to the prison.
The authorities came back to harass Ms. Zhang until her term expired on June 20, 2020. At the same time, her pension was also suspended.
Fearful of the persecution, Ms. Zhang's family no longer let her practice Falun Gong. When local practitioners came to visit her, her family turned them away.
Although her family let Ms. Zhang start doing the Falun Gong exercises again in 2020 and her health improved some, she took a fall, broke her hip, and became bedridden again. Devastated at not being able to practice her faith, Ms. Zhang passed away on March 30, 2021, from complications of diabetes. She was 73.
Jilin Man Succumbs to Decades of Imprisonment and Harassment
Having endured a decade of incarceration and another decade of constant harassment, Mr. Hou Qinghua succumbed to the physical and mental distress in the persecution of his faith in Falun Gong. The Tonghua City, Jilin Province resident passed away on April 4, 2021, at the age of 68.
Mr. Hou used to work as a manager at a bus station. He took up Falun Gong in 1996 and was known among his colleagues for being upright and honest.
Although he was demoted three years later when the persecution began, his manager arranged for him to oversee the workplace cafeteria, a "profitable" position where many of his predecessors stole from the company. But the corruption stopped with Mr. Hou.
In 2001, Mr. Hou was followed by the police while giving out informational materials about Falun Gong. After the police failed to arrest him, they arrested his wife instead and gave her one year of forced labor.
Mr. Hou was arrested on April 23, 2002, and later sentenced to 12 years. The verdict was dated twenty days before the court hearing. He served time at both Jilin Prison and Siping Prison and was released on August 29, 2011, three years ahead of time.
In the next decade, Mr. Hou was repeatedly harassed, arrested, and taken to brainwashing centers for his faith. In recent years, the authorities installed a surveillance camera in the hallway of his apartment building to monitor his daily life.
With declining health from the torture in custody and constant harassment, Mr. Hou passed away on April 4, 2021.
Related report:
Deaths of 27 Falun Gong Practitioners Reported Between January and March 2021
All articles, graphics, and content published on Minghui.org are copyrighted. Non-commercial reproduction is allowed but requires attribution with the article title and a link to the original article.
Category: Reports of Death Cases