Incarcerated Artist: I Can't Stay Silent to Protect My Own Interests
May 12, 2021 | By a Minghui correspondent in Beijing, China
(Minghui.org) Eleven Falun Gong practitioners in Beijing were indicted on April 2, 2021 by the Dongcheng District Procuratorate, after the prosecutor returned their cases twice, citing insufficient evidence. They now face trial by the Dongcheng District Court.
The eleven practitioners, including Ms. Xu Na, Mr. Li Zongze, Mr. Li Lixin, Ms. Jiao Mengjiao, Mr. Liu Qiang, Ms. Meng Qingxia, Ms. Zheng Yanmei, Ms. Deng Jing, Ms. Zheng Yujie, Mr. Zhang Renfei, and Ms. Li Jiaxuan, were arrested on July 20, 2020, the 21st anniversary marking the beginning of the persecution of the spiritual discipline Falun Gong by the Chinese Communist Party. The authorities dispatched ten police officers to arrest each practitioner.
Some of the arrested have been persecuted before, but most of them are young practitioners in their 20s, who had recently graduated from prestigious universities in China.
The judge of Dongcheng District Court assigned to the case ruled that only when all the lawyers representing the eleven practitioners came to the court at the same time, will he allow them to review their case documents. Additionally, the lawyers aren't allowed to make copies or take photos of the documents, nor will the court provide any paper or electronic copies of the files.
Some of the lawyers filed complaints against the judge's ruling, as it violated relevant Chinese laws that stipulate that procuratorates and courts grant lawyers opportunities to review and make copies of case files at their convenience. The law also prohibits procuratorates and courts from setting upper limits on how many times or how long lawyers can review case files. The judge's ruling severely restricted the practitioners' lawyers' ability to review cases at their own convenience, which may in turn affect the lawyers' ability to defend the practitioners to the best of their ability and influence the legal outcome of the case.
The lawyers' complaints, however, didn't get addressed by the relevant agencies.
Ms. Xu Na: The Persecution Shouldn't Continue Anymore
On April 22, 2021, human rights lawyer Mr. Liang Xiaojun visited Ms. Xu at the Dongcheng District Detention Center.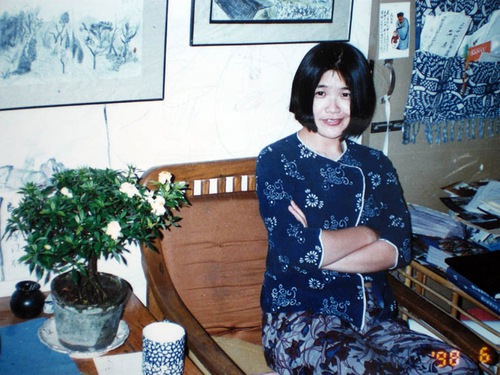 Ms. Xu Na
Mr. Liang tweeted that Ms. Xu and other practitioners were targeted for publishing photos and articles online to expose the severity of the pandemic in China. The authorities charged them with "undermining law enforcement with a cult organization," a standard pretext used by the Chinese courts to criminalize Falun Gong practitioners.
Ms. Xu said to the lawyer, "I endured eleven kinds of torture and walked out of the prison alive. In the past 22 years, how many wives have been separated from their husbands and how many families have fallen apart. And how many have been tortured, injured or beaten into disability. [All of their suffering] was only because of a book [the teaching of Falun Gong], a DVD, a software to break the internet censorship in China, or a name list of people who have been tortured to death for their faith. What kind of government is this? What is it afraid of?"
Just among Ms. Xu's Falun Gong practitioner friends, five of them were tortured to death, including Mr. Peng Min of Wuhan City, Hubei Province; Ms. Shen Jianli who died in a detention center and it's not clear where her body is; Mr. Huang Xiong of Hunan Province who has disappeared and it is feared he was abducted; Ms. Li Li, who was arrested with Ms. Xu in November 2001 and died in the detention center; and Ms. Dong Cuifang, a young doctor who was held in the Beijing Women's Prison with Ms. Xu and died in the prison at the age of 29.
Ms. Xu said when she was arrested for the first time for her faith in Falun Gong in 2001, many of the young practitioners targeted in her latest arrest were only two or three years old. As the young generation with bright futures ahead of them, they are now facing prison time simply for taking photos of Beijing.
"It has been twenty years. It [the persecution] shouldn't go on anymore. It's time for the persecution to end." she said.
She also shared with the lawyer, "I can't stay silent to protect my own interest. Anyone in society should have a moral judgment of unfair things unrelated to them. This is the basic responsibility for being a person. If I identify with such a government (the Chinese communist regime), then I'm not a decent person."
Family's Ordeal for Upholding Their Faith
Ms. Xu was born into an artist family in 1968. Her father is a renowned artist and her mother was a college arts teacher. While Ms. Xu also became an artist herself, her husband, Mr. Yu Zhou, an alumnus of the prestigious Beijing University, was a musician and proficient in several different languages.
After the communist regime ordered the persecution of Falun Gong, Ms. Xu was arrested in July 2001 for providing shelter to out-of-town practitioners who came to Beijing to appeal for their faith. She was sentenced to five years in November 2001 and served time in Beijing Women's Prison, where she was put in solitary confinement, deprived of sleep, not allowed to take showers, and denied family visits.
Ms. Xu and Mr. Yu were arrested on January 26, 2008, on their way back home after a performance. Mr. Yu died in custody 11 days later on February 6, at the age of 42. The police claimed that the surveillance camera broke when Mr. Yu died and they didn't allow his family to see his body.
As Mr. Yu's death was widely reported by overseas media, the authorities often harassed Ms. Xu's parents and threatened them not to speak with foreign journalists.
Ms. Xu wasn't allowed to attend her husband's funeral and was transferred to the Beijing City Detention Center, the notorious "7th Branch" of the Beijing City Police Department where "important prisoners" are detained. She was sentenced to three years on November 25, 2008.
Her mother passed away a few years ago, and her father in his 80s is left at home alone, struggling to care for himself.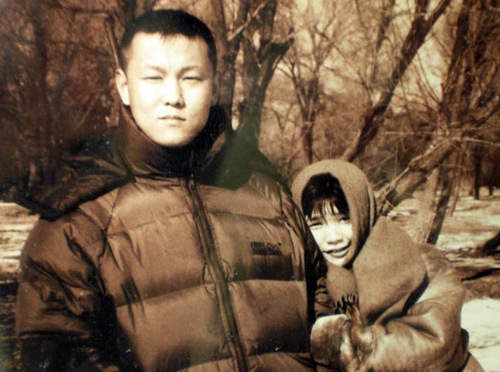 Ms. Xu Na and the late Mr. Yu Zhou
Lawyer Liang tweeted, "As an artist and freelance writer, Xu Na's knowledge, her own tragic encounter and bumpy fate in fact brought her wisdom, conscience, and courage that is carried deeply in her heart."
"Under the cruel circumstances, she is indifferent to fame and fortune. The fame she should have enjoyed and her influence are underestimated, but she is not being taken lightly by the government. Every time I meet her, it is a process of listening and learning for me."
Related reports:
11 Beijing Falun Gong Practitioners Remain Detained Despite Return of Cases Against Them for Insufficient Evidence Again
Eleven Beijing Residents' Cases Returned to the Police for Insufficient Evidence
12 Beijing Residents Arrested Near Anniversary of Persecution of Falun Gong
Beijing Resident Still Detained Seven Weeks After Arrest for His Faith
Widowed Artist in Beijing Arrested Again for Her Faith
After Being Incarcerated for Five Years, Beijing Artist Arrested Again for Her Faith
Mr. Yu Zhou's Wife Ms. Xu Na Sentenced to Three Years in Prison
Painter Ms. Xu Na Imprisoned in the Seventh Section of the Beijing Police Department
Related article in Chinese:
All articles, graphics, and content published on Minghui.org are copyrighted. Non-commercial reproduction is allowed but requires attribution with the article title and a link to the original article.
Category: Accounts of Persecution