Painter Ms. Xu Na Imprisoned in the Seventh Section of the Beijing Police Department (Photos)
(Clearwisdom.net) Falun Gong practitioner Ms. Xu Na, 40, from Beijing is a well-known painter. Her husband Mr. Yu Zhou, a famous Chinese folk singer, was tortured to death by the police during the Chinese New Year celebration this year. Ms. Xu Na is currently being illegally imprisoned in Beijing. Her trial has been put on hold because the Chinese Communist Party (CCP) is afraid of international attention to her and her husband. Ms. Xu has overcome many difficulties to appeal for justice in the case of her husband's death while she is still in prison.
Mr. Yu Zhou and Ms. Xu Na
Ms. Xu Na
The case of Ms. Xu Na and her husband is one of the numerous persecution cases of Falun Gong practitioners' families by the CCP.
Growing Up in an Artistic Family
Ms. Xu Na was born in Changchun City, Jilin Province. Her father is a painter at China's Art and Literature Union and her mother is a professor at the Jilin College of Art. Following her parents, Ms. Xu also became an artist. In 1997, her award-winning paintings were exhibited at the Great Exhibition of Chinese Arts organized by the China Ministry of Culture. In 1998, her paintings won a prize at the China Youth Oil Painting Exhibition. Her paintings reflected the peacefulness and harmony of her mind after having practiced Falun Gong for three years.
Ms. Xu's husband, Mr. Yu Zhou, a Falun Gong practitioner, was born in northeastern China. He was a very talented artist. He was skilled in the four traditional Chinese arts, including musical instruments, the game of Go, Chinese calligraphy, and painting. In addition, he had a deep understanding of the Chinese Song poems. He was well regarded as a young artist. At one time, he was the drummer in a famous Chinese folk music band.
Overcoming Difficulties to Safeguard and Rectify the Fa
Since the CCP started persecuting Falun Gong in 1999, many practitioners have gone to Beijing to appeal for justice for Falun Gong. Mr. Yu Zhou and Ms. Xu Na hosted many out-of-town practitioners at their home in Beijing, providing them free room and board. In 2001, the CCP arrested and sentenced Ms. Xu Na to five years in prison for lending her apartment to out-of-town practitioners.
At the Beijing Women's Prison, Ms. Xu was only allowed to sleep four hours per night because the guards wanted to force her to "transform." She was also forced to perform intensive labor during the day. On her first day in the prison, she was given a quota to make 600 pairs of slippers each day. It normally takes a full year of practice for an inmate to reach this quota.
In November 2002, Ms. Xu Na was taken to the prison's Third Division for forced brainwashing. That division is one of the most evil places in Beijing, as it brutally persecutes Falun Gong practitioners. The CCP uses it to teach persecution techniques to other prisons throughout the country. To "transform" her, the guards totally deprived her of sleep by tying her up and forcing her to sit with both legs crossed for an extremely long time. They also physically abused her by forcing her to stay in the snow for a long time, and prohibited her from washing or taking showers for more than a month. To humiliate her, the guards forced her hands to put her fingerprints on materials criticizing Falun Gong.
Staying Firm
In late 2002, the prison warden saw that instead of being "transformed," Ms. Xu Na instead made many people have a positive understanding of Falun Gong, so he put Ms. Xu in a solitary cell to isolate her.
The solitary cells are used to imprison steadfast Falun Gong practitioners. Ms. Dong Cuifang, also called Ms. Dong Cui, was in the cell beside Ms. Xu Na. Ms. Dong Cuifang was a 29-year-old doctor at the Xunyi District Obstetric and Gynecology Hospital in Beijing. She was taken to the Third Division of the Beijing Women's Prison on the morning of March 11, 2003. One day, Ms. Xu heard Ms. Dong being beaten in her cell, so she ran over and demanded, "Stop beating people!" The person who was assigned to monitor Ms. Xu came and dragged her out.
On March 18, 2003, director Tian Fengqing of the Third Division ordered guard Xi Xuehui to take Ms. Dong Cuifang to the shower room to be tortured. Guard Xi Xuehui and Dong Xiaoqing, also a guard in the Third Division, then led five "transformed" former Falun Gong practitioners, including Li Xiaobing and Li Xiaomei, to take Ms. Dong to the shower room. A few hours later, Ms. Xu Na saw them carrying Ms. Dong Cuifang's dead body out.
Later, the warden found out that Ms. Xu knew the truth about Ms. Dong Cuifang's death, so he put her back in solitary confinement to prevent her from telling others. Ms. Xu Na held a hunger strike to protest, but she was force-fed by the guards for a long time. Several months later, she was taken back to stay with other inmates, but she was still under close watch.
During March and April 2005, Ms. Xu Na was put in solitary confinement again. The guards tried the "moving and converting" strategy, but after three months, Ms. Xu Na was not "moved" or "converted" at all. The prison then sent three guards to play VCDs that slandered Falun Dafa around the clock. They also ordered Ms. Xu Na to take notes from these VCDs. Again, the attempt to "transform" her failed.
Losing Her Husband
In 2006, Ms. Xu Na was released after being illegally imprisoned and tortured for five years. Afterward however, she and her husband were frequently harassed by the police and their activities were monitored.
At around 10:00 p.m. on January 26, 2008, Mr. Yu Zhou was driving home with Ms. Xu Na after one of his performances. The police stopped their car for an "Olympics Search" in Yangzhuang Village, Beiyuan neighborhood, Tongzhou District in Beijing. When the police found that they were Falun Gong practitioners, they arrested them and took them to the Tongzhou District Detention Center.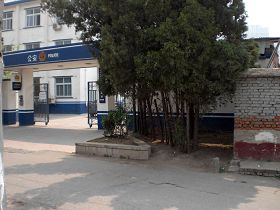 Beiyuan Police Station, Tongzhou District, Beijing, where Mr. Yu Zhou and Ms. Xu Na were arrested
At around 9:00 a.m. on January 27, 2008, four policemen from the Beiyuan Police Station, Tongzhou District Police Department, Xiangshan Police Station, and Haidian District Police Department ransacked Ms. Xu's parents' home. They did not find anything. Then, they ransacked Ms. Xu's sister's home. They stole the printer paper from the desk when they did not find a computer.
On February 6, one day before the Chinese Near Year, Mr. Yu Zhou was tortured to death, at the age of 42. His family demanded an autopsy, but the result was never given to them. The detention center authorities did not allow Ms. Xu Na to attend his funeral, so she was not able to see him one last time.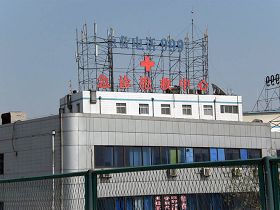 Qinghe Emergency Treatment Center, where Mr. Yu Zhou's parents saw his body
Ms. Xu Na was taken to the infamous Beijing City Detention Center, or the Seventh Section of the Beijing City Police Department, where the political prisoners and dangerous criminals are imprisoned.
The attorney hired by Ms. Xu Na's parents informed Ms. Xu of the death of her husband. Ms. Xu Na has now filed an appeal with the Procuratorate for the death of Mr. Yu Zhou. She is demanding an investigation to determine who is legally responsible, and is requesting the rights to the funeral matters for Mr. Yu Zhou.
As the Beijing Olympic Games approach, the world has focused on China more and more. With the CCP's brutal persecution of Falun Gong practitioners being exposed for nearly nine years, Mr. Yu Zhou's death has started to raise concern throughout the world. Several Chinese media including the Minghui website (Chinese version of Clearwisdom.net), The Epoch Times newspaper, the Secret China, and New Tang Dynasty Television reported this case. Then, the Times from the United Kingdom reported on it. Afterwards, many international news media reprinted the Times report. The international voice appealing for an investigation into the death of Mr. Yu Zhou and the rescue of Ms. Xu Na has become stronger and stronger. Under pressure from the world, the Beijing City Court has delayed the trial of Ms. Xu Na.
May 7, 2008