Deaths of 27 Falun Gong Practitioners Reported Between January and March 2021
April 8, 2021 | By a Minghui correspondent
(Minghui.org) As the persecution of Falun Gong enters its 22nd year in 2021, 27 additional deaths of Falun Gong practitioners were reported between January and March.
Falun Gong, also known as Falun Dafa, is a traditional spiritual discipline based on the principles of Truthfulness, Compassion, and Forbearance. Since the Chinese Communist Party ordered the persecution of Falun Gong in July 1999, countless practitioners have been arrested, detained, sentenced, and tortured. To date, over 4,500 deaths as a result of the persecution have been reported by the Minghui.org website. More are yet to be confirmed due to the information blockade in China.
Among the 27 newly confirmed deaths, 11 occurred between June and December 2020. Another nine practitioners died in January 2021, three in February, and four in March.
The 27 practitioners, 17 of them women, came from 16 provinces and municipalities. While most regions registered one or two death cases, Heilongjiang and Liaoning reported 3 and 5 deaths, respectively. Except for three practitioners whose ages were unknown, the other 24 practitioners were age 46 to 85.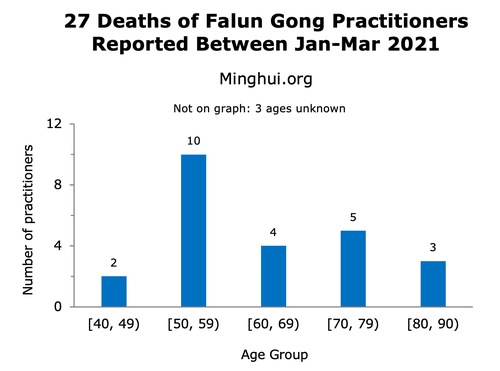 Two of the practitioners died in prison while serving time for their faith. Another two also passed away while being held in custody, months after they fell into critical condition due to the abuse.
Many of the other 23 practitioners succumbed to repeated arrests, non-stop harassment, and long prison terms. One man died after his wife was persecuted to death 16 years ago. A woman and her mother-in-law died two months apart, while her husband was still in hiding to avoid being arrested, and her brother-in-law was sentenced.
Below is a snapshot of some cases. The full list of 27 cases can be downloaded.
Deaths in Custody
76-year-old Woman Suddenly Dies While Serving Time
Ms. Ding Guiying's family was dealt a heavy blow when the Yunnan Province No. 2 Women's Prison suddenly informed them in mid-January 2021 that their loved one had just passed away. Prior to that, Ms. Ding's family didn't even know she had been sentenced for upholding her faith in Falun Gong. The prison rushed to cremate her body days later. She was 76 years old.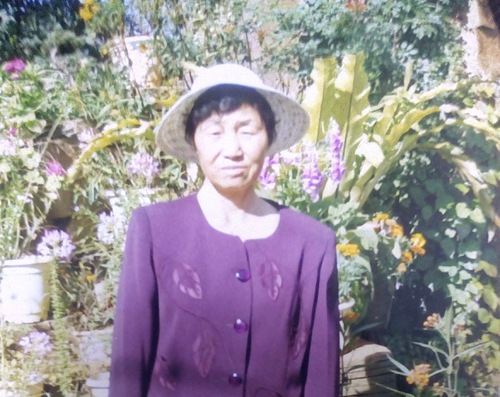 Ms. Ding Guiying
Ms. Ding, a Kunming City, Yunnan Province resident, was arrested at home on August 28, 2019. As the Kunming City Detention Center had been barring Ms. Ding's family from visiting her, and the authorities never updated them with her case status, they still thought she was in the detention center and often went to the Domestic Security Division to demand her release.
A guard from Yunnan Province No. 2 Women's Prison informed them that Ms. Ding suddenly suffered "an acute disease" on January 14 and died at 8:53 a.m. on January 15. The prison cremated her body on January 19 without much explanation about her condition. As Ms. Ding had been perfectly healthy before her arrest, her family suspected that she may have died from the abuse in custody, not due to a disease, as claimed by the prison.
Only after Ms. Ding had passed away did her family receive her verdict. She was sentenced to four years by the Wuhua District Court on July 10, 2020.
54-year-old Man Denied Medical Parole, Dies Two Months After Being Imprisoned
Mr. Yue Caiyun, a native of Yucheng County, Henan Province, died two months after he was imprisoned for his faith in Falun Gong. He was 54.
Mr. Yue was arrested in Hangzhou City, Zhejiang Province, where he had been living the past few years, on August 21, 2020. The Hangzhou police accused him of mailing informational materials about Falun Gong.
Mr. Yue held a hunger strike for four months and was often force-fed. The detention center doctor also injected him with unknown drugs every day he was there.
He was sentenced to one year and four months at the Hangzhou No. 2 Prison in late December 2020. He continued his hunger strike after being taken to the prison.
The prison authorities barred his family from visiting him and denied their request to release him on medical parole, despite his critical condition.
The prison informed Mr. Yue's family on February 24, 2021 that he had just passed away. According to his son who saw his body in the hospital, he was emaciated. The prison denied any responsibility for Mr. Yue's death. They threatened his family not to expose it or they would lose their jobs. The prison gave Mr. Yue's family 30,000 yuan as a final settlement.
Shandong Man Slips into Coma at Detention Center, Dies After the Police Remove His Life Support
While Mr. Yao Xinren was still in a coma after suffering a stroke, the authorities took him off life support and transferred him from the hospital intensive care unit to a senior center with no proper medical equipment for care. The 51-year-old man passed away a week later, leaving behind his wife and a child.
Mr. Yao, a Longkou City, Shandong Province resident, suffered a stroke at around 9:00 p.m. on April 22, 2020, nearly ten months after his arrest on July 3, 2019. He received a craniotomy early on the morning of April 23 at the Longkou City People's Hospital. The doctor performed a tracheotomy on him two days later and put him on a ventilator.
When Mr. Yao's wife went to the hospital to inquire about his condition, the police blocked the doctor and nurse from providing information about him. They also refused to show surveillance footage of Mr. Yao, regarding what had happened to him at the detention center.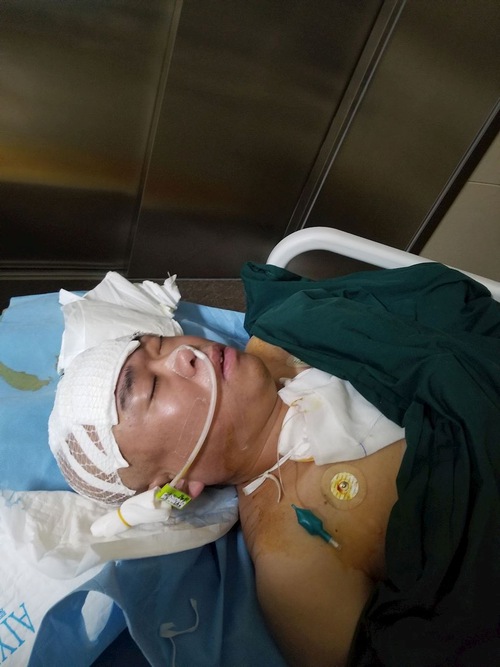 Mr. Yao after the craniotomy
Even though Mr. Yao remained in a coma after the operation, the police stayed outside of the intensive care unit to monitor him for the next nine months and prevented people from getting close to him.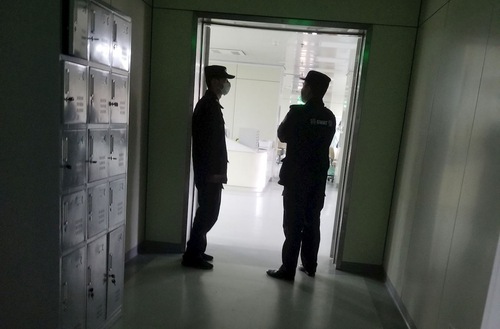 Police guarding Mr. Yao in the hospital
On February 4, 2021, the police and hospital staff members removed Mr. Yao from the intensive care unit and took him to the Dongjiang Senior Center, which didn't have the equipment required to care for him properly. He died at around 1:40 a.m. on February 11.
Henan Man Dies in Custody after Nearly 1.5 Years in Detention
After Mr. Guo Baojun, of Zhengzhou City, Henan Province, passed away in custody on March 14, 2021, the guards at the Zhengzhou City No. 3 Detention Center blocked his family from seeing his body or providing an autopsy report.
Mr. Guo was arrested on November 10, 2019, after being reported for distributing informational materials about Falun Gong. He was tried via a video conference in the detention center on June 13, 2020. By then, he had been on a hunger strike for seven months. The guards kept the feeding tube in his nose during the hearing.
Mr. Guo was sentenced to two years and fined 20,000 yuan on June 29. He appealed the verdict, but the intermediate court ruled to uphold the original sentence on August 28.
Because Mr. Guo continued his hunger strike, his condition continued to deteriorate. In early December, he was in critical condition and hospitalized.
On December 3, Mr. Guo's son and daughter-in-law were finally allowed to visit him in the hospital, the first time since his arrest more than a year ago. Mr. Guo's son said that his father was emaciated. His lips were very dry, his skin was cracked, and his eyes were swollen.
It's not clear whether Mr. Guo was ever taken back to the detention center before he died. He was 63.
Deaths from Long Term Persecution
Mother and Wife Deceased, Younger Brother Imprisoned, Man Forced into Homelessness to Avoid Persecution
Mr. Yuan Guangwu lost his mother and wife within less than three months. His younger brother was sentenced to three years in prison. Mr. Yuan himself is being forced to live away from home to avoid being persecuted for practicing Falun Gong.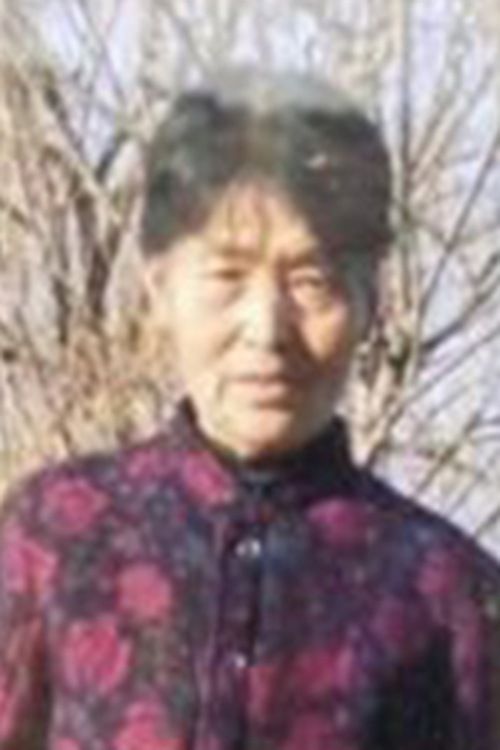 Mr. Yuan's late mother, Ms. Li Caie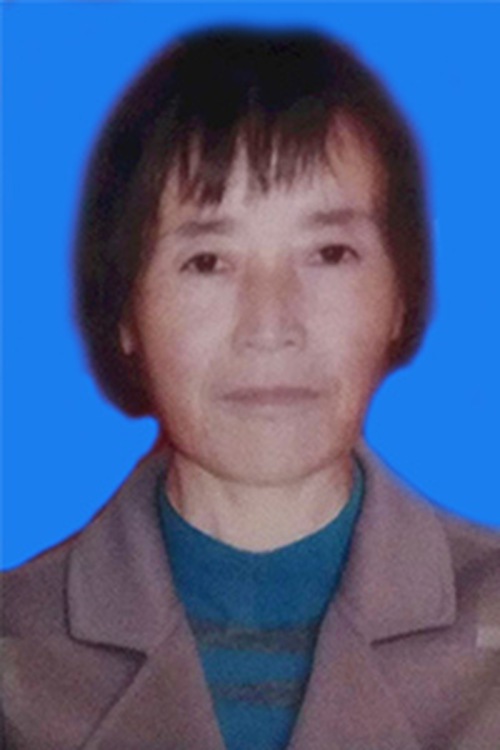 Mr. Yuan's late wife, Ms. Zhang Cuicui
Mr. Yuan, a 54-year-old Liquan County, Shaanxi Province resident, took up Falun Gong in the spring of 1997. Soon after, the migraines, trigeminal nerve pain, stomach ulcer, and liver disease that had tormented him for years, disappeared. Seeing his changes, his wife Ms. Zhang Cuicui, his younger brother Mr. Yuan Huiwu, his brother's wife Ms. Li Ying, and their mother Ms. Li Caie, all began to practice Falun Gong.
The two Yuan brothers were arrested on May 22, 2000. Forty days later, Mr. Yuan Guangwu was given 2.5 years of forced labor and Mr. Yuan Huiwu 2 years. At the Zazihe Forced Labor Camp, the inmates often beat and kicked Mr. Yuan Guangwu. They kept him in solitary confinement and shackled him on a bed in a spread-eagle position. Two inmates were assigned to monitor him around the clock. He wasn't allowed to sleep, nor was he given a blanket in the winter. The inmates sometimes collected his urine and poured it into his pants.
By September 2001, Mr. Yuan Guangwu's body was covered with scabies and infections. The guards forced him to sleep on the concrete floor for six months. In their continued effort to humiliate him and force him to renounce Falun Gong, the guards sometimes stripped off his clothes and ordered him to stand naked in the yard during lunch break, to "sanitize" him.
After Mr. Yuan Guangwu was released in July 2002, the police continued to harass him. They placed him under surveillance and ordered him to report to them on a regular basis, leaving him unable to live a normal life.
The two brothers were arrested again on June 30, 2008, and each given one year at the Zaozihe Forced Labor Camp after 15 days of detention. After two months of beatings and torture, Mr. Yuan Guangwu was on the verge of death and then released.
Mr. Yuan and Ms. Zhang lived away from home to avoid further persecution, only to be arrested on July 17, 2014, while working in nearby Xi'an City, about 60 miles from their home in Liquan.
During the interrogation at the police station, the police kicked Mr. Yuan to the ground and poured water into his nose. They also pulled his arms up behind his back, forcing him to bend over until his head touched the ground. One officer then took his hand and forced him to fingerprint a document.
Mr. Yuan was taken to the Yanta District Detention Center the next day. At the gate, the police slapped him in the face and caused his left ear to permanently lose its hearing. The detention center guards also beat him and shackled him to a wooden board. They once kept him handcuffed and shackled for three months. By the time the handcuffs were removed, he was unable to straighten his arms.
Mr. Yuan fell into critical condition on February 5, 2015 as a result of the torture. He was hospitalized for a month and then taken back to the detention center. The police kept him incarcerated for another four months and released him on bail on June 19, 2015, after they failed to collect evidence against him.
The police broke into Mr. Yuan's home on September 28, 2019. They pushed him down, handcuffed him, and searched his residence. Both his mother and wife were seriously ill at that time. They were so terrified by the police that they lost consciousness.
After some resuscitation at the hospital, Ms. Zhang woke up and managed to escape with Mr. Yuan.
Their mother Ms. Li moved in with her daughter after being discharged. Yet the police kept coming back to harass the family.
On November 29, 2020, Ms. Li passed away, at age 75. Two months later, on February 3, 2021, Ms. Zhang died while still on the run.
Husband and Wife Lose Their Lives to the Persecution of Their Shared Faith 16 Years Apart
A widowed man in Dalian City, Liaoning Province, succumbed to two decades of persecution for his faith in Falun Gong and passed away at age 56 on January 20, 2021. Mr. Yang Chuanjun's death was preceded by multiple arrests and two prison sentences for a total of nine years. His wife, Ms. Dai Zhijuan, also a Falun Gong practitioner, had already died 16 years prior, after enduring years of harassment and torture.
Mr. Yang, one of the volunteers coordinating a Falun Gong exercise site in Dalian, was listed as a major target when the persecution started. A group of officers broke into his home and arrested him at 4:15 a.m. on July 20, 1999.
It's not known what had happened to Mr. Yang after his first arrest. The next time his persecution was reported was when he was held at the Masanjia Forced Labor Camp in 2000, he lost consciousness for ten hours due to fatigue from being forced to do intensive labor.
Mr. Yang was arrested again on April 24, 2002, and held at Yaojia Detention Center for several months. The police attempted to send him to the Masanjia Labor Camp again, but the labor camp refused to take him. Although the police released him afterwards, they put him under house arrest and didn't allow him to go to work.
In order to imprison Mr. Yang, the police fabricated evidence against him and alleged that he was organizing an international conference of Falun Gong practitioners in Dalian.
Mr. Yang was soon arrested again. He stood trial at the Ganjingzi District Court on January 21, 2003. He denied any wrongdoing for practicing Falun Gong and revealed that the police had beaten and shocked him with electric batons for three days in order to extract a confession from him. The judge secretly sentenced him to four years in Dalian City Prison.
As Mr. Yang went on a hunger strike to resist the persecution, the prison guards locked him up in a small cell, force-fed him, and left the feeding tube in his stomach to increase his suffering.
Mr. Yang was arrested one more time on June 19, 2007. He was frequently tortured to the point of fainting and vomiting blood. He had very high blood pressure when he was taken to Dalian Central Hospital.
The Xigang District Court held two hearings of his case, but the prosecutor failed to present any evidence. At his third court hearing, which the prosecutor didn't even attend, the judge directly sentenced Mr. Yang to five years in Dongling Prison in Shenyang. He protested the verdict in court, but the judge quickly left without saying a word.
Liaoning Woman Dies at 57 After Two Decades of Persecution for Her Faith
During the past two decades of the persecution of Falun Gong, Ms. Xie Dewen had been arrested four times and served two forced labor camp terms for a total of four years and eight months. She endured all kinds of inhuman torture, especially in the Masanjia Forced Labor Camp. The Dalian City, Liaoning Province resident succumbed to the torture and passed away on January 21, 2021, at age 57.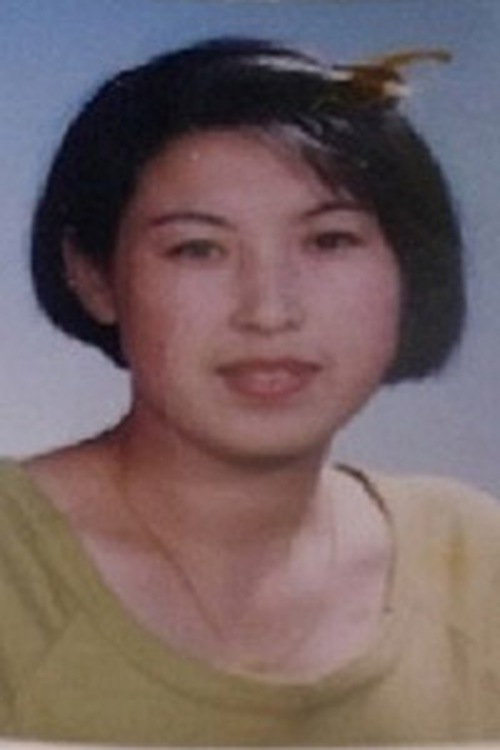 Ms. Xie Dewen
The constant persecution and harassment also left Ms. Xie's elderly parents living in fear. Not only Ms. Xie, but her older sister and younger brother have also been arrested and persecuted for their shared faith in Falun Gong.
Ms. Xie's father became so devastated by the situation that he fell sick after her fourth arrest in 2004. He struggled with very poor health for three years and passed away two months after Ms. Xie was released from serving a three-year term.
Ms. Xie subsequently lived with her mother. In recent years, she and her mother sold their house and moved to avoid the continuous harassment by the police. Her mother, who is in her 90s, was unable to live one day in peace and is now devastated by Ms. Xie's premature passing.
After Eight Arrests and Four Incarcerations, Heilongjiang Woman Dies Following Latest Harassment
Despite the fact that Ms. Liu Xiufang was seriously ill, the authorities still forced her to sign a statement renouncing Falun Gong and videotaped her. In deep anguish, her condition quickly deteriorated. She passed away six months later at 8:55 p.m. on January 29, 2021. She was 68.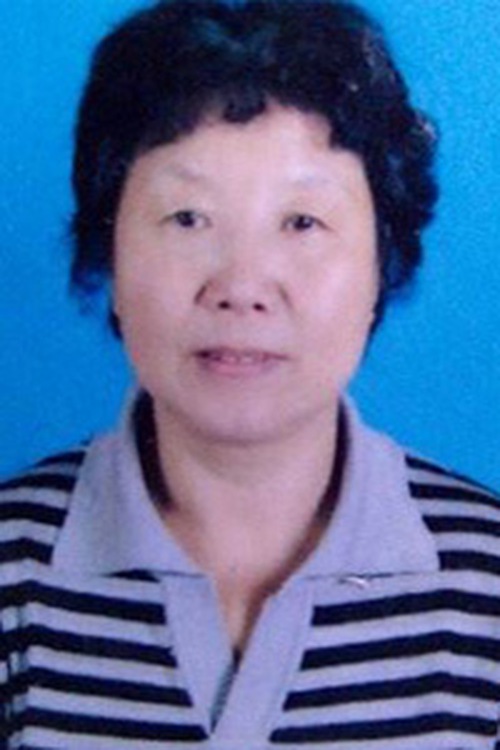 Ms. Liu Xiufang
Ms. Liu's death was a tragic end to the ordeal she had endured during the 22-year persecution of Falun Gong, in which the Jiamusi City, Heilongjiang Province resident was arrested eight times and also given three labor camp terms and one prison term.
While in custody, she was hit with a thick bamboo pole, tied up in a spread-eagle position on a bed, forced to sit still on a small stool, and handcuffed behind her back for long hours. The handcuffing torture left her trembling in pain, yet the inmates pulled her arm to increase the suffering. She said one second felt like a thousand years.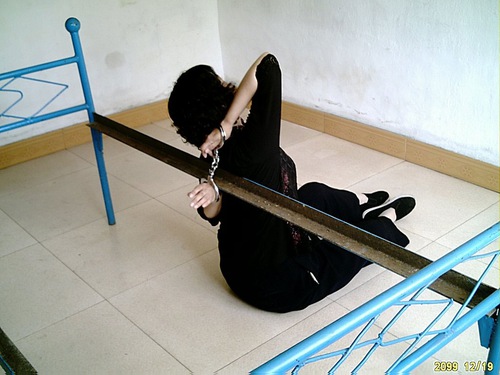 Torture reenactment: Handcuffed behind one's back
Following an arrest in 2009, the police restrained her on a tiger bench for five days and didn't let her eat or sleep for three days. She became incontinent.
Ms. Liu's husband and son, who don't practice Falun Gong, were arrested along with her. The police slapped her husband in the face and also restrained him on a tiger bench for three days. They forced him to fingerprint a document and detained him for two more days in the detention center. Ms. Liu's son was also detained for two days, with one day chained in a metal chair.
Ms. Liu's husband was traumatized by the detention and torture. His eyes were dull and he became withdrawn. His memory declined and sometimes forgot what he was doing. Even a few years later, he still hasn't recovered.
Ms. Liu suffered from heart failure and high blood pressure as a result of torture in the prison, but the guards refused to release her on medical parole, with the excuse that she didn't renounce Falun Gong.
Ms. Liu struggled with poor health after being released. She suffered a stroke in June 2019 and became bedridden.
In the "Zero-out" harassment campaign that started in early 2020, the authorities harassed her in July 2020 and forced her to fingerprint the prepared document to renounce Falun Gong. They videotaped her as proof of them completing the task. The harassment further aggravated Ms. Liu's condition and she passed away six months later.
Jiangsu Veteran Passes Away After 11 Years of Being Bedridden
After being bedridden in a vegetative state for eleven years, Mr. Zhang Chaogui, a Suzhou City, Jiangsu Province resident, passed away on January 30, 2021, at the age of 83.
Mr. Zhang, a retired military official from the Suzhou City Military Division in Jiangsu Province, began practicing Falun Gong in 1997. After the Chinese Communist Party began the persecution on July 20, 1999, Mr. Zhang went to the government in Shanghai on July 21 to appeal for Falun Gong. After he returned, Liu Shuangrong, head of the Pingjiang District Domestic Security Office, attempted to arrest Mr. Zhang but failed.
Liu made several requests to the military division to arrest Mr. Zhang but was again met with objection. He then contacted the Suzhou City government and local 610 Office, an extralegal agency created to persecute Falun Gong, and had them pressure the military to arrest Mr. Zhang.
Pressured by the authorities, the military division detained Mr. Zhang and held him at a brainwashing center. He was also forced to retire from the military.
After his retirement, the military continued to brainwash and intimidate him. They also closely monitored his daily life. When Mr. Zhang went back to his hometown in nearby Yangzhou City during the Chinese New Year, the military also sent people to follow him during his entire trip.
At the same time, Domestic Security Office director Liu, local police, and staff members from the residential committee harassed Mr. Zhang from time to time and monitored his life. The long-term harassment and mental pressure took a toll on his health. He became incapacitated in late 2010 and suffered complete memory loss. He was in a vegetative state and bedridden for the next eleven years before passing away on January 30, 2021.
Mr. Zhang wasn't the only person in his family who was targeted for their faith in Falun Gong. His wife, Ms. Cheng, was first arrested and detained for two hours in July 2008. She was arrested again and had her home ransacked in March 2012, for distributing Falun Gong materials. Both the couple's son and daughter were forced to divorce after being implicated by the persecution.
During the eleven years when Mr. Zhang was bedridden, the military refused to reimburse his medical expenses even though he was covered by its health insurance. When Ms. Cheng sought reimbursement for her husband's medical bills, the military threatened to arrest and sentence her to prison.
Laundry Shop Owner Dies 5.5 Months After Being Released from Prison
Ms. Chen Yongchun, a Yingkou City, Liaoning Province resident died on March 4, 2021, less than six months after she finished serving a five-year prison term for practicing Falun Gong. She was 50.
Ms. Chen, who ran a dry-cleaning business, was arrested on October 19, 2015, for filing a criminal complaint against Jiang Zemin for persecuting Falun Gong. During the one year and seven months she was held in the Yingkou City Detention Center, the guards restrained her in a spread-eagle position three times and only released the restraints when she used the restroom or ate. The inmates stuffed her mouth with rags when she shouted "Falun Dafa is good" to protest. They sometimes poured water into her nose and stepped on her chest.
Ms. Chen was sentenced to five years in Shenyang Women's Prison in early 2017. She was forced to work for long hours each day and not allowed to use the restroom or take a break. The physical and mental injuries from torture caused her to lose weight rapidly. She was often in a state of trance and lost her appetite. Diagnosed with diabetes in 2019, she was hospitalized three times, but her condition worsened.
By the time she was released on October 18, 2020, her husband was heartbroken to see the emaciated and haggard woman in front of him. She was disoriented, frail, and unable to walk. Despite her condition, the police continued to harass her at home, and she still lived in fear.
After struggling with poor health for less than six months, she died in the hospital on March 4, 2021.
Gansu Woman Succumbs to Long-term Harassment, More Surveillance Cameras Installed Nearby Months Before Her Death
After the Chinese Communist Party began to persecute Falun Gong in July 1999, Ms. Kang Qianhua was repeatedly arrested, harassed, and monitored. She was sent to a forced labor camp for one term and held in a brainwashing center for upholding her faith. Fear and stress made her health decline, and she passed away at the age of 56 on March 12, 2021.
Several months before her death, the police installed more surveillance cameras in her apartment building to monitor her.
Ms. Kang once recalled, "The persecution put unimaginable pressure on my family. The mental torment was devastating. When my father had to sign one of my arrest notices, he broke down in tears. The persecution took a heavy toll on his health. His heart and lungs began to fail, and he eventually passed away.
"After my mother saw me get arrested several times, she began to tremble whenever she saw the police, fearing that I'd been arrested again. She lives in fear every day. As for my daughter, she burst into tears several times after I was arrested."
Ms. Kang, from Lanzhou City, Gansu Province, was first arrested in 2000 for distributing informational materials about Falun Gong. She was given a term of one year and two months at Ping'antai Forced Labor Camp in December 2000. She was closely monitored by the inmates, forced to do intensive, unpaid labor, and subjected to frequent beatings and brainwashings. The guards once hung her up by the wrists in a dark room for an extended period of time, leaving her unable to move her arms for days.
Because Ms. Kang refused to renounce Falun Gong, she was taken straight to a brainwashing center when her labor camp term expired. She was held there for a few months.
After she filed a criminal complaint in 2015 against Jiang Zemin, the former head of the communist regime who ordered the persecution, the police began harassing her on a regular basis.
In April 2019, the police installed surveillance cameras inside the elevator in Ms. Kang's apartment building and near the street lights, with the lens pointing right at the front door of her apartment.
Two weeks later, on the evening of April 28, 2019, Ms. Kang was arrested while taking a trip to Shanghai. After she was released on May 14, she was followed every day when she went out.
The police installed a mini surveillance camera at the entrance of her apartment building in September 2019. More surveillance cameras appeared at the entrance and first and second floors in her apartment on November 6, 2020.
Liaoning Woman Dies Three Years After Enduring Ten Years of Imprisonment and Constant Torture
By the time Ms. Wang Sumei was released on July 21, 2018, from serving a ten-year term for practicing Falun Gong, her hair had turned gray, four of her teeth had fallen out and seven had become loose, and her eyesight had become blurry.
Despite her condition, the police kept coming back to harass her and ordering her to write statements renouncing Falun Gong. Her husband had had an affair and deserted her, leaving her in deep despair. She stayed with her sister, who took care of her. After struggling with poor health for almost three years, the Shenyang City, Liaoning Province resident passed away on March 12, 2021, one day after her son took her back home. She was 59.
Ms. Wang was arrested on July 21, 2008, in a police sweep and later sentenced to ten years by the Shenbei New District Court.
At the Liaoning Women's Prison, she was forced to work at least 12 hours per day, making sweaters from 7:00 a.m. to 7:00 p.m. In the evening, she was forced to stand still until 1:00 a.m. before being allowed to go to bed.
As Ms. Wang stayed firm in her faith, the guards instigated inmates to monitor and torture her. Some of them hung her up high enough that her feet were off the floor. Occasionally, they pulled her by her hair and pushed her head into a bucket full of water, nearly drowning her. Others slapped her in the face and pinched her thighs every day. Even when Ms. Wang was doing forced labor, the inmates sometimes beat her for no reason.
An inmate imprisoned for homicide tortured Ms. Wang by forcing her mouth open and pushing on her teeth. Although there was no visible injury, Ms. Wang's teeth became loose and started to hurt.
To keep Ms. Wang from doing the Falun Gong exercises, the inmates often handcuffed her behind her back even while she was sleeping. They sometimes tore up the bedsheets and tied her up in bed. They tied her so tightly that her wrists were injured. Because she shouted "Falun Dafa is good" to protest the persecution, the inmates sealed her mouth with tape.
Given the incessant physical and mental abuse, plus 12 hours of forced labor every day and a poor diet, Ms. Wang was diagnosed with low blood sugar. As a result, she was transferred to the Elderly and Disabled Unit in Division 11 on January 25, 2012. The guards continued to force her to do unpaid labor, this time making cotton swabs.
During her time in prison, Ms. Wang's family repeatedly asked to visit her but were turned away by the guards each time. When her sister picked her up outside the prison, she could barely recognize the woman standing in front of her.
Related report:
83 Falun Gong Practitioners Die in 2020 As a Result of the Persecution of Their Faith
All articles, graphics, and content published on Minghui.org are copyrighted. Non-commercial reproduction is allowed but requires attribution with the article title and a link to the original article.
Category: Reports of Death Cases