Mother and Wife Deceased, Younger Brother Imprisoned, Man Forced into Homelessness to Avoid Persecution
March 24, 2021 | By a Minghui correspondent in Shaanxi Province, China
(Minghui.org) In less than three months, Mr. Yuan Guangwu lost his mother and wife. His younger brother was sentenced to three years in prison. Mr. Yuan himself is being forced to live away from home. These tragedies happened only because of the family's practice of Falun Gong, a peaceful spiritual and meditation discipline that has been persecuted by the Chinese communist regime since 1999.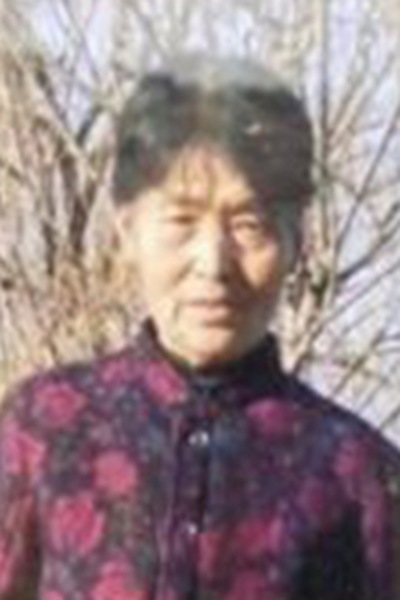 Mr. Yuan's late mother, Ms. Li Caie
Mr. Yuan's late wife, Ms. Zhang Cuicui
The family has endured over twenty years of brutal persecution for upholding their belief.
Onset of the Persecution and Brothers' First Forced Labor Camp Terms
Mr. Yuan, a 54-year-old Liquan County, Shaanxi Province resident, took up Falun Gong in the spring of 1997. Soon after, the migraines, trigeminal nerve pain, stomach ulcer, and liver disease that had tormented him for years disappeared. Seeing his changes, his wife Ms. Zhang Cuicui, his younger brother Mr. Yuan Huiwu, his brother's wife Ms. Li Ying, and their mother Ms. Li Caie all took up Falun Gong. 
After the communist regime launched the persecution, the two Yuan brothers and their wives were arrested on May 22, 2000. While the wives were soon released, the two brothers were taken to a detention center, where they were beaten, physically tormented, and verbally abused.
Forty days later, Mr. Yuan Guangwu was given 2.5 years of forced labor and Mr. Yuan Huiwu 2 years. 
At Zazihe Forced Labor Camp, the inmates often beat and kicked Mr. Yuan Guangwu. In order to force him to renounce Falun Gong, the guards kept him in solitary confinement and shackled him on a bed in a spread-eagle position. Two inmates were assigned to monitor him around the clock. He wasn't allowed to sleep, nor was he given a blanket in the winter. The inmates sometimes collected his urine and poured it into his pants.
By September 2001, Mr. Yuan Guangwu's body was covered with scabies and infections. The guards forced him to sleep on the concrete floor for six months. In their continued effort to humiliate him and force him to renounce Falun Gong, the guards sometimes stripped off his clothes and ordered him to stand naked in the yard during lunch break, to "sanitize" him.
After Mr. Yuan Guangwu was released in July 2002, the police continued to harass him. They placed him under surveillance and ordered him to report to them on a regular basis, leaving him unable to live a normal life.
Brothers' Second Forced Labor Camp Terms
Mr. Yuan Guangwu, his daughter Yuan Adi, brother Mr. Yuan Huiwu and his wife Ms. Li Ying, were arrested again on June 30, 2008. Another three practitioners in their 70s who happened to be with the family at the time were also arrested. One of the elderly female practitioners was denied restroom use for seven hours at the police station. Mr. Yuan Guangwu was forced to sit on the damp floor while an officer kneed him in the stomach and hit his face and head with a flyswatter.
Mr. Yuan Guangwu was taken to the county police department the next day and transferred to a drug rehab center that was being used to detain Falun Gong practitioners. The police didn't provide him with any food or water for an entire day. His two new mp3s and mp4s, worth of 1,600 yuan, and five Falun Gong books were confiscated. 
After 15 days of detention, both of the brothers were each given one year at the Zaozihe Forced Labor Camp. 
The guards continued to beat Mr. Yuan Guangwu in the labor Camp. One inmate once hit and kicked him in the head and back and then hung him up by handcuffs on the window frame.
Torture illustration: hanging up
After two months of beatings and torture, Mr. Yuan became emaciated. He couldn't move or eat. Seeing that he was on the verge of death, the guard carried him out and threw him on a big stone outside of the labor camp. His wife and younger sister took him home. 
Forced to Live Away from Home
In 2010, fifteen officers broke into Mr. Yuan Guangwu's home and attempted to arrest him. His wife, parents, uncle, aunt, and several neighbors all tried to stop the police. His mother was so terrified that she fainted. His father developed dangerously high blood pressure and had to be hospitalized for over 20 days. The police finally gave up on the arrest attempt. 
To avoid further persecution, Mr. Yuan and Ms. Zhang contracted out their nearly two acres of apple farm and moved away.
The police, however, never gave up on targeting the family.
On March 16, 2013, a group of officers broke into the younger Mr. Yuan's home, just as he and his wife were going out to do farm work. The police ransacked their home and confiscated their laptop, a TV, a flash-drive, Falun Gong books and informational materials, a bus pass, and some cash. When the police weren't paying attention, the couple escaped and were forced to live away from home since, leaving their 8-year-old daughter behind.
Mr. Yuan Guangwu and his wife Ms. Zhang Cuicui were arrested on July 17, 2014, while working in nearby Xi'an City, about 60 miles from their home in Liquan. 
To cover up the persecution, the police lied to the bystanders who were watching the arrests, claiming that the couple were murderers. The police carried Mr. Yuan into the police van and savagely beat him until he could hardly breathe. 
During the interrogation at the police station, the police kicked Mr. Yuan to the ground and poured water into his nose. They also pulled his arms up behind his back, forcing him to bend over until his head touched the ground. One officer then took his hand and forced him to fingerprint a document. They threatened him, "We've already got your son. You decide for yourself whether you confess or not."
Mr. Yuan was taken to the Yanta District Detention Center the next day. At the gate, the police slapped him in the face and caused his left ear to permanently lose its hearing. The detention center guards also beat him and shackled him to a wooden board. They once kept him handcuffed and shackled for three months. By the time the handcuffs were removed, he was unable to straighten his arms.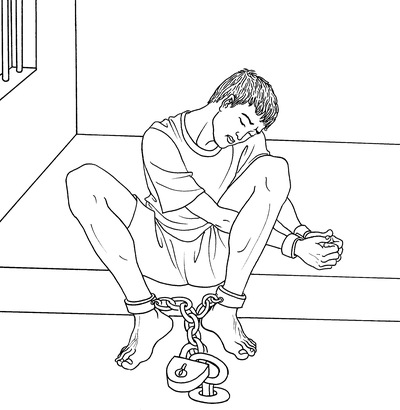 Torture illustration: handcuffed and shackled
Mr. Yuan fell into critical condition on February 5, 2015, as a result of the torture. He was hospitalized for a month and then taken back to the detention center. The police kept him incarcerated for another four months and released him on bail on June 19, 2015, after they failed to collect evidence against him.
Younger Brother's Sentencing
On July 12, 2019, the younger brother, Mr. Yuan Huiwu was arrested while working in Xi'an. Eight plainclothes officers brought him home handcuffed and ransacked his home. His Falun Gong books, a photo of Falun Gong's founder, a few flash-drives, his daughter's zither instruction DVD, his own and his son's debit cards, and cash were confiscated. During the home raid, Mr. Yuan heard one officer discussing the arrest with another group of officers on the phone, who were possibly arresting another practitioner. The officer at his home said, "[Our case] is an easy one."
One of Mr. Yuan's relatives happened to come over to pick up an apartment rental contract during the raid. The police body searched her and confiscated the contract, despite her protest that she needed the contract to collect a 500-yuan deposit from her tenant. The police also ransacked her place and questioned her as to the whereabouts of Mr. Yuan Guangwu.
Mr. Yuan Huiwu was tried by the Yanta Court on December 16, 2019, and sentenced to three years with a 5,000-yuan fine two days later. 
Mother and Wife Passed Away
While the two Yuan brothers have been repeatedly arrested, harassed, or forced to live away from home, their parents were left in deep fear and agony, sometimes weeping loudly at night. 
Only two months after the younger brother's latest arrest, the police broke into the older brother's home on September 28. They pushed him down, handcuffed him, and searched his residence. At that time, both his mother and wife were seriously ill. They were so terrified by the police that they lost consciousness. 
After some resuscitation at the hospital, Ms. Zhang woke up and managed to escape with Mr. Yuan.
Their mother Ms. Li moved in with her daughter after being discharged. Yet the police kept coming back to harass the family.
On November 29, 2020, Ms. Li passed away, at the age of 75. Two months later, on February 3, 2021, Ms. Zhang died while still on the run. 
Mr. Yuan Guangwu is still forced to live away from home while coping with the sorrow of losing his mother and wife.
Related reports:
Xi'an Police Tell Family, "We Don't Need a Reason to Arrest You!"
Four Practitioners Continuously Detained with False Charges
Two Shaanxi Residents Sentenced to Prison for Practicing Falun Gong
All articles, graphics, and content published on Minghui.org are copyrighted. Non-commercial reproduction is allowed but requires attribution with the article title and a link to the original article.
Category: Accounts of Persecution