Liaoning Woman Dies 5.5 Months After Being Released from Prison
March 20, 2021 | By a Minghui correspondent in Liaoning Province, China
(Minghui.org) A Yingkou City, Liaoning Province resident died on March 4, 2021, less than six months after she finished serving a five-year prison term for practicing Falun Gong. Ms. Chen Yongchun was 50.
Falun Gong, also known as Falun Dafa, is a spiritual and meditation discipline that has been persecuted by the Chinese Communist Party (CCP) since 1999.
Taking Up Falun Gong
Ms. Chen took up Falun Gong in 2008 when she was in her 30s. Back then, she suffered multiple diseases, including bronchitis, insufficient blood supply to the brain, cervical spondylosis, and dizziness. She also had symptoms that indicated she may have had breast cancer. One of her employees at her dry cleaning business introduced Falun Gong to her and shortly after she gave it a try, all her diseases disappeared.
Tortured in the Detention Center
In 2015, after the People's Supreme Court announced that they would accept all cases submitted to them, Falun Gong practitioners filed criminal complaints against Jiang Zemin, the former head of the CCP who ordered the persecution in 1999. Ms. Chen also filed her complaint. 
On October 19, 2015, the police went to her shop pretending to be delivering a package, and arrested her. She tried to clarify the facts about Falun Gong and urged the police officers not to take part in the persecution. They responded, "How dare you still talk about it? We're arresting you so that we can get a bonus."
During the one year and seven months she was held in Yingkou City Detention Center, the guards restrained her in a spread-eagle position on a board three times because she shouted "Falun Dafa is good" in protest. She was left on the board around the clock and was only let down when she needed to use the restroom or eat. The inmates stuffed her mouth with rags when she shouted "Falun Dafa is good" again. The guards also instigated the inmates to pour water into her nose or step on her chest. She suffocated and almost fainted.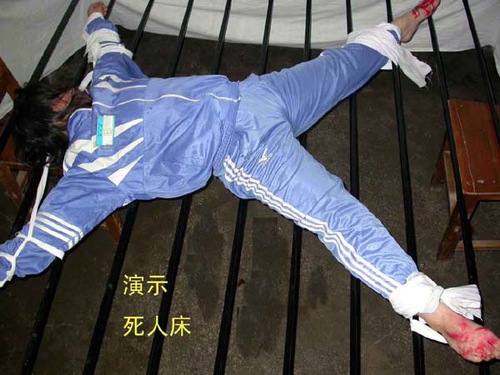 Torture reenactment: Restrained in a spread-eagle position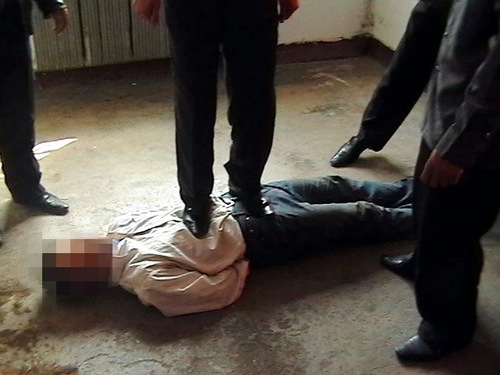 Torture reenactment: Stepping on one's chest
The guards barred others from talking to Ms. Chen and constantly berated her. She was also forced to do long hours of unpaid labor. When she refused to comply, the guards beat her.
Sentenced to Five Years
Ms. Chen was sentenced to five years by the Bayuquan District Court in early 2017 and transferred to Shenyang Women's Prison in May. She was unable to talk on the first day she was taken there. Yet the guards thought she was pretending to be mute and instigated the inmates to torture her.
After one month of intensive torture and brainwashing, she was assigned to the workshop to make paper related products. She often worked until midnight and was constantly beaten by the inmates.
Due to her heavy workload, she was not allowed to use the restroom or have a break. The physical and mental injuries from torture caused her to lose weight rapidly. She was often in a state of trance and lost her appetite. Diagnosed with diabetes in 2019, she was hospitalized three times, but her condition worsened.
By the time she was released on October 18, 2020, her husband was heartbroken to see the emaciated and haggard woman in front of him. She was disoriented, frail, and unable to walk. Despite her condition, the police continued to harass her at home, and she still lived in fear.
After struggling with poor health for less than six months, she died in the hospital on March 4, 2021.
Related reports:
Liaoning Woman Develops Diabetes after Five Years of Imprisonment
Liaoning Woman Jailed Five Years for Her Faith, Subjected to Inhuman Torture
All articles, graphics, and content published on Minghui.org are copyrighted. Non-commercial reproduction is allowed but requires attribution with the article title and a link to the original article.
Category: Reports of Death Cases