After Eight Arrests and Four Incarcerations, Heilongjiang Woman Dies in the Latest Harassment Campaign Against Her Faith
March 31, 2021 | By a Minghui correspondent in Heilongjiang Province, China
(Minghui.org) Despite the fact that Ms. Liu Xiufang was seriously ill, the authorities still forced her to sign a statement to renounce Falun Gong and videotaped her. In deep anguish, her condition quickly deteriorated. She passed away six months later at 8:55 p.m. on January 29, 2021. She was 68.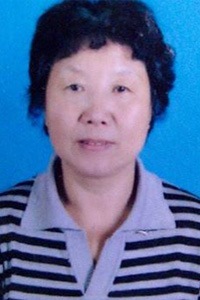 Ms. Liu Xiufang
Ms. Liu's death was a tragic end to the ordeal she had endured since the Chinese Communist Party began to persecute Falun Gong, a spiritual and meditation discipline, in 1999. During the 22-year persecution, she was arrested eight times and also given three labor camp terms and one prison term. She was subjected to constant torture and was on the verge of death several times. She survived the torture in custody, only to eventually succumb to the mental distress and damage the torture had caused.
Taking Up Falun Gong
Before taking up Falun Gong, Ms. Liu, a Jiamusi City, Heilongjiang Province resident, used to suffer from rheumatic heart disease, asthma, incontinence and swelling in her thighs. She struggled every day to do everything. She said if it weren't for her two children, she may have chosen to take her own life.
On May 23, 1995, she decided to learn Falun Gong, after hearing about its tremendous health benefits. Before long, all of her conditions disappeared and she started a new life.
Savage Beating in the Detention Center
Ms. Liu went to Beijing to appeal for the right to practice Falun Gong shortly after the communist regime ordered the persecution in July 1999. She was taken back to Jiamusi and detained for 15 days. The police extorted 200 yuan from her.
Ms. Liu was taken back into custody in late January 2000. In the detention center, a guard hit her with a three-foot-long, one-inch-thick bamboo slab and immediately knocked her down. Then he ordered her to stand up and hit her again. He repeated the torture several times. Ms. Liu's buttocks and thighs were covered with bruises.
When she went back to her cell, the inmates asked her how she was doing. She showed her injury to them. They were all shocked. The inmate in charge of the cell said to her, "It's fine for you not to sit on the small stool (as part of the torture), or your buttocks would be completely festered."
After a month of detention, Ms. Liu's family bribed the police and paid 1,000 yuan in exchange for her release. The bruises on her buttocks were still visible a year later.
First Labor Camp Term: Locked in the Death Bed
Ms. Liu was arrested for the third time on October 4, 2000 at Tiananmen Square in Beijing for demonstrating against the persecution. She was taken back to Jiamusi and given one year at Xigemu Forced Labor Camp. Because of her removing a sticker with slanderous information about Falun Gong, a guard slapped her in the face and extended her term by three months.
As Ms. Liu refused to watch brainwashing videos against Falun Gong, another guard dragged her downstairs to a warehouse. She first locked her to a storage rack and then tied her up in a death bed in a spread-eagle position for a week.
Ms. Liu once recalled, "It's beyond words to describe the painful feeling of being locked in the death bed. It's just too painful! They cuffed me so tight that I couldn't move at all, or the handcuffs would cut into my flesh. Even when I had to relieve myself, they kept one of my hands locked on the bed. I had intensive chest pain, feeling like the front and back of my chest were pressed together."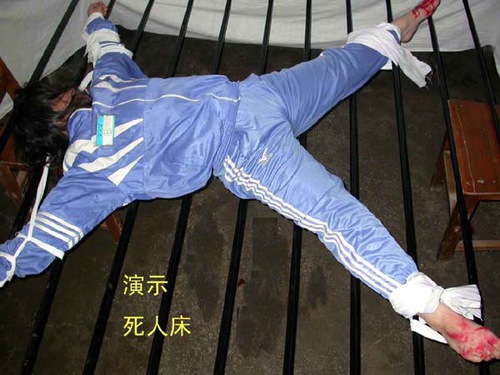 Torture re-enactment: tied up in a death bed
Rejected Admission to Labor Camp Due to Poor Health
Ms. Liu's fourth arrest was around 7 p.m. one day in May 2002. She was found by the police for distributing informational materials about Falun Gong at a night market. She was taken to the local detention center in the evening and had her home ransacked on the next day.
At the detention center, Ms. Liu was first locked in a spread-eagle position for a day. The police gave her another forced labor camp term three weeks later. But she was denied admission due to her health condition and then released.
Two More Forced Labor Camp Terms
Ms. Liu was arrested for the fifth time on December 12, 2002 and given two years of forced labor. At the Xigemu Forced Labor Camp, she was forced to do unpaid labor of picking beans. The guards kept her handcuffed behind her back when she was not doing the labor work. The long hours of the handcuffing left her body trembling in pain. The inmates also pulled her arm to increase her suffering. She said one second felt like thousands of years. When the guards removed the handcuffs, her hands and wrists were severely swollen and her blood pressure was very high.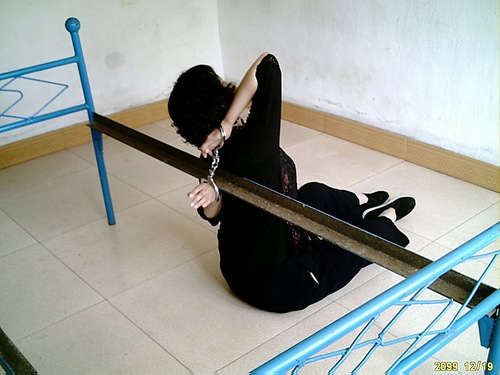 Torture reenactment: handcuffed behind one's back
While Ms. Liu was released six months later, she was arrested again months later in the fall of 2003, after being reported for talking to people about Falun Gong. She was released after 24 hours of detention.
Ms. Liu was given another labor camp term when she was arrested for the seventh time on April 7, 2005 while visiting a Falun Gong practitioner. She was forced to sit on a small stool for extended hours without moving during her six-month incarceration.
Sentenced to Three Years
A dozen officers broke into Ms. Liu's home on February 12, 2009 and arrested her. The police locked her to a tiger bench for five days and didn't allow her to eat or sleep for three days. She became incontinent as a result.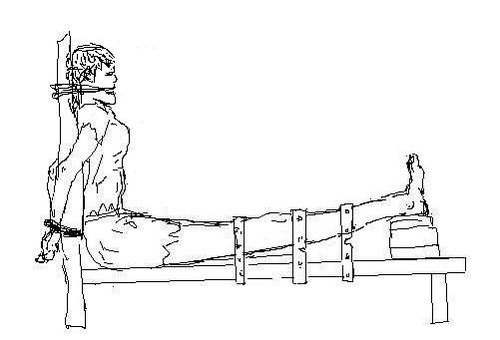 Torture illustration: Tiger bench
Ms. Liu's husband and son, who don't practice Falun Gong, were arrested together with her. The police slapped her husband in the face and also locked him to a tiger bench for three days. They forced him to fingerprint a document and detained him for two more days in the detention center. Ms. Liu's son was also detained for two days, with one day being locked in a metal chair. Two of his cellphones were confiscated.
Ms. Liu's husband was traumatized by the detention and torture. His eyes were dull and he became withdrawn. His memory declined and sometimes forgot what he was doing. Even a few years later, he still hasn't recovered.
Within two weeks of Ms. Liu's arrest, another twenty local practitioners were also arrested for spreading information about the persecution of Falun Gong. Four of them, including Ms. Liu, Mr. Fu Yu, Mr. Wu Zhigang and Mr. Yu Yungang, were tried by the Xiangyang District Court and sentenced to three, five, six and eight years, respectively.
Mr. Yu was beaten to death at the Jiamusi Prison on March 5, 2011. Mr. Fu died on November 30, 2015, after struggling with poor health
Ms. Liu also suffered from heart failure and high blood pressure as a result of torture in the prison, but the guards refused to release her on medical parole, with the excuse that she didn't renounce Falun Gong.
Harassment Before Her Death
Ms. Liu struggled with poor health after being released. She suffered a stroke in June 2019 and became bedridden.
In the "Zero-out" harassment campaign started in early 2020, the authorities in Jiamusi visited every Falun Gong practitioner on the government's blacklist and tried to force them to renounce their faith.
One afternoon in July 2020, the police and residential committee director went to the home of Ms. Liu's son, in an attempt to find out her current address. Ms. Liu's grandson, who was at home by himself, was scared and called his mother. Ms. Liu's daughter-in-law rushed home. She told the police about Ms. Liu's serious health condition and she worried that if she took the police to see her, her condition might worsen. But the police insisted on talking to Ms. Liu.
Coerced by the police, Ms. Liu's daughter-in-law took them to her residence. The officers forced Ms. Liu to fingerprint the prepared document to renounce Falun Gong. They also videotaped her as proof of them completing the task. The harassment further aggravated Ms. Liu's condition and she passed away six months later.
Related reports:
Ms. Liu Xiufang and Her Family Illegally Arrested and Beaten in Jiamusi City, Heilongjiang Province
Heilongjiang Prison Refuses to Release Practitioner Ms. Liu Xiufang Despite Serious Health Problems
All articles, graphics, and content published on Minghui.org are copyrighted. Non-commercial reproduction is allowed but requires attribution with the article title and a link to the original article.
Category: Reports of Death Cases