Hong Kong: Orchestrated by the CCP, Posters Slandering Falun Dafa Appear in Multiple Locations
March 31, 2021 | By a Falun Dafa practitioner in Hong Kong
(Minghui.org) Huge posters with defamatory messages about Falun Dafa were recently seen at numerous locations throughout Hong Kong. They were placed on busy streets near Falun Dafa information booths at Mong Kok, Tsim Sha Tsui, Causeway Bay, Wan Chai, and other locations.
One woman who was putting up the posters said she was following orders from the Chinese Communist Party (CCP) officials in Shenzhen, a nearby city in mainland China. Chu Kong Wai, a district councilor, asked residents to report these posters to government agencies.
Zhou Sheng, a practitioner who regularly volunteers at Falun Dafa information booths, said these posters began appearing around March 6, 2021. Each set consists of three large, white posters with content in simplified Chinese that defames Falun Dafa and its founder Mr. Li Hongzhi. Zhou said these posters were placed near booths run by practitioners and they essentially repeat the same slanderous propaganda churned out by the CCP over the past 22 years.
Ties to the HKYCA
After the CCP began to persecute Falun Dafa in 1999, Party officials extended their campaign of slanderous propaganda outside of China. The Hong Kong Youth Care Association (HKYCA), a pro-CCP organization, interfered with and attacked practitioners for eight years before it was disbanded in late December 2020. Evidence shows this new wave of slander is connected with the HKYCA.
Zhou said she saw a woman in a blue sweatshirt putting up three posters in Mong Kok around 3 p.m. on March 25, 2021. At the Fa Yuen Street and Nelson Street intersection, the woman had a cart containing over 10 such posters. A heavy-set man in a white T-shirt took a video with his cell phone of the woman putting the posters up.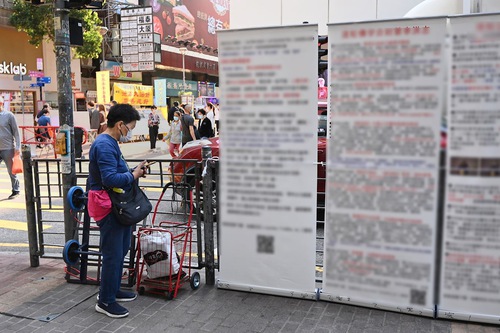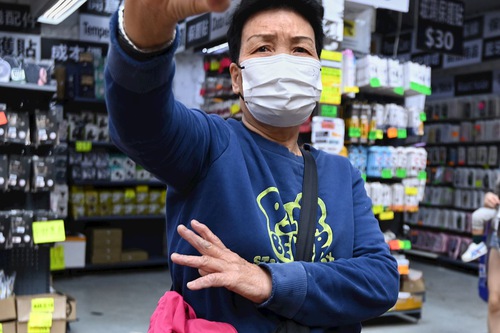 The woman who put up slanderous posters at Mong Kok said she was following the CCP's orders.
The woman was quick and efficient. She took three more posters from the cart and put up them up on Argyle Street. When she went for more, Zhou spoke to her and suggested she stop putting them up. The woman ignored her advice and took a photo of Zhou with her cell phone. When Zhou asked the woman why she was putting the posters up, the woman first replied, "Aa-ye (the man in charge) told me to." Then she said, "It's the CCP's order, the CCP at Shenzhen." "I upload the audio and video every day because they ask about it," she added.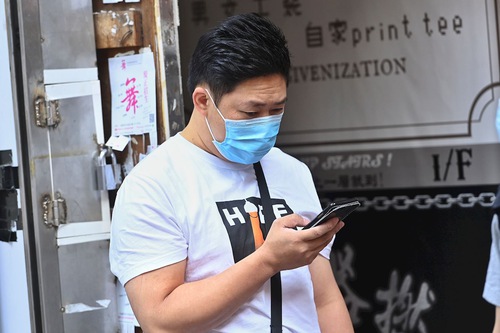 A man who took photos and videos of the process said he was the woman's son.
These two people put up 18 posters at six locations on Mong Kok. The posters are movable and are fastened to fences with ropes. As soon as the pair finished putting up one set of posters, they moved to the next location. The man called the woman "Mother." He also said if practitioners were unhappy with the posters, "Feel free to report this to the police."
Besides Mong Kok, Zhou found the posters at Tsim Sha Tsui, Causeway Bay, Wan Chai, and other locations. Based on their location and when they are displayed, they specifically target Falun Dafa practitioners. Zhou explained, "Our information booth at Tsim Sha Tsui is open only on weekends, so these defamatory posters are only being displayed there on weekends."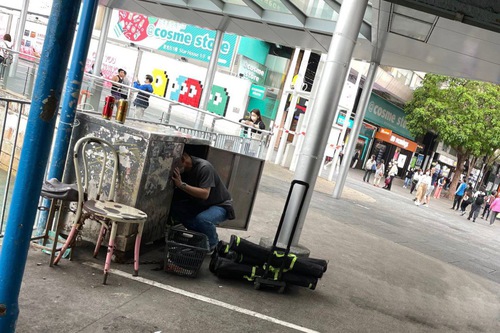 A man removes posters from a metal case owned by the HKYCA.
Another practitioner witnessed a man putting up posters on Tsim Sha Tsui. He noticed a man near the harbor opening a metal HKYCA case affixed to the ground and taking out posters, which means that the posters are connected to the HKYCA. Similarly, the posters at Causeway Bay were displayed at noon near SOGO, next to the Falun Dafa practitioners' information booth. These posters are obviously targeting practitioners' booths.
Before the HKYCA was disbanded in late December 2020, leaders and members of the organization harassed Falun Dafa practitioners almost every day and took photos of them. Their leaders include deputy presidents Xiao Xiaorong and Chen Jinbao, propaganda director Zhang Liuqing, and deputy propaganda director Shen Ling.
Councilors: Report to Government Agencies
Chu Kong Wai, a Mong Kok district councilor, inspected one site where the slanderous posters were displayed on March 25. Since these posters simultaneously appeared at multiple sites, he believed this was an organized event, not the act of one individual.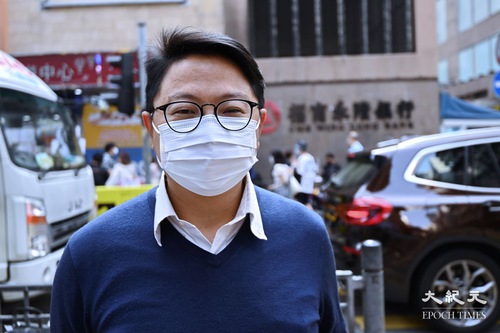 Chu Kong Wai, a district councilor for Mong Kok, called for people to report these posters to government agencies.
Because the posters are unattended, Chu suggested that residents take photos of them, record their locations, and report them to the Food and Environmental Hygiene Department (FEHD). According to Hong Kong law, the agency can remove unattended posters, he explained.
Lo Chun-Yu, a councilor from the Tuen Mun District, also saw the posters. Lo said the content was not factual, so the posters can be deemed slanderous. He believes this is another way the HKYCA is harassing Falun Dafa practitioners.
Because the posters are unattended, Lo said they violate FEHD regulations and can be considered an obstruction of a public space. Therefore, they are subject to criminal investigation.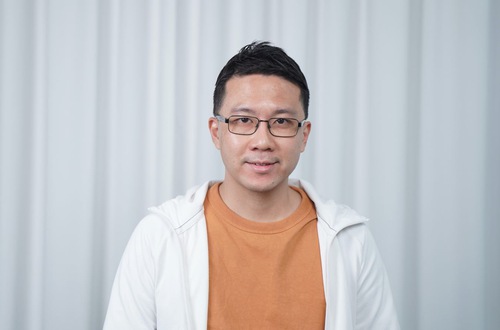 Councilor Lo Chun-Yu hopes law enforcement officers will do something about these posters.
Lo pointed out that the slanderous nature of the posters tends to foster violence, which is not something Hong Kong residents want to see. Lo said the source of the posters should be investigated and the individuals or organizations responsible should be held accountable.
Lo said when the HKYCA was active in the past, its members knew their harassing practitioners was wrong and they did not want to be held responsible. He feels this could be one reason why they are now displaying posters—so that they can avoid facing Hong Kong residents in person.
Upholding Justice
Zhou said this new form of hate propaganda is a reflection of the CCP. As long as the totalitarian regime exists, it will continue to harm people. Because the people who put up the posters work for the CCP, she hopes more residents will report this to the authorities to stop the propaganda from poisoning people.
Zhou said that despite the pressure, practitioners will continue telling people the facts about the CCP's persecution of Falun Dafa while following the principles of Truthfulness-Compassion-Forbearance to be good citizens. She said the persecution gives people an opportunity to learn about Falun Dafa and for practitioners to expose the CCP's persecution. "After the incidents surrounding the extradition bill in 2019, more Hong Kong residents are clear on what the CCP is. Many people have chosen to support Falun Dafa and even begun to practice," she said.
Regarding the HKYCA
The World Organization to Investigate the Persecution of Falun Gong (WOIPFG) issued a report in April 2018 on the Hong Kong Youth Care Association (HKYCA). As a Hong Kong-based agency of the 610 Office system, it actively participated in the CCP's suppression of Falun Gong (also known as Falun Dafa) launched by Jiang Zemin in 1999. It was connected to former Hong Kong chief executive Leung Chun-ying and Jiang's aide Zeng Qinghong.
According to the report, "Around Hong Kong's downtown area, where Falun Gong practitioners have been clarifying the truth about Falun Dafa to the public, some HKYCA members pretend to be Falun Gong practitioners, set up large-scale mock mourning halls, and insult Falun Gong and its founder in abominable ways. This has seriously harmed all Falun Gong practitioners and has also severely undermined the social peace, moral integrity, and Hong Kong's legal institutions.
"In many incidents, the Hong Kong police did not implement impartial law enforcement. They expelled and arrested Falun Gong practitioners who were peacefully protesting," the report said.
The report also listed information on some key members of the HKYCA, which is available at the upholdjustice.org website. "In view of the fact that Hong Kong's democracy and freedom have been trampled on and that the legal rights of Hong Kong Falun Gong practitioners have been seriously violated, WOIPFG has started tracking and investigating all HKYCA members, who have been directly or indirectly involved in these incidents," the report stated.
All articles, graphics, and content published on Minghui.org are copyrighted. Non-commercial reproduction is allowed but requires attribution with the article title and a link to the original article.
Category: Accounts of Persecution