Pro-Communist Youth Care Association Disbanded in Hong Kong
(Minghui.org) On the first day of 2021, Falun Gong practitioners in Hong Kong who have been exposing the Chinese Communist Party (CCP)'s persecution of their faith on the streets noticed a difference: The Hong Kong Youth Care Association (HKYCA), a CCP-affiliated organization that had interfered with and attacked practitioners for eight years, was gone overnight.
Shortly before former CCP leader Jiang Zemin launched a nationwide campaign against Falun Gong in July 1999, he established an extralegal system called the 610 Office on June 10, 1999, to implement the persecution policy at all levels in China. As a branch of the 610 Office in Hong Kong, HKYCA started targeting Falun Gong practitioners right before former Hong Kong Chief Executive Leung Chun-ying was appointed in 2012.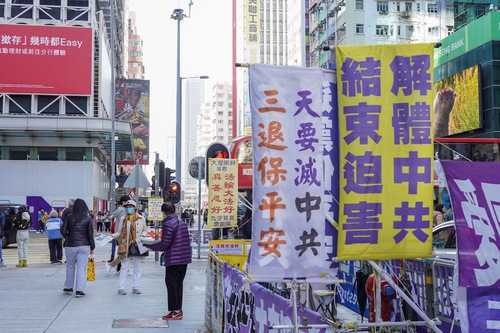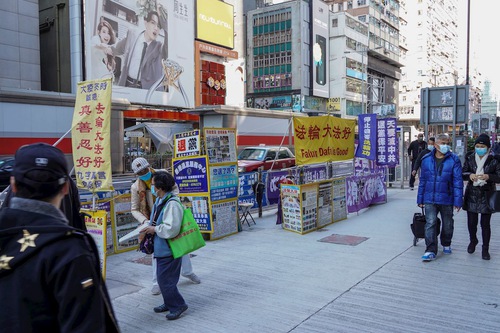 Booths of Falun Gong practitioners in Hong Kong. In the past eight years, the Youth Care Association has harassed practitioners and damaged these booths to prevent the public from learning about the CCP's persecution of Falun Gong.
Liang Zhen, spokesperson for the Falun Dafa Association in Hong Kong, said the HKYCA had harassed and defamed practitioners as well as damaged Falun Gong booths for eight years. She said the HKYCA's disintegration was inevitable, given that more governments and people around the world have come to see the CCP's deceptive nature through its cover-up of the coronavirus pandemic.
Liang also said the HKYCA's demise shows that the righteous will always prevail over evil in the end. She said Falun Gong practitioners will continue safeguarding their rights to freedom of belief, exposing the CCP's brutalities, and calling to end the 21-year-long persecution of their faith.
Dissolution of HKYCA
Information on the disbanding of the HKYCA first came from a pro-democracy advocate on December 19, 2020. He also invited major media outlets to report on the news near a Falun Gong booth at Causeway Bay on the afternoon on December 31, the last day of HKYCA's existence. In the meantime, a former New Territories resident also confirmed the dissolution to news media.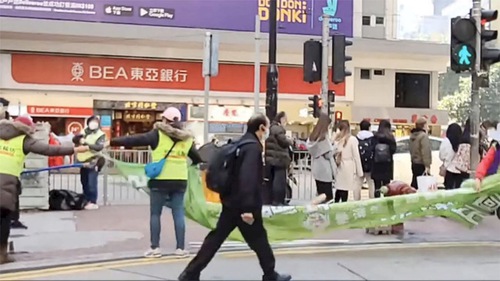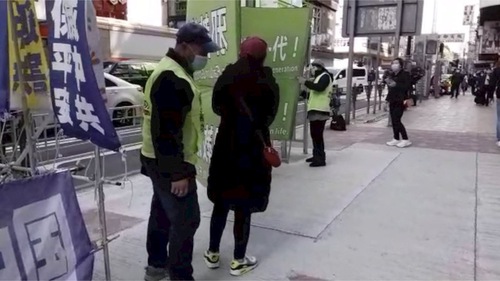 HKYCA took down their banners defaming Falun Gong at Causeway Bay in the afternoon on December 31, 2020.
According to witnesses, several HKYCA leaders went to the area near SOGO, where a Falun Gong booth is located. The leaders include Hung Wai-shing (洪伟成, president of HKYCA), Xiao Xiaorong, and Chen Jinbao. At 3 p.m., these leaders and HKYCA members dismantled their banners that defamed Falun Gong, which had been present for years, and left quietly.
"Police and corporate filings also show Hung is a director of a New Territories clan association that researchers believe is a core part of China's United Front operations in the city's northern fringes close to the Chinese border," said a July 2014 Reuters article titled "Special Report: The battle for Hong Kong's soul."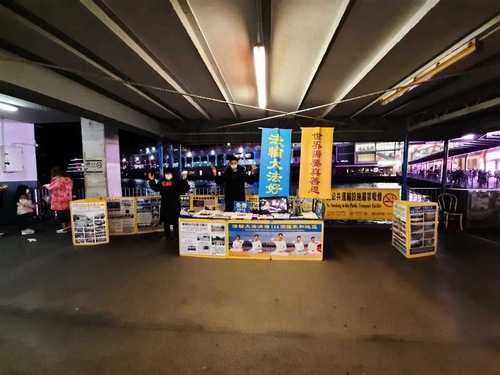 Falun Gong booth at Tsim Sha Tsui on January 1, 2021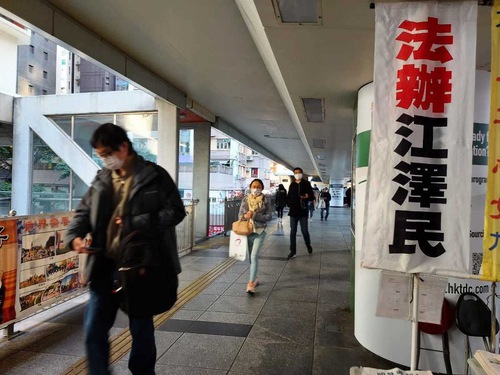 Falun Gong booth at Wan Chai on January 1, 2021
Falun Gong practitioners found that the HKYCA had also dismantled their demonstrations in other locations, including Mong Kok, Hung Hom, Tsim Sha Tsui, and Wan Chai. Its members removed their banners and posters, along with tables and metal cases at approximately the same time.
Another Pro-CCP Organization Damages Falun Gong Booth
About two weeks before the HKYCA ceased to operate, another group damaged a Falun Gong booth in mid-December. Six booths in total were targeted over two consecutive weekends. On December 19, a bald man in his 50s wearing a duck tongue hat forcibly tore apart banners and posters at a Falun Gong booth at Wong Tai Sin. He did not respond to practitioners' questions and left without a word. While walking away in a hurry, he almost fell and then crossed a highway. At least six women who came with him stood by the side and took photos and videos of the scene with cell phones.
Some videos were posted on social media at a later time by a group called the Tongshin Association of Hong Kong. In the footage, the same man sprayed paint at Falun Gong posters at Mong Kok. He also tore apart practitioners' posters at Tsim, Sha Tsui, Causeway Bay, and Wong Tai Sin.
Investigations showed that this man had received military training in mainland China and has a Facebook account registered in simplified Chinese with "Fu" as the last name. After Beijing passed a new law on November 11 that barred anyone from Hong Kong's legislative council who supports independence, four pro-democracy legislators were immediately disqualified by the Hong Kong government within minutes. During an event hosted by pro-CCP councilor Junius Ho that embraced this move from Beijing, the man who tore Falun Gong banners was also seen as a participant.
Launched in January 2020, Tongshin Association of Hong Kong has advocated tougher measures against pro-democracy groups by the CCP through police forces. Its pro-CCP activities include demolishing the Lennon Wall that supported the democratic movement at Hong Kong University, attacking judges in favor of freedom in Hong Kong, and supporting groups from mainland China.
Hong Kong Falun Dafa Association: Supporting Universal Values and Rejecting the CCP
Liang Zhen from the Falun Dafa Association in Hong Kong said HKYCA directly targeted religious freedom using tactics that were employed in the Cultural Revolution and other political movements. Given its close tie to the totalitarian CCP regime, she said, it is merely a matter of time for it to be phased out.
There is an ancient Chinese saying that "good is rewarded with good and evil meets evil." Liang Zhen called on people from all walks of life to support practitioners' freedom of belief. She said by joining forces to defend traditional values and reject the CCP, the world will have a better future.
Background on HKYCA
The World Organization to Investigate the Persecution of Falun Gong (WOIPFG) issued a report in April 2018 on the Hong Kong Youth Care Association (HKYCA). As a Hong Kong-based agency of the 610 Office system, it actively participated in the CCP's suppression of Falun Gong launched by Jiang Zemin in 1999. It was connected with former Hong Kong Chief Executive Leung Chun-ying and Jiang's aide Zeng Qinghong.
"Around Hong Kong's downtown area, where Falun Gong practitioners have been clarifying the truth about Falun Dafa to the public, some HKYCA members flagrantly pretend to be Falun Gong practitioners, set up a large-scale mock mourning halls and insult Falun Gong and its founder in extremely abominable manners," wrote the report. "This has seriously harmed all Falun Gong practitioners and has also severely undermined the social peace, moral integrity and legal institution in Hong Kong."
"In many incidents, the Hong Kong police did not implement impartial law enforcement. They connived at the illegal activities of the HKYCA and once violently expelled and arrested Falun Gong practitioners, who were peacefully protesting," the report said.
The report also listed information on some key members of the HKYCA and is available at the upholdjustice.org website. "In view of the facts that Hong Kong's democracy and freedom have been trampled upon; and that the legal rights of Hong Kong Falun Gong practitioners have been seriously violated, WOIPFG has started tracking and investigating all HKYCA members, who have been directly or indirectly involved in these incidents," the report stated.