Liaoning Woman to Be Released After Serving 7.5 Years for Her Faith
April 21, 2021 | By a Minghui coordinator in Liaoning Province, China
(Minghui.org) Ms. Li Fangfang is scheduled to be released on May 13, 2021, after serving 7.5 years in prison for her faith in Falun Gong, a meditation practice that has been persecuted by the Chinese communist regime for the past 22 years. 
Ms. Li, from Shenyang City, Liaoning Province, was arrested on November 14, 2013 for trying to rescue a fellow Falun Gong practitioner held in custody. She was sentenced by the Heping District Court to 7.5 years at Liaoning Women's Prison on October 27, 2014. 
Ms. Li, a graduate of Shenyang University, was the general manager of McDonald's in Northeast China. She started to practice Falun Gong in 2004. People who are familiar with her say she is a warm-hearted and selfless person. For upholding her faith, she has been arrested twice and put into prison twice for a total of 10.5 years.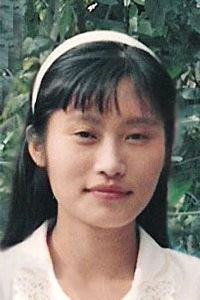 Ms. Li Fangfang
Arrested for Offering Help, Tortured for Doing Exercises
Practitioner Ms. Zhu Lanying, 61 years old, was arrested by officers from the Hunhewan Police Station in Heping District on October 14, 2013. Ms. Zhu's daughter, Ms. Zhang Chunnan, tried to see about her mother, but the authorities passed the buck and gave her no information. 
Ms. Zhang later returned to the police station with Ms. Li Fangfang, making another effort to seek her mother's release, only to be pushed out of the police station. When Ms. Li tried to stop the police's use of violence, she was arrested and taken to the Shenyang Detention Center, where they tied her limbs to a metal bed for two days.
Ms. Li was sentenced to 7.5 years on October 27, 2014 by the Heping District Court. She was sent to the Liaoning Province Women's Prison.
While she was detained at Unit 1 of Division 7 in the prison, Ms. Li insisted on doing the Falun Gong exercises, and was repeatedly threatened by prison guards. In order to turn the other prisoners against Ms. Li, the guards forced all prisoners in Unit 1 to sit still during break time, not allowing them to watch TV or go shopping. 
However, Ms. Li didn't give up and insisted on doing the exercises. On July 2, 2019, she was put into solitary confinement with her hands cuffed behind her back for over 20 consecutive days. The handcuffs were never unlocked even when she was eating, sleeping, going to the toilet and washing. The guards said that if she didn't stop doing exercises, she would be handcuffed until she was released. 
While in solitary confinement, Ms. Li had a heart attack and was hospitalized. 
On several occasions, because Ms. Li shouted out loud "Falun Dafa is good," she was knocked down by prisoners and had her mouth taped. Sometimes she was tied up so tightly that she nearly suffocated and had convulsions.
Detained at Shenyang City Detention Center
Prior to her current prison term, Ms. Li was arrested on June 24, 2008. The police ransacked her home and took both Ms. Li and her mother, Ms. Yang Shuqing, to the Shenyang Detention Center.
Ms. Li protested their illegal detention by shouting "Falun Dafa is good," and refusing to wear the detention center uniform. She also did the Falun Gong exercises. In retaliation, the guards ordered inmates to beat her. Once when she took off the prison uniform, two inmates kicked her in the back, rupturing a vertebra. The bone was bulging out beneath the skin and she was unable to stand up straight for over two weeks.
Another time when she took off the uniform, three strong and tall prisoners, with one of them having practiced judo, beat her head and neck for over ten minutes. Many other inmates were traumatized to witness the abuse.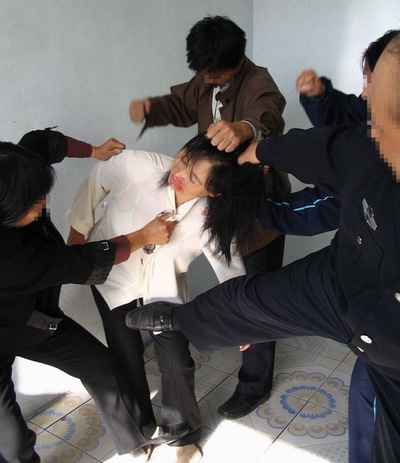 Torture reenactment: brutal beating
Three Years in Liaoning Province Women's Prison
Ms. Li and her mother were both sentenced to three years in prison on October 13, 2009, and were taken to Liaoning Province Women's Prison. Ms. Yang was 69 years old at the time.
Ms. Li protested her imprisonment and was beaten and deprived of sleep. She was once deprived of sleep for three days and nights. Several inmates took turns monitoring her. When she fell asleep, they threw water over her or shouted at her to wake her up. Sometimes they taped her hands and mouth to prevent her from shouting. For a few nights, the inmates handcuffed her arms behind her back. Her hands and wrists were covered with bruises. 
During the cold winter months, she was put in a room with the windows left wide open. 
Because Ms. Li refused to give up her belief, she was forced to stand still for long periods of time. She only had a small piece of bun for every meal. In winter, prisoners opened the windows to her cell and tried to freeze her.
One time when Ms. Li wrote "Falun Dafa is good" and "Truthfulness-Compassion-Forbearance is good" on the wall, inmate Wang Lihong slapped her in the face with her shoes. Another time when Ms. Li told a guard how the inmates torture her, the guard berated her. In the following month, Wang Lihong repeatedly slammed Ms. Li's head against the wall.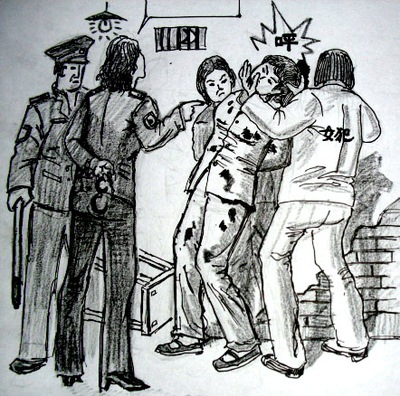 Torture illustration: Beating, slamming a person's head against the wall
Ms. Li's health deteriorated. She lost weight rapidly and had hallucinations. Her gums were bleeding, her feet and legs were swollen and she developed high blood pressure and heart disease.
The guards forced Ms. Li's mother, Ms. Yang, to stand for long hours every day and subjected her to brainwashing, despite her advanced age. Both mother and daughter were released in 2011.
Related Articles:
Ms. Li Fangfang and Mr. Tong Haibo from Shenyang Arrested While Trying to Help a Fellow Practitioner
The Police Arrests Ms. Li Fangfang for Trying to Have Practitioners Released from Detention
Practitioners' Friends and Relatives Arrested for Protesting Police Violence
Shenyang Teacher and and Her Manager Daughter Persecuted
Falun Gong Practitioners Severely Persecuted in Liaoning Province Women's Prison
Retired Teacher and Her Daughter Detained in Liaoning Province
Former Manager at McDonald's in China Arrested
55_Torture_of_Women
All articles, graphics, and content published on Minghui.org are copyrighted. Non-commercial reproduction is allowed but requires attribution with the article title and a link to the original article.
Category: Accounts of Persecution