Practitioners' Friends and Relatives Arrested for Protesting Police Violence
January 04, 2014 | By a Minghui correspondent from Liaoning Province, China
(Minghui.org) Ms. Zhu Lanying, 61, was unlawfully arrested for distributing information about the persecution of Falun Gong. Family and friends that went to the police station to seek her release were also arrested for protesting and condemning the police violence. This is not uncommon in China and is done to instill fear into the people and keep them from speaking out against injustice.
Family and Fellow Practitioner Arrested
Ms. Zhu Lanying was arrested last October and the authorities planned to sentence her to prison. When practitioner Ms. Li Fangfang accompanied Ms. Zhu's family to the police station to seek her release, the police arrested and tortured them. Relatives and friends of the practitioners who held banners outside the police station to condemn the police violence were also arrested.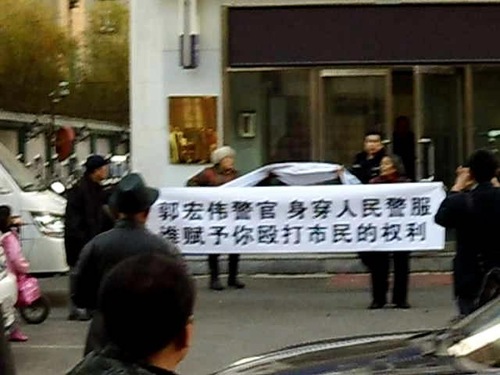 Reported, Arrested, Home Ransacked
Ms. Zhu Lanying, 61, was reported on the afternoon of October 14, 2013, and taken away by officers from the Hunhewan Police Station in the Heping District, Shenyang City. Chang Chun and seven to eight police officers ransacked her home twice within two hours that evening.
Ms. Zhu's husband is disabled, their second daughter just had a baby, and her whole family is anxiously awaiting her return. Her family again went to the police station on the morning of October 15, but were ignored.
That evening the police told her family to sign a "Shenyang Public Security Bureau detention notice" to put Ms. Zhu in detention. She was admitted to the Shenyang City Detention Center.
Her family went to every department to get her released. Police officers claimed that a case against Ms. Zhu had been filed. Her family sought to hire a lawyer, but the local lawyers said that "orders from above" didn't allow them to defend a Falun Gong practitioner.
Daughter Given the Runaround
Ms. Zhu's daughter went to the Hunhewan Police Station on the morning of November 4 to find out about her mother's arrest. The police told her that she should speak to officials at the Domestic Security Division and the Prosecutors. When she did, she was told that the police station was handling her mother's case, so she had to go back to the station.
Officer Guo Hongwei from the police station pushed her out of the main gate. Ms. Li Fangfang was waiting for her outside the gate. When she heard what had happened, she went to the police station and tried to appealed to the officers. They held her in the station and beat her.
Brother Unfurls a Banner
Ms. Li Fangfang's elderly parents went to the police station to get her released. Officers refused to let them see their daughter. Her younger brother, Li Yang (a non-practitioner), also went with relatives and friends to reason with the police, but the officers were arrogant and unreasonable. In desperation, Li Yang unfurled a banner he had made in front of the police station in the afternoon and condemned the police violence.
Six Practitioners Arrested
Many passersby stopped and read the banner. Over 20 police officers rushed out, tore the banner, and arrested Ms. Zhu's daughter; Ms. Li's mother, Yang Shuqing; Mr. Li Yang; Ms. Zhou Guiqin, who is in her 70s; Mr. Xiao Tong; and Mr. Xiao Gang. Officers also ransacked the home of Ms. Li Fangfang, but only found two copies of Zhuan Falun and several posters of Shen Yun Performing Arts. The police, who once again ransacked their homes in an attempt to collect evidence against Ms. Li, would not listen to reason.
Ms. Yang Shuqing and Ms. Zhou Guiqin were released on November 15. Falun Gong practitioners Ms. Li Fangfang, Ms. Xiao Tong and Mr. Xiao Gang are still in the police station. Ms. Li has not had any food or water for two days, and has continued to shout, "Falun Dafa is good" to resist the persecution. Mr. Li Yang is still detained in an unknown location. Mr. Xiao Tong's wife was arrested in another city by officers from the Hunhewan Police Station and brought back around midnight on November 14. Her current situation is unclear.
Parties Involved in the Persecution:
Hunhewan Police Station, Heping District, Shenyang City: +86-24-23301348
Xu Baowei (徐宝伟), manager, police badge No.106339
Lu Jiansheng (吕健生), instructor: +86-13840009688 (Cell), police badge No.109736

Criminal Investigation Brigade, Hunhewan Police Station:
Mu Liangbo (穆良波), deputy commander, police badge No. 107287
Zhang Huasong (张华嵩), deputy commander, police badge No. 106418
Police officer Guo Hongwei (details unknown)