Liaoning Teacher Faces Prosecution After Four Months of Ongoing Incarceration
(Minghui.org) A married couple in Dalian City, Liaoning Province were arrested on July 15, 2021 for their faith in Falun Gong, a mind-body practice that has been persecuted by the Chinese communist regime since 1999.
Although Ms. Miao Yuhuan was released later that day, her husband, Mr. Zhang Jun, was put on criminal detention at the Jinzhou Detention Center. He is now facing prosecution after the Jinzhou Procuratorate approved his arrest on July 22 and charged him with "undermining law enforcement with a cult organization," the standard pretext used by the authorities to imprison Falun Gong practitioners.
Mr. Zhang and Ms. Miao, both 49, worked at the 123 Middle School in Dalian before their arrests. Mr. Zhang was a PE teacher and an accountant, while Ms. Miao a music teacher.
With Mr. Zhang incarcerated, Ms. Miao, whose salary has been suspended for a year, is under tremendous pressure and struggles to make ends meet, while taking care of the elderly at home and their daughter, who is attending middle school.
Ms. Miao twice requested that the school reinstate her pay, but to no avail.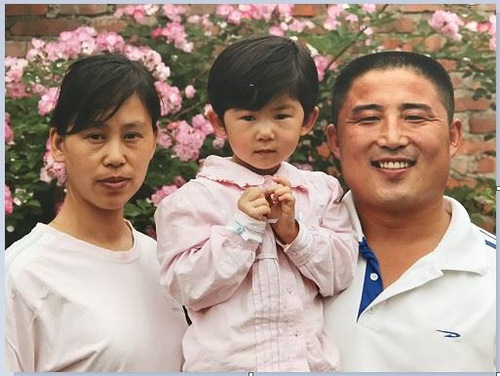 Mr. Zhang Jun and his wife Ms. Miao Yuhuan
Latest Arrest
Three officials from the Dalian Political and Legal Affairs Committee (PLAC), an extra-judicial agency tasked with overseeing the persecution, asked to see Mr. Zhang and Ms. Miao at the 123 Middle School on July 14, 2021.
A day later, a woman who claimed to be from the residential committee knocked on the couple's door at around noon. Ms. Miao refused to open the door. Shortly after, she heard someone trying to open her door with a key but failing to do so.
According to a person who witnessed the couple's arrest, Mr. Zhang was surrounded by over 20 plainclothes officers when he came home about 20 minutes later. Ms. Miao was also forced to come out and get into a black van with Mr. Zhang. Both of them were taken to the Dengshahe Police Station.
Around the same time, three officers stayed behind and ransacked the couple's home. Their laptop, cell phones, and hand-copied Falun Gong books were confiscated.
In the afternoon, the police came back and questioned the couple's neighbor on whether they had talked to the neighbor about Falun Gong or gave them any Falun Gong materials. The police also asked when did the couple put up the Falun Gong decoration on their door.
At 3 p.m., Mr. Zhang called his mother and told her about his arrest. Three hours later, Ms. Miao was released.
Mr. Zhang's family went to the Dengshahe Police Station on August 2 to demand the return of the confiscated personal belongings. The police only agreed to return a portion of it, but not everything.
After his family asked about the status of his case, officer Li Jin showed them the procuratorate's notice to approve his arrest on July 22. Li claimed that he didn't have his family's phone number and had no way to contact them. Mr. Zhang's family wanted to take a photo of the notice, but Li didn't allow them to do so.
Harassment Before Latest Arrest
The couple's latest arrests were a continuation of the ongoing harassment of them since 2020, as the authorities attempted to force them to renounce Falun Gong in the nationwide "Zero-out" campaign (a concerted effort targeting every Falun Gong practitioner on the government's blacklist in China to give up their faith).
As early as September 4, 2020 (Friday), Zhong Fangzhi, director of the Party Office of the Education Bureau of Jinpu New District, went to the 123 Middle School to announce the latest zero-out persecution policy against Falun Gong.
The school principal Sun Pengfei relayed the message to the couple in the afternoon. Sun said that according to the latest policy, all school employees who refused to sign statements to renounce Falun Gong would be suspended from their teaching positions. Such employees must attend forced labor and political studies organized by the school over the weekend. They must take notes during the classes and write a thought report afterwards. If they still didn't renounce Falun Gong by Tuesday (September 8), their salaries would also be suspended.
Sun added that there were only three people under the Education Bureau of Jinpu New District that hadn't renounced Falun Gong, including Mr. Zhang, his wife, and another person.
On September 21, officers from Dengshahe Police Station and Wang Tao of the village committee knocked on Mr. Zhang's home. As no one was home when they came, they stayed in the hallway of the apartment building until late evening.
At the same time, a white jeep also appeared near the home of Ms. Miao's mother. An officer looked into the window to see if anyone was home.
Another group of officers waited in the hallway of the couple's apartment building at around 6:30 a.m. on November 3, and arrested Mr. Zhang as soon as he came out.
While the couple was taken to the police station, the police ransacked their home and confiscated their Falun Gong books, a laptop, a few DVDs, two posters, a wall calendar, and several speakers. Mr. Zhang was given ten days of administrative detention but was released the next day after he was rejected admission by the local detention center due to his health condition. Ms. Miao was also released on the same day.
Pressured by the Jinpu New District PLAC, the education bureau suspended the couple's salaries starting in November 2020. They also threatened to fire them if they didn't renounce Falun Gong by the end of the year.
Mr. Zhang was summoned by Wu Jianchang and Gong Xueli, the head and deputy head of the education bureau, on April 20, 2021, and ordered to renounce Falun Gong.
On April 23, his neighbor saw two people came and knocked on his door, while Mr. Zhang wasn't home.
As Mr. Zhang refused to renounce Falun Gong, Gong and his school's leadership, as well as a PLAC officer, talked to him again on May 11. A school staff member videotaped their conversation.
In June 2021, the school principal Sun Pengfei talked to Mr. Zhang and said the school would not renew his employment contract and his application for promotion wouldn't be considered either.
Mr. Zhang said that it's illegal for them to stop his salary or fire him. He urged Sun not to participate in the persecution, as he would have to bear the responsibility in the future. Sun replied that in order to keep his job as the school principal, he had no choice but do it.
Previous Persecution
Both Mr. Zhang and Ms. Miao, took up Falun Gong before the communist regime ordered the persecution in 1999. Ms. Miao used to suffer from severe stomach problems and clavus, both of which soon disappeared after she learned Falun Gong. Mr. Zhang quit smoking and drinking.
The couple lives by Falun Gong's principles of Truthfulness, Compassion, Forbearance and are always ready to help others. A neighbor recalled that she once forgot to turn off her water faucet. After Mr. Zhang heard the sound of the running water, he called her, drove to her workplace, and took her home to turn off the faucet.
After the onset of the persecution, both of the couple were arrested three times and subjected to constant harassment by both the police and local education bureau.
Mr. Zhang went to Beijing to appeal for Falun Gong in November 2000. He was arrested and given three years of forced labor at the notorious Dalian Forced Labor Camp.
Throughout Mr. Zhang's incarceration in the labor camp, the guards often shouted at the practitioners, "Jiang Zemin [the former head of the Chinese Communist Party] has said that it's nothing when we beat you to death! It's not violating the law if we beat you to death."
After Mr. Zhang was released, the once well-built man was emaciated. The school removed him from the accountant position and sent him to the boiler room to cook rice for the students and teachers. Bai Guirong and Song Fujin of the Dengshahe Town government frequently harassed him and ordered him to write statements to renounce Falun Gong.
On October 15, 2004, Song and a few other officers broke into the boiler room that Mr. Zhang worked at and attempted to arrest him. After he escaped, the police searched the school to look for him.
Bi Kefeng and Lu Zhiqiang of the Jinzhou Domestic Security Office went to the school on December 4, 2008, trying to arrest Mr. Zhang again. As they failed to find him, they arrested Ms. Miao instead. They took away her home key and ransacked their residence.
When Ms. Miao's family went to the Liangjiaodian Police Station to demand her release, one officer said Mr. Zhang wasn't a good husband in that he didn't turn himself in, in exchange for Ms. Miao's release.
While interrogating Ms. Miao at the police station, the police shocked her with electric batons, struck her in the face with a shoe, and burnt her face with a lit cigarette. The officers also pulled her hair and grabbed her hand, in order to force her to sign a statement to renounce Falun Gong.
On January 4, 2009, when Ms. Miao's family went to the Jinzhou Domestic Security Office to demand her release, Bi Kefeng, the deputy director, asked them to find Mr. Zhang as soon as possible. Ms. Miao's family asked the police whether she did anything wrong herself or she was held as a hostage, Bi replied that they should just ask Mr. Zhang to turn himself in sooner.
The police later gave Ms. Miao a one-year labor camp term at the Masanjia Forced Labor Camp in retaliation, when her daughter was only two years old. The little girl stayed with her grandparents and often fell sick. When Ms. Miao was released a year later, the little girl couldn't recognize her and said, "My mommy will come back in a few days."
Not long after, the police asked for Ms. Miao's cellphone number and whether she used a computer at home to browse the internet. At the same time, the police found the place where Mr. Zhang did odd jobs to support himself. As Mr. Zhang wasn't around when they came, they asked his colleagues not to tell him about their looking for him after he came back.
After Ms. Miao resumed teaching in the school, the police kept coming to harass her and sometimes videotaped her as she was giving classes.
Mr. Zhang later returned home and also resumed working in the school. An officer stopped him at the entrance of the school on July 10, 2019 and ordered him to go to the police station to answer some questions. As Mr. Zhang refused to comply, the police stayed outside of his home until late evening to monitor him.
Perpetrators' contact information:
Wang Zhongke (王忠科), deputy head of Dengshahe Police Station: +86-18341112556Wu Jianchang (吴建昌), head of Jinpu New District Education Bureau: +86-411-87683220, +86-13504950900Sun Pengfei (孙鹏飞), Principal of 123 Middle School: +86-13354082333, +86-13842616208, +86-411-87583300Zhou Jun (周军), head of Jinzhou Domestic Security Office: +86-411-87837077
(More perpetrators' contact information is available in the original Chinese article.)
Related reports:
Having Survived Horrific Torture in Custody, Accountant Faces Prosecution Again for His Faith
High School Teacher Miao Yuhuan Detained in Dalian City
Three Falun Gong Practitioners Brutally Arrested in Dalian City and Sent to Forced Labor
All articles, graphics, and content published on Minghui.org are copyrighted. Non-commercial reproduction is allowed but requires attribution with the article title and a link to the original article.