Having Survived Horrific Torture in Custody, Accountant Faces Prosecution Again for His Faith
Aug. 13, 2021 | By a Minghui correspondent in Liaoning Province, China
(Minghui.org) A married couple in Dalian City, Liaoning Province were arrested on July 15, 2021, for their faith in Falun Gong. While Ms. Miao Yuhuan, 49, was released in the afternoon, Mr. Zhang Jun was put in criminal detention at the Jinzhou Detention Center and is now facing prosecution.
Falun Gong, also known as Falun Dafa, is a spiritual discipline that has been persecuted by the Chinese communist regime since 1999.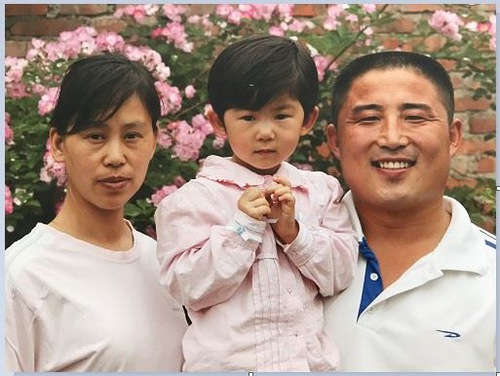 Mr. Zhang Jun and Ms. Miao Yuhuan
When Mr. Zhang's family went to the Dengshahe Police Station on August 2 to demand the return of confiscated items, officer Li Jin told them that the Jinzhou Procuratorate had approved Mr. Zhang's arrest on July 22. He said he didn't inform them of it because he didn't have their phone number. Mr. Zhang's family asked to take a photo of the document, but Li refused to let them. 
Arrest
Three officials from the Dalian Political and Legal Affairs Committee asked to see Mr. Zhang and Ms. Miao at the 123 Middle School they worked at on July 14, 2021. 
A day later, a woman claimed to be from the residential committee knocked on the couple's home around noon. Ms. Miao refused to open the door. Shortly after, she heard someone trying to open her door with a key, but didn't succeed. 
According to a person who witnessed the couple's arrest, Mr. Zhang was surrounded by over 20 plainclothes officers when he came home about 20 minutes later. Ms. Miao was also forced to come out and get into a black van with Mr. Zhang. Both of them were taken to the Dengshahe Police Station.
Around the same time, three officers stayed behind and ransacked the couple's home. Their laptop, cellphones, and hand-copied Falun Gong books were confiscated. 
In the afternoon, the police came back and questioned the couple's neighbor whether they had talked to the neighbor about Falun Gong or gave them any Falun Gong materials. The police also asked when did the couple put up the Falun Gong decoration on their door. 
At 3 p.m., Mr. Zhang called his mother and told her about his arrest. Three hours later, Ms. Miao was released.
Harassment Before Latest Arrest
The couple's latest arrests were a continuation of the ongoing harassment of them since November 2020, as the authorities attempted to force them to renounce Falun Gong in the nationwide "Zero-out" campaign (a concerted effort targeting every Falun Gong practitioner on the government's blacklist in China to give up their faith).
A few officers waited in the hallway of the couple's apartment building at around 6:30 a.m. on November 3, 2020, and arrested Mr. Zhang as soon as he came out. While the couple was taken to the police station, the police ransacked their home and confiscated their Falun Gong books, a laptop, a few DVDs, two posters, a wall calendar, and several speakers. Mr. Zhang was given ten days of administrative detention but was released the next day after he was refused admission by the local detention center due to his health condition. Ms. Miao was also released on the same day.
Pressured by the Jinpu New District Political and Legal Affairs Committee (PLAC), an extra-judiciary agency tasked with overseeing the persecution, the education bureau suspended the couple's salaries since November 2020. They also threatened to fire them if they didn't renounce Falun Gong by the end of the year.
Mr. Zhang was summoned by Wu Jianchang and Gong Xueli, the head and deputy head of the education bureau, on April 20, 2021, and ordered to renounce Falun Gong. 
As he refused to comply, Gong and his school's leadership, as well as a PLAC officer, talked to him again on May 11. 
In June 2021, Sun Pengfei, the principal of the 123 Middle School, talked to Mr. Zhang and said the school would not renew his employment contract and his application for promotion wouldn't be considered either. 
Mr. Zhang said that it's illegal for them to stop his salary or fire him. He urged Sun not to participate in the persecution, as he would have to bear the responsibility in the future. Sun replied that in order to keep his job as the school principal, he had no choice but to do it.
Previous Persecution
Both Mr. Zhang and Ms. Miao, 49, took up Falun Gong before the communist regime ordered the persecution in 1999. Ms. Miao used to suffer severe stomach problems and clavus, both of which soon disappeared after she learned Falun Gong. Mr. Zhang, on the other hand, quit smoking and drinking.
The couple lives by Falun Gong's principles of Truthfulness, Compassion, Forbearance and are always ready to help others. A neighbor recalled that she once forgot to turn off her water faucet. After Mr. Zhang heard the sound of the running water, he called her, drove to her workplace, and took her home to turn off the faucet.
After the onset of the persecution, Mr. Zhang went to Beijing to appeal for Falun Gong in 2000. He was arrested and given three years of forced labor at the notorious Dalian Forced Labor Camp. 
On March 19, 2001, several ambulances drove into the labor camp. Ordered by Zhang Baolin, the deputy head of the labor camp, guards Qiao Wei, Wang Jun, Jing Dianke, Zhu Fengshan, and Sun Jian led a group of inmates and ordered the hundreds of practitioners detained there to renounce Falun Gong one by one. 
Those who refused to comply were dragged into the hallway, beaten with a rubber club, and shocked with electric batons. The yell from the perpetrators, the sound of the electrical discharge, and the desperate screams from the practitioners terrified everyone detained in the building.
After hours of the horrific torture, many practitioners were forced to renounce Falun Gong against their will. It turned dark in the evening, but the guards still wouldn't stop.
Inmate Jiao Bo said to Mr. Zhang, who was handcuffed in the hallway, "You are the next." By then, Mr. Zhang had lost feeling in his hands as the handcuffs were so tight and cut into his wrists.
"Zhang Jun, are you giving up Falun Gong or not?" guard Wang Jun shouted at him.
"I'm not giving it up," Mr. Zhang replied. 
With only one thought left that he'd rather die than be "transformed," Mr. Zhang ran into the heating radiator as inmate Jiao dragged him to the torture room. His head was covered with blood and his nose was broken. He lost consciousness and lied on the ground. (Editor's note: Falun Gong's teaching prohibits killing or suicide. Due to the severity of the persecution, some practitioners were forced to take irrational actions, which also pointed to the brutality of the persecution.)
Thinking that Mr. Zhang may have died, the inmates became scared. Guard Wang Jun signaled them to stop the torture. They wrapped Mr. Zhang in a military coat and took him to the clinic of the labor camp. The doctor there said they didn't have the proper equipment to treat him and asked the guards to take him to the hospital. 
Without anesthetics, Mr. Zhang had more than ten stitches on his head. In the evening, he was taken back to the labor camp. The guards held him in a warehouse and handcuffed him to the bed. 
Also in the warehouse were Mr. Qu Hui, whose spine was broken from the beating; Mr. Wang Zhiyong who was still in a coma; as well as Mr. Yin Yanjun, Mr. Gao Feng, Mr. Zhang Fuming, Mr. Liu Zongyao, Mr. Zhang Ximing, Mr. Zheng Wei, Mr. Teng Zhizhou, and Mr. Li Jisheng, who were handcuffed and forced to sit on the concrete floor—every one of them was covered with injuries from the savage beatings in the afternoon. Several of them later passed away or became disabled.
Throughout Mr. Zhang's incarceration in the labor camp, the guards often shouted at the practitioners, "Jiang Zemin [the former head of the Chinese Communist Party] has said that it's nothing when we beat you to death! It's not violating the law if we beat you to death."
After Mr. Zhang was released, the school removed him from the accountant position and sent him to the boiler room to cook rice for the students and teachers. Bai Guirong and Song Fujin of the Dengshahe Town government frequently harassed him and ordered him to write the statements to renounce Falun Gong.
On October 15, 2004, Song and a few other officers broke into the boiler room Mr. Zhang worked at and attempted to arrest him. After he escaped, the police searched the school to look for him.
Bi Kefeng and Lu Zhiqiang of the Jinzhou Domestic Security Office went to the school on December 4, 2008, trying to arrest Mr. Zhang again. As they failed to find him, they arrested Ms. Miao instead. They took away her home key and ransacked their residence.
When Ms. Miao's family went to the Liangjiaodian Police Station to demand her release, one officer said Mr. Zhang wasn't a good husband in that he didn't turn himself in, in exchange for Ms. Miao's release. 
As Mr. Zhang was forced to live away from home to hide from the police, the police gave Ms. Miao a labor camp term at the Masanjia Forced Labor Camp, when their daughter was only two years old.
Perpetrators' contact information:
Wu Jianchang (吴建昌), head of Jinpu New District Education Bureau: +86-411-87683220, +86-13504950900Sun Pengfei (孙鹏飞), Principal of 123 Middle School: +86-13354082333, +86-13842616208, +86-411-87583300Wang Ruiping (王端平), secretary of Jinpu New District Political and Legal Affairs Committee: +86-13904111155, +86-411-87930817, +86-411-87650005, +86-411-87679913, +86-411-87878821Yu Dequan (于德泉), secretary of Dalian Political and Legal Affairs Committee: +86-411-82758910, +86-411-82722880, +86-411-82758905, +86-411-82722880, +86-411-82800318, +86-1390411558, +86-13604090009Yu Zongwen (于宗文), political secretary of Dalian Domestic Security Office: +86-13304097989, +86-411-88056988, +86-411-88052356
(More perpetrators' contact information is available in the original Chinese article.)
All articles, graphics, and content published on Minghui.org are copyrighted. Non-commercial reproduction is allowed but requires attribution with the article title and a link to the original article.
Category: Accounts of Persecution