High School Teacher Miao Yuhuan Detained in Dalian City (Photo)
(Clearwisdom.net) Ms. Miao Yuhuan, 36, resides in Dengshahe, Jinzhou District, Dalian City, Liaoning Province. She is a music teacher at Dalian 123rd High School, and has been recognized as one of the city's prominent teachers.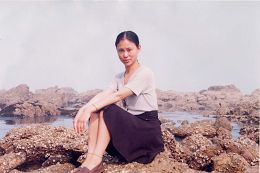 Miao Yuhuan, a high school teacher in Dalian City
Miao Yuhuan began practicing Falun Dafa in 1997. She demanded herself to follow the principles of "Truthfulness-Compassion-Forbearance" and developed a good reputation in her neighborhood and at her school.
In November 2000, Miao's husband Zhang Jun, also a practitioner, went to Beijing to appeal for the right to practice Falun Dafa and was arrested and sentenced to three years of forced labor. Some relatives and friends urged the young bride, who had only been married for less than six months, to get a divorce and marry someone else. She smiled and shook her head. She knew her husband was not doing anything wrong by practicing Falun Dafa. She visited her parents-in-law with presents every holiday to keep their hopes up. After Zhang was released, Miao gave birth to a daughter, Jinglian, at the end of 2006.
On the morning of December 4, 2008, police from Dalian City National Security, Jinzhou District National Security, Liangjiadian Police Station, and Dengshahe Police Station ransacked Zhangjun's home for no apparent reasons. Then they went to 123rd High School to arrest Zhang Jun (who worked at the same school as his wife). Failing to find Zhang, they violently arrested Miao instead.
Currently Miao is detained in Yaojia Detention Center in Dalian City. Her two year-old daughter, Zhang Jinglian, has been taken to her grandmother's house. Jinglian's two grandmothers have taken her to Liangjiadian Police Station every day to ask them to release her mother. One grandmother said, "Our health is poor. The child needs her mother's care." The police refused to release Miao, and said, "Why don't you leave the child here. I will take her to her mother."
Policemen who directly persecuted Miao:
Jinzhou Police Station Political and Security Division Captain Shao Benming: 86-411-87837077 (Office) 86-411-87821948 (Home), 86-13050587531 (Cell)
Training officer Ding Guoquan: 86-411-87837071 (Office), 86-411-87801412 (Home), 86-13052707207 (Cell)
Deputy division captain Gao Mingxi: 86-411-87837071 (Office), 86-411-87811069 (Home), 86-13555945798 (Cell)
Liangjiadian Police Station Head Guo Xiaoyong: 86-411-87282011 (Office), 86-411-87802733 (Home), 86-13504960189 (Cell)
Training officer Wang Yonghen: 86-411-87282678 (Office), 86-411-87132277 (Home), 86-13942826778 (Cell)
Deputy head Cong Lin: 86-411-87282678 (Office), 86-411-87710186 (Home), 86-13700118686 (Cell)
Dengshahe Police Station Head Guan Bing: 86-411-87234477 (Office), 86-411-87680607 (Home), 86-13500765293 (Cell)
Training officer Qiu Guofeng: 86-411-87230206-8006 (Office), 86-411-87674885 (Home), 86-13504960199 (Cell)
Deputy head Wei Xuexin: 86-411-87230206-8007 (Office), 86-411-87830919 (Home), 86-13840915577 (Cell)
Jingzhou Police Branch Office Chief Li Dalin: 86-411-87837116 (Office), 86-411-87712268 (Home), 86-1394208898 (Cell)