Wife Sentenced to Seven Years for Suing Jiang Zemin for Husband's Death While in Custody
June 4, 2020 | By a Minghui correspondent
(Minghui.org) "At the police station, I saw four big, burly men carrying a man covered with blood. When I realized the man they were carrying was my husband, I was so shocked that I fainted."
The above was what Ms. Li Jumei wrote when she filed a criminal complaint on June 1, 2015 against Jiang Zemin, the former head of the Chinese communist regime who instigated the persecution of Falun Gong (also known as Falun Dafa), an ancient spiritual and meditation discipline, in July 1999.
She documented in the complaint her husband's tragic death barely two months after his arrest in 2009. She was arrested four months after filing the complaint in 2015 and subsequently sentenced to seven years in prison, and is currently held at Hunan Women's Prison.
Below is an account of her family's persecution:
Ms. Li, 63, was a teacher from the Zhuquanwan Elementary School in Jiahe County, Chenzhou City, Hunan Province. She used to suffer from bone cancer and tried committing suicide several times, but survived each time. She became healthy within a month after taking up Falun Dafa.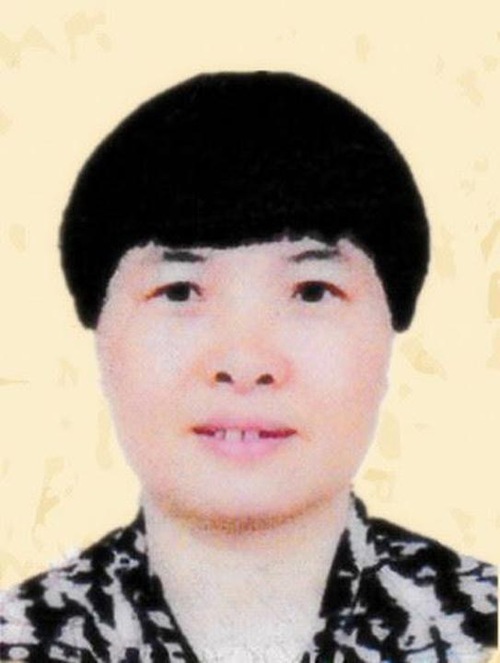 Ms. Li Junmei
Mr. Guo Huisheng, Ms. Li's husband, was a cadre in the Office of Legislative Affairs in the Jiahe Government. Mr. Guo was open minded, and an experienced, hard working Communist Party official—one of the few remaining honest and upright officials.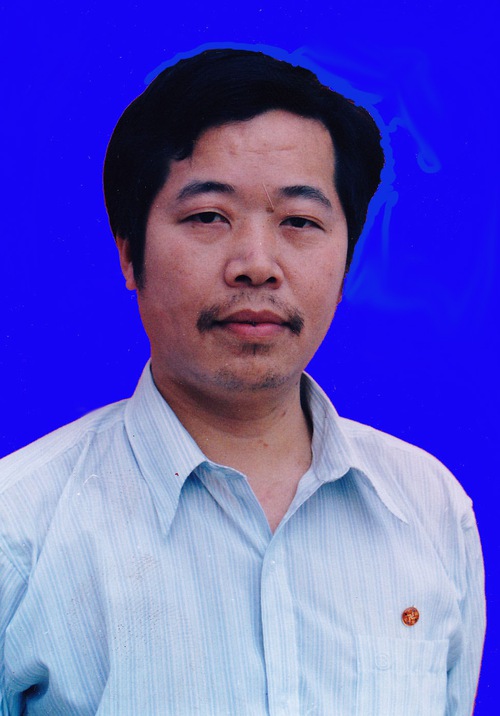 Mr. Guo Huisheng
However, after the persecution of Falun Gong started in 1999, Mr. Guo was arrested repeatedly and sent to a forced labor camp once, while Ms. Li was arrested six times and twice given forced labor. Their economic loss totaled over 100,000 yuan. Moreover, Ms. Li had to endure a dozen or so different kinds of torture methods whilst in prison.
Repeated Arrests and Detention
In March 2000, Ms. Li was sent to a brainwashing center and fined 1,000 yuan. She was arrested again on August 19 that year, after police broke into her house. She was detained for 40 days and her family was forced to pay 400 yuan for her living expenses and a 4,000 yuan fine.
When Ms. Li and another practitioner Ms. Xiao Erfeng went to practitioner Ms. Deng Guojun's house in October 2000, police barged into Ms. Deng's home and arrested the three of them. They were taken to a police station in Chenzhou City.
"I was handcuffed to the window and police confiscated the only 300 yuan that I had left," Ms. Li said. "During the night, both my hands were cuffed to a metal frame in the corridor. I was shivering throughout the night as the cold rain splashed on my face and body."
Ms. Li was transferred to the local detention center the next day. For at least six months, her salary was stopped and she was fined 5,000 yuan. While she was still in detention, her husband Mr. Guo was sent to a forced labor camp to serve two years, leaving their two daughters to fend for themselves.
In December 2001, Ms. Li was arrested at home and detained for 15 days. Her workplace was fined 2,000 yuan. In October 2002, Ms. Li was teaching her class when she was arrested by staff from the 610 Office and detained for 40 days. At the same time, Mr. Guo was also arrested and detained for more than a month. The couple went on a hunger strike to resist the persecution.
Ms. Li was forced to live away from home to avoid the persecution on February 1, 2004, as she refused to give up practicing Falun Gong. On September 27 that year, she was arrested for telling people about Falun Gong. She was later transferred to the 610 Office, where she was interrogated, deprived of sleep and forced to stand for 72 hours.
Though Ms. Li became very weak as she did not eat for three days, she was still transferred to the detention center and detained for more than a month. Afterwards, she was given one and a half years of forced labor. While at the labor camp, she was forced to do unpaid labor and also subjected to constant monitoring and made to stand under the scorching sun as she refused to renounce her faith.
On June 20, 2007, Ms. Li was arrested and taken to the detention center, where she was denied visitation from her family. Half a year later, she was sent to a forced labor camp for one-and-a-half years.
At the forced labor camp, the guards locked her in a restroom for over three-and-a-half months. She was forced to stand the entire night and deprived of sleep. The inmates who monitored Ms. Li beat her when she closed her eyes. She became emaciated and her legs and feet were swollen. After more than a year of torture at the labor camp, her family could hardly recognize her when she was released.
Couple Arrested, Husband Persecuted to Death
On July 6, 2009, the police arrested practitioner Ms. Xiao Silan from Lanshan County, Hunan Province. She was held in Lanshan County detention center and suffered a fractured right arm from police brutality. However, she was not allowed to receive proper medical treatment. Mr. Guo and Ms. Li called Xi Xiaogang, chief of the Public Security Bureau, Lanshan County, to appeal for Ms. Xiao. The couple also mailed informational materials to the police station.
For this, the couple was reported to the Hunan Province 610 Office and subsequently persecuted themselves.
On August 6, 2009, under the orders of the 610 Office, a group of policemen arrested Ms. Li and another practitioner Ms. Liao Hongcui. Both of them were taken to Chengguan Police Station. At around 1:00 a.m. that night, several police officers descended upon Ms. Li's home. When Mr. Guo refused to let them in, four policemen broke in and severely beat Mr. Guo while he was handcuffed and kneeling down. Mr. Guo's face was covered in blood and he had blood stains all over his clothes when several officers carried him into the police station.
"At the police station," Ms. Li later wrote in her complaint, "I saw four big, burly men carry a man covered with blood. When I realized the man they carried was my husband, I was so shocked that I fainted."
The police returned to the couple's home, ransacked their place twice, and confiscated many of their belongings, including several hundred thousand yuan in cash intended for home improvements.
Mr. Guo and Ms. Li were transferred to a detention center. On the evening of August 13, Ms. Li's life was in imminent danger and was sent to the People's Hospital for emergency treatment. She was taken back to the detention center when she regained her consciousness the next morning.
On October 6, 2009, Mr. Guo fell into a coma in the detention center. He was taken to the People's Hospital in Jiahe County to be resuscitated. He remained in a coma and had a faint heartbeat after undergoing brain surgery.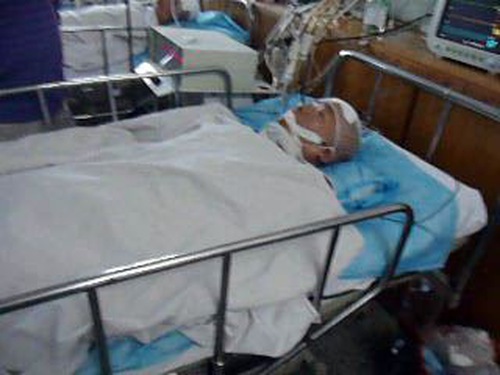 Mr Guo in critical condition
Mr. Guo passed away at 5 p.m. on October 12, 2009.
Ms. Li said, "My 80-year-old in-laws were devastated, and my two daughters forever lost their father. I couldn't stop crying in the detention center. My heart was torn apart."
Ms. Li Tried for Her Faith
Ms. Li continued to remain in detention after her husband's death. She was tried on January 12, 2010. The court did not notify her family. She defended herself and pleaded not guilty. She relayed to the judges how Falun Gong had benefited her and urged them to quit the Chinese Communist Party (CCP). The judge adjourned the session without issuing a verdict.
On January 18, 2010, Ms. Li experienced severe vaginal bleeding. She fainted and was taken to the hospital. She heard a doctor say, "She might not survive longer than 2-3 months."
In order to avoid responsibility for her deteriorating condition, the detention center granted her medical parole. Ms. Li was still monitored by the police upon returning home.
Discharged from Workplace, Forced to Become Homeless
Ms. Li recovered by doing Falun Gong exercises and reading Falun Gong teachings. After regaining her health, she asked the school to reinstate her position, but her request was rejected.
In April 2010, Ms. Li requested Li Dexiao, the head of the county Political and Legal Affairs Committee, to reinstate her position and salary. Li Dexiao said he would accept her request if she stopped telling people to quit the CCP. She refused.
In 2011, when Li Dexiao learned that Ms. Li had regained her health after practicing Falun Gong, he threatened her: "Don't talk about Falun Gong! Since you said that you're physically well, I'll have to put you back in jail!"
As Ms. Li needed to financially support her elderly parents, she requested her superiors to allow her to return to work many times, but to no avail.
In July 2013, Ms. Li documented the persecution that she has been subjected to and submitted her article to Minghui.org. This infuriated Li Dexiao, who then colluded with several judges to reopen Ms. Li's case. He also attempted to blackmail Ms. Li, saying that if she promised not to expose the persecution to the public and distribute informational materials about Falun Gong, her withheld wages would be paid and her retirement would be arranged. Ms. Li rejected the deal.
On September 16, 2013, Huang Jianlong, presiding judge of the Jiahe County Criminal Court, summoned Ms. Li to appear in court at 8 o'clock the following morning. According to Huang, "A higher official's instruction would make it impossible not to sentence her." Ms. Li was thus forced to flee her home in order to avoid being imprisoned for her belief.
Arrested for Suing Jiang Zemin
Ms. Li filed a criminal complaint on June 1, 2015, against Jiang Zemin. On October 23, she was arrested and taken to the detention center.
Ms. Li was first tried by the Jiahe County Court on November 17. During the hearing, she defended herself, saying that it is her right to practice Falun Gong. After some discussion, the court staff made a call to their supervisor to ask for further instructions. The presiding judge later adjourned the hearing.
On December 11, a court hearing was held again. Ms. Li's lawyer argued that the criminal charges against Ms. Li could not be established due to the lack of evidence and unclear facts. During the hearing, the lawyer presented evidence attesting to the fact that no law in China criminalizes Falun Gong. He questioned how the trial court charged his client with "using a cult to undermine law enforcement," when she simply exercised her constitutional right to spread information about Falun Gong, a lawful practice.
The lawyer also emphasized that Ms. Li's Falun Gong books, which were used as evidence against her, posed no harm to anyone or society at large, let alone undermined law enforcement.
Ms. Li also stated in court that practicing Falun Gong has helped cure her illness and she did not violate any law. She added that Falun Gong has spread to more than 100 countries and regions in the world and urged the judge and court staff to quit the CCP.
Sentenced to Seven Years, 1,670 Signed Petition Calling for Her Release
During the third hearing on May 27, 2016, the prosecutor asked the judge to sentence Ms. Li to seven years in prison. The judge adjourned the hearing without issuing a verdict.
Ms. Li was eventually sentenced to seven years in prison by the Jiahe County Court after three hearings. She appealed against the verdict, and a total of 1,670 Chenzhou City residents signed a petition calling for her release.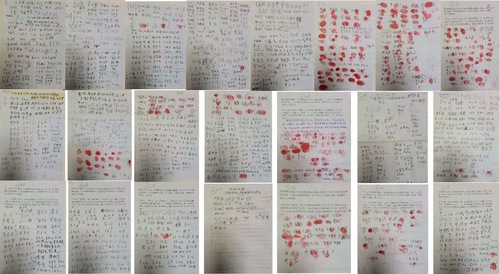 Petitions seeking Ms. Li's release
The Chenzhou City Intermediate Court heard her appeal on August 30, 2016, and ruled one month later to uphold the original verdict. She was admitted to Changsha Women's Prison soon afterward.
In February 2017, Ms. Li's daughter traveled from Beijing to Changsha but was denied a visit with her mother. Another relative of Ms. Li was also not allowed to see her. Her family suspects that she may have been tortured and that the prison authorities didn't want them to see her injuries.
Related reports:
Practitioners Guo Huisheng and Li Jumei from Jiahe County, Hunan Province Detained
Mr. Guo Huisheng from Jiahe County, Hunan Province Dies as a Result of Persecution
Guo Huisheng's Parting With His Wife (Photos)
Ms. Li Jumei Seriously Ill in Detention Center; Her Husband Died as a Result of Persecution
Ms. Li Jumei Forced to Flee Home to Avoid Imprisonment, Her Husband Persecuted to Death
Ms. Li Jumei Sentenced to Seven Years for Suing Jiang Zemin Over Husband's Wrongful Death
Woman Wrongfully Convicted for Her Faith, Lawyer Defends Her Right to Freedom of Belief
1,511 Sign Petition Calling for Release of Woman Sentenced to Prison for Her FaithImprisoned Woman Denied Family Visits in Jiahe, Hunan Province