Guo Huisheng's Parting With His Wife (Photos)
(Clearwisdom.net) (correspondent from Hunan Province) By order of Jiahe County court in Hunan Province, a group of policemen arrested Falun Dafa practitioners Mr. Guo Huisheng and his wife Li Jumei, a school teacher in Zhuquanwan, on the night of August 6, 2009. Mr. Guo was brutally beaten and died two months later, on October 12, 2009. His wife, Li Jumei, remains detained in prison.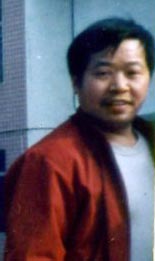 Guo Huisheng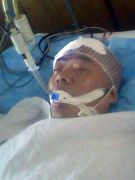 Guo Huisheng in hospital emergency care, shortly before his death
Mr. Guo Huisheng was a strong and able-bodied man. He was open minded, and an experienced, hard working Communist Party official--one of the few remaining honest and upright officials. Before practicing Falun Dafa, his wife, Li Jumei, suffered from bone cancer. It was only after she took up the practice that she was given a second chance at life.
During the past ten years of the Chinese Communist Party's (CCP) persecution of Falun Dafa, it has consistently implemented its policies of "Ruin them financially, ruin their reputation, and destroy them physically," with the aim of eradicating Falun Dafa. Mr. Guo and Ms. Li were trying to let more people know about the truth and magnificence of Dafa, but were met with arrest, detainment, hard labor and "re-education" (brainwashing). Ms. Li was sentenced many times. In early 2004, Mr. Guo and Ms. Li each had their wages stopped and were fined over 30,000 yuan (approximately 5 years' salary of an average urban worker) for practicing Falun Dafa. Mr. Guo was detained and sentenced to a men's forced labor camp once; Ms. Li was detained six times and sentenced to a women's forced labor camp twice, suffering a total economic loss of over 100,000 yuan. Ms. Li also had to endure a dozen or so different kinds of torture methods whilst in prison. These included being restricted from going to the toilet, being forced to stand up for long periods of time, sleep deprivation, being hung by the thumbs, being handcuffed with one arm behind the back and one behind the head, being forced to remain in awkward positions for long periods of time, beatings, and being pulled by the ears.
On July 6, 2009, policemen unlawfully detained practitioner Ms. Xiao Silan from Lanshan County, Hunan Province. She was imprisoned in Lanshan County detention center and has a fractured right arm after it had been twisted so much. To this day, she has not received the proper medical treatment for her arm. Mr. Guo and Ms. Li proceeded to call Xi Xiaogang, chief of the Public Security Bureau, Lanshan County, to appeal to his kindness. Instead, Xi Xiaogang reported them to the local 610 Office. Such an act of compassion was met with persecution from the Chenzhou District 610 Office, Jiahe County, Hunan Province.
On the night of August 6, 2009, a group of policemen arrested and detained Mr. Guo and Ms. Li. As their home was now empty, the police went there twice to confiscate their belongings. Those who witnessed the incident reported that at least six to seven sacks were full when they were taken from their home by the police. According to Mr. Guo Huisheng's older brother, several hundred thousand yuan in cash was at their home, which was intended for home improvements, and also taken by the police. Furthermore, four policemen, including Hu Yonghui, an instructor at the National Security military unit, severely beat Mr. Guo while he was handcuffed and kneeling down. Upon arrival at the local police station, Mr. Guo's face was covered in blood. According to eyewitnesses, at least four people dragged him out of the interrogation room, and he had blood stains all over his clothes.
On October 6, 2009, Mr. Guo fell into a coma in the Jiahe County Detention Center, and was sent to the local county hospital. After doctors operated on his head, Mr. Guo was still in a coma and had a faint heartbeat. He was in a critical condition. At 5 p.m. on October 12, 2009, Mr. Guo Huisheng's heart stopped beating.
Under the CCP's strict control of information, we do not know of every event that transpired during Mr. Guo's detainment. However, for a healthy, strong individual like Mr. Guo to be severely persecuted to the point of death is enough evidence to prove that the CCP's persecution of Falun Gong is cruel beyond human nature.
People involved in the persecution:
Xi Xiaogang, chief of the Public Security Bureau, Yongzhou City, Lanshan County, Hunan Province: 86-13974683966 (Cell)
Li Hongchun, secretary of Law Committee, Chenzhou City, Jiahe County, Hunan Province: 86-735-6633796 (Office), 86-13973514866 (Cell)
Zhang Chifei, director of 610 Office, Jiahe County: 86-13786503812 (Cell)
Li Jianming, deputy director of 610 Office, Jiahe County
Luo Yonggang, chief of the Public Security Bureau
Ou Zhibing, chief of local Jiahe County Police
Related article:
Mr. Guo Huisheng from Hunan Province Jiahe County Dies as a Result of Persecution
Practitioners Guo Huisheng and Li Jumei from Hunan Province Jiahe County Detained