Minghui Report: 96 Falun Gong Practitioners Confirmed to Have Died in 2019 As a Result of Persecution (Graphic Photo)
January 08, 2020 | By a Minghui correspondent in China
(Minghui.org) Ninety-six Falun Gong practitioners in China were confirmed to have been persecuted to death for their faith in 2019, bringing the total confirmed death toll to 4,363 over the past 20 years of brutal suppression.
Falun Gong, also known as Falun Dafa, is an ancient spiritual and meditation discipline based on the principles of Truthfulness, Compassion, Forbearance. The peaceful practice has been persecuted by the Chinese communist regime since July 1999.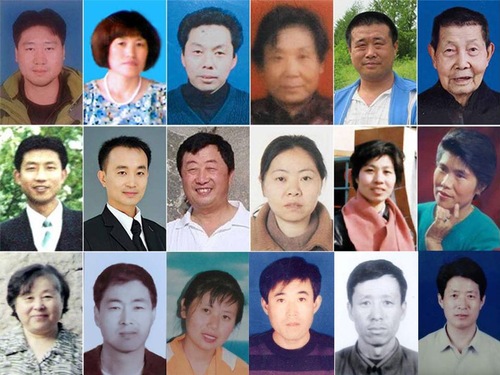 Photos of some of the deceased practitioners (from left to right, top to bottom): Mr. Wang Jian, Ms. Yang Guizhi, Mr. Shao Minggang, Ms. Zhang Wei, Mr. Wang Xinchun, and Mr. Wang Hongzhang Mr. Zhang Hongwei, Mr. Shi Qiang, Mr. Li Chengshan, Ms. Kong Hongyun, Ms. Sun Libin, and Ms. Tan Yinzhen,Ms. Meng Hong, Mr. Wang Dechen, Ms. Yang Lihua, Mr. He Lifang, Mr. Yang Shengjun, and Mr. Zhu Benfu
The deceased practitioners, 53 of them female, came from all walks of life, and included doctors, college professors, factory managers, bank employees, engineers and farmers. Their ages ranged from 28 to 87, with an average age of 62.5.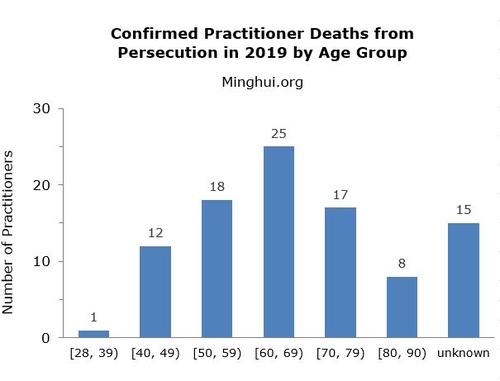 Nineteen of the practitioners died while still being held in prisons, detention centers and police stations. Ms. Guo Zhenxiang, 82, died a few hours after she was arrested on January 11, 2019. Mr. Yang Shengjun passed away nine days following his arrest on August 2, 2019. A 41-year-old woman, Ms. Li Yanjie, fell to her death on December 7, 2019, while trying to escape being arrested.
The month of January registered the most cases, with 20 deaths. March and July each had ten cases. The rest of the nine months each registered single-digit cases.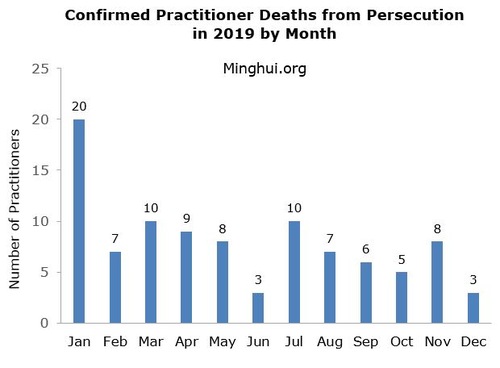 The confirmed deaths took place in 23 provinces and centrally controlled municipalities, with Shandong Province registering the most cases (16), followed by Heilongjiang (11) and Liaoning Province (10). The other provinces and municipal regions all had single-digit cases.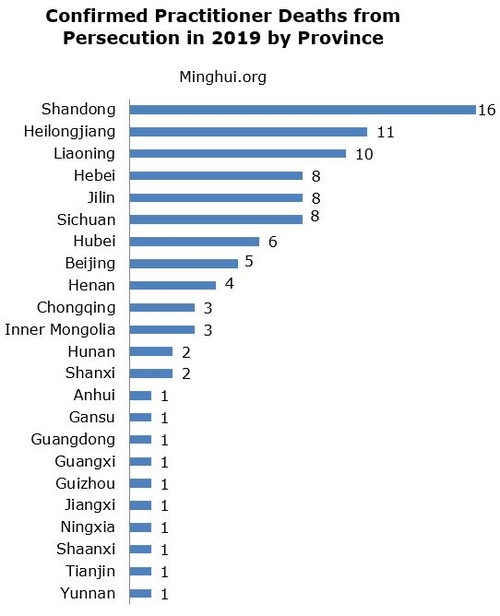 Below are snapshots of several of the death cases.
Deaths in Custody
Shandong Man Dies in Custody at 45, Family Suspects Psychiatric Abuse and Organ Harvesting
Mr. He Lifang, a resident of Qingdao City, Shandong Province, died in custody on July 2, 2019, two months after his last arrest for refusing to renounce his faith in Falun Gong.
Mr. He's family noticed a sewn-up incision on his chest and an open incision on his back. The police first claimed that the incisions were a result of an autopsy, before changing their story to say that a medical examiner would come shortly. No coroner ever showed up.
Mr. He's loved ones suspect that his organs may have been harvested either while he was still alive or shortly after his death. They also suspect psychiatric abuse as he lost his ability to speak and became unresponsive within just 17 days of his detention.
Mr. He Lifang, a Falun Gong practitioner from Jimo City in Shandong Province, died on July 2, 2019.
Mr. He's passing marked an end to his years of suffering for upholding his belief. The 45-year-old man was repeatedly arrested and tortured – he was once beaten by 17 inmates while in detention. His ID was confiscated, and he was forced to stay away from home for 17 years to avoid further arrest.
The police deceived Mr. He into coming to the police station under the pretext of issuing him an ID card on May 5, 2019. He was arrested upon arrival and later subjected to forced-feeding and possibly psychiatric abuse. His health declined quickly and he was rushed to a hospital on June 30.
Over 200 police officers were dispatched between June 30 and July 3 to block local Falun Gong practitioners and Mr. He's family members from getting close to the hospital.
Mr. He died on July 2, but his family wasn't notified until the following day. They were pressured into agreeing to have his body cremated that same day. Over 30 officials and four vans of police officers were present to monitor the cremation process.
Married Couple Sentenced for Their Faith – Husband Dies in Custody, Wife Not Allowed to Attend His Funeral or Receive Visits
Mr. Wei Qishan, a Qinhuangdao City, Hebei Province resident, died on November 23, 2019, while awaiting an appeal hearing. His wife, Ms. Yu Shurong, who was arrested with him on June 12, 2018, was not allowed to attend his funeral or be visited by their two sons or her lawyer.
The police arrested the couple after suspecting them of putting up banners about Falun Gong. Mr. Wei was later sentenced to seven years and Ms. Yu to four years. They appealed to the Qinhuangdao City Intermediate Court, which has yet to schedule a review of their cases. Ms. Yu remains at the Qinhuangdao City Detention Center, where her husband died.
Mr. Wei's sons received calls from the Qinhuangdao City Detention Center at around 9:20 p.m. on November 23, 2019, and were told that their father was dying in the Qinhuangdao City People's Hospital.
As both sons live away from their hometown, they called their aunt, Ms. Yu's sister, and asked her to go to the hospital to check on their father.
Ten minutes later, the police called Mr. Wei's sons again and informed them that Mr. Wei had just passed away.
Mr. Wei's sister-in-law rushed to the hospital and saw his body, which was still on a stretcher but not in the emergency room. It was not clear whether he had been given emergency resuscitation at the hospital at all.
She also noted that Mr. Wei's eyes were half-open. His right arm was hanging down and his right sleeve was completely wet. She rolled his sleeve half away up and saw that his right arm was completely black and purple.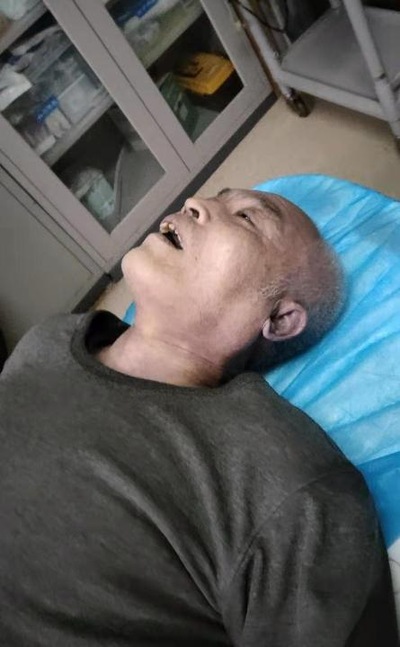 Mr. Wei Qishan, in death
A guard surnamed Zhao claimed that Mr. Wei fell around 8 p.m. that night while using the restroom. He said that Mr. Wei's head hit the concrete floor and he lost consciousness. The medical staff at the detention center performed CPR on him. When he didn't regain consciousness, they took him to the hospital for emergency treatment, but Mr. Wei subsequently died at the hospital.
Around 10 p.m., more than 10 police officers came and took Mr. Wei's body to a funeral home. His sister-in-law tried to stop them but was pushed aside. She wasn't allowed to accompany the body to the funeral home.
Man Dies in Prison, Family Pressured into Giving Consent to Have Body Cremated and Suspects Organ Harvesting
Mr. Wang Dechen, a Harbin City, Heilongjiang Province resident, died under suspicious circumstances while serving a 10-year term for his faith in Falun Gong.
The authorities at Hulan Prison didn't allow Mr. Wang's family to get close to his body and pressured them into giving consent to having him cremated two days after his death.
His family suspected that he may be a victim of organ harvesting by the communist regime.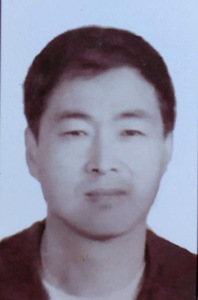 Mr. Wang Dechen
Mr. Wang was arrested on May 6, 2016, and sentenced to ten years with a 20,000-yuan fine on December 28, 2016.
In late October 2019, about three and a half years into Mr. Wang's imprisonment, his family suddenly received a call from the prison to say that he had been sent to the hospital.
When they arrived at the hospital to visit him, several guards watched them closely and didn't allow them to touch Mr. Wang or even get close to him.
His family noticed that he had some issues with his back. He said he was having back pain and couldn't move his lower body.
Mr. Wang's family immediately applied for medical parole for him. The prison quickly approved it, but kept postponing his release using various excuses.
The prison hospital later told Mr. Wang's family that he had lung cancer, after demanding that they pay a 5,000-yuan deposit and a 7,400-yuan medical exam fee.
Mr. Wang's son questioned the hospital staff as to why they didn't provide medical treatment for his father. The doctor said that they didn't have any drug for lung cancer, only painkillers and antibiotics.
On November 17, 2019, one month after Mr. Wang was sent to the hospital, the prison informed his family that he had passed away earlier that day.
As soon as Mr. Wang's family arrived at the hospital, the prison guards began to move his body to the hospital morgue.
His family begged them to be allowed to change his clothing, and the guards relented. But they ordered the doctor to do it and didn't allow his family to get near his body.
The guards kept pressing his family to give consent to cremate his body. Meanwhile, two officers guarded his body continuously and didn't allow anyone to get close.
The death certificate issued by the hospital stated that Mr. Wang passed away from "natural causes."
Mr. Wang's body was set to be cremated on November 19. His son initially refused to sign the consent form, but his other relatives, who had been under pressure from the authorities, persuaded him to give his signature.
During the cremation, the authorities forbade Mr. Wang's family from having any type of memorial service or from taking a last look at his body.
Heilongjiang Woman Dies While Imprisoned for Her Faith, Family Forced to Consent to Cremation of Her Body
Ms. Yang Lihua, a Sunwu County, Heilongjiang Province resident, died around one and a half years into her imprisonment for her faith in Falun Gong. She was 43.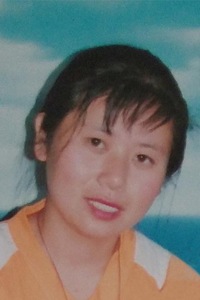 Ms. Yang Lihua
Ms. Yang's family was informed by the Heilongjiang Women's Prison on November 5, 2019, that she was in critical condition. When her family rushed to the hospital, they found her unconscious. She passed away later that day.
Ms. Yang's family demanded to see her medical record. A prison guard flashed the paperwork in front of them without allowing them to read any details.
When her family asked why her body was covered with bruises, the prison guard said it was livor mortis.
Ms. Yang's family requested an autopsy, but the prison authorities said they had to ask for permission to perform an autopsy and it would take months for the higher-ups to approve it.
The prison authorities eventually intimidated Ms. Yang's family into signing a consent to have her body cremated. Her loved ones brought her ashes back on November 9 and buried her.
Ms. Yang was serving a prison term of three to four years for appealing to the government for the right to practice Falun Gong, after the police forced the gas station where she worked to fire her.
She previously served another three years in Heilongjiang Women's Prison between 2014 and 2017 for writing "Falun Dafa is good" on a telephone pole. While incarcerated, she was subjected to beatings, force-feedings and other forms of torture.
Imprisoned Mother of U.S. Resident Dies Nine Months Before Scheduled Release, Family Suspects Foul Play
Ms. Meng Hong, a Harbin City, Heilongjiang Province resident and mother of a U.S. resident, died suddenly on July 26, 2019, moments after she was rushed to the hospital for emergency treatment.
According to her daughter Ms. Li Xuesong, a San Francisco resident, the Heilongjiang Women's Prison called her family on the afternoon of July 26, 2019, and said that her mother was suffering from an episode of high blood pressure and a heart problem. They were asked to immediately go to the No. 2 Hospital of Harbin Medical University with some cash to pay for her medical expenses.
Moments after the family arrived at the hospital, the ambulance carrying Ms. Meng also arrived. They saw two paramedics performing cardiopulmonary resuscitation (CPR) on her inside the vehicle. Ms. Meng was pronounced dead ten minutes after she was taken to the emergency room. She was 79.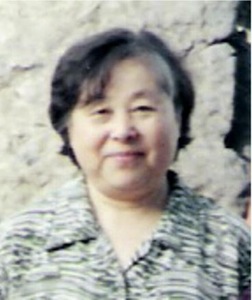 Ms. Meng Hong
Ms. Meng's sudden death came nine months before her scheduled release from a 7-year prison term for not renouncing her faith in Falun Gong.
Ms. Li Xuesong said that her mother had been very healthy before, and during the six-plus years that she was imprisoned. She suspects foul play in her death.
Authorities Remove Imprisoned Woman from Life Support Six Days after Operating on Her Without Family's Consent
Ms. Li Changfang, a Linyi City, Shandong Province resident, died on July 12, 2019, after the police removed her oxygen supply while she was still unconscious after undergoing surgery.
Ms. Li was arrested on October 23, 2018, for seeking justice for a local woman who was persecuted to death for practicing Falun Gong in 2017. She was sentenced to two and a half years and fined 10,000 yuan on March 27, 2019.
On July 5, 2019, her family rushed to a local hospital after being notified that her condition was life-threatening. Ms. Li was alert and said she had been suffering from abdominal pain for 15 days. She had bruises on her thighs, and her teeth were loose.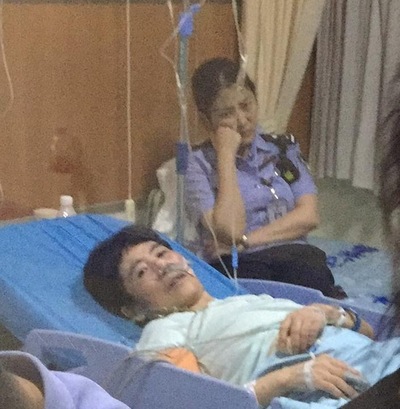 Ms. Li Changfang was still alert before surgery.
The guards at Linyi City Detention Center where Ms. Li had been detained refused to explain what had happened to her that may have resulted in her medical condition and injuries. The doctors at first claimed she had appendicitis and then said she had a gastric perforation.
With so many questions unanswered, Ms. Li's family refused to sign a consent form to agree to surgery.
Under orders from the detention center and the police, the doctors still operated on Ms. Li, cutting her open from her chest down to her abdomen on July 6. She never regained consciousness and remained connected to a ventilator after the surgery, which her family doubted was needed to treat abdominal pain.
On the morning of July 10, more than two dozen police officers descended on the hospital. When her family refused to sign a waiver to have her discharged from the hospital, the police arrested her husband, son, daughter, and six-year-old grandson. They weren't released until the following day.
At around 6 p.m. on July 12, when her family was not present, agents from the Linyin City Detention Center and Dongguan Police Station in Linyi City showed up in Ms. Li's ward and removed her oxygen supply. She died shortly afterward. The authorities are now demanding that her family negotiate compensation terms before revealing where her body is being stored.
Ms. Li's family suspects she was poisoned with drugs in detention. When she first got to Linyi Hospital on July 5, her mind was clear and she told them what had happened at the detention center that resulted in her abdominal pain: She had been forced to take some kind of medicine several times and was once injected with unknown drugs.
She said that the day after the injection, she ached, and from the waist down her skin was reddish and swollen and then turned purple. She had abdominal pain, her belly was swollen, and the inside areas of her thighs turned purple and were extremely painful.
Guangxi Man Imprisoned Despite Metastatic Cancer, Dies Three Months Later
Mr. Liao Dawu, a Qinzhou City, Guangxi Province resident, passed away on July 23, 2019, three months after he was imprisoned despite severe health issues, including metastatic gastric cancer. He was 57.
Mr. Liao, a real estate agent, was arrested on July 17, 2018, while seeking the release of a fellow Falun Gong practitioner detained for her faith. He was later sentenced to two years in prison with a 10,000-yuan fine.
After eight months of incarceration in the Qinzhou City Detention Center, Mr. Liao developed severe ailments, including metastatic cancer of the cardia, a lung infection, and fluid buildup in his chest cavity.
The Qinzhou City 610 Office, an extralegal agency specifically created to persecute Falun Gong, ordered officials to send Mr. Liao to Beihai Prison on April 9, 2019, without disclosing his medical condition.
Mr. Liao's family made multiple requests to the 610 Office and Beihai Prison to have him released, but they never received a response.
In early July 2019, Mr. Liao was transferred to Xinkang Hospital, which is under the jurisdiction of Litang Prison. He passed away two weeks later.
Seriously Ill Man Denied Medical Parole, Dies While Imprisoned for His Faith
Mr. Li Dayao, a Jingzhou City, Hubei Province resident passed away on November 30, 2019, while serving time for his faith in Falun Gong. He was 67.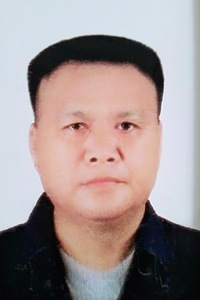 Mr. Li Dayao
Mr. Li was arrested on September 20, 2017, and sentenced to four years on April 9, 2018.
He was held at the Jianli County Detention Center for a year before being sent to Fanjiatai Prison on September 5, 2018. The detention center guards forced him to take high blood pressure medication, even though he didn't have the condition. His weight dropped from 200 lbs to 150 lbs.
At Fanjiatai Prison, Mr. Li was forced to do unpaid labor, even when his hands became numb.
Mr. Li was hospitalized between December 2018 and January 2019. He was found to have a large number of gallstones, but the prison didn't allow him to have surgery to remove the stones. He was only given some painkillers and antibiotics.
Mr. Li's condition suddenly deteriorated in August 2019. When his family visited him on August 29, he had difficulty talking. His family returned on September 12, to learn that he had already been sent to the Changlin Prison Hospital after having become paralyzed and totally unable to talk.
His family wasn't allowed to see him in the hospital. Their request to have him released on medical parole was denied.
Mr. Li's health continued to decline over the next months and he passed away in late November 2019.
Deaths After Release
Liaoning Man Dies Three Months After Prison Release
Mr. Zheng Decai, a resident of Dalian City, Liaoning Province, died three months after he finished serving a one-and-a-half-year term for his faith in Falun Gong. He was 84.
Mr. Zheng was arrested on September 4, 2017 after being reported for talking to people about Falun Gong. He was detained for 37 days and released on bail due to a medical condition.
Zhu Wenwen, an officer from the Guangmingshan Police Station, went to Mr. Zheng's home on March 27, 2018 and ordered him to go to the court to sign a statement promising to give up Falun Gong. Zhu threatened to send Mr. Zheng to jail if he refused to do so.
Zhu brought Mr. Zheng to court on the next day. As Mr. Zheng had lost his hearing after being beaten by the police in 2000, he didn't know what Zhu was saying during the interrogation. Zhu then wrote that Mr. Zheng had admitted to his "guilt" in practicing Falun Gong.
Zhu then brought Mr. Zheng to the hospital for a physical examination. He held Mr. Zheng in detention afterward and said that he was scheduled to appear in court in a few days.
Mr. Zheng was tried by the Zhuanghe City Court on April 12, 2018. His lawyer entered a not-guilty plea for him.
Mr. Zheng's family didn't learn of his prison sentence until June 11, 2018, when they went to the local detention center to pick up his belongings, as directed by the authorities. This was his second time to be sentenced for his faith, following an earlier 3.5-year term in 2010.
Mr. Zheng was taken to Nanguangling Prison on June 12, 2018. He was denied admission after failing the physical exam, and was returned to the detention center, where he exhibited symptoms of high blood pressure and abnormal heart rate two days later. He also coughed up blood.
When the detention center finally allowed his family to visit him after their strong insistence, Mr. Zheng was wheeled out in a wheelchair to meet them.
Mr. Zheng was eventually accepted by Dalian Prison on August 6, 2018. His family was never allowed to visit him during his imprisonment there.
Mr. Zheng's health was very poor when he was released on August 19, 2019. He couldn't walk and had difficulty eating.
The police and local village officials harassed him prior to the communist regime's 70th anniversary of its founding on October 1, and confiscated a photo of Falun Gong's founder.
Mr. Zheng passed away on November 21, 2019.
Henan Man Develops Throat Cancer While Imprisoned for His Faith, Dies Months After Release on Medical Parole
Mr. Zheng Xianjin, a former businessman from Huaiyang City, Henan Province, developed throat cancer after being abused while imprisoned for his faith in Falun Gong. He passed away less than a year after he was released on medical parole. He was 57.
Because of refusing to give up his faith, Mr. Zheng was repeatedly arrested over the past 20 years and spent nearly 13 years behind bars, including one labor camp term and two prison terms.
Mr. Zheng and his wife, Ms. Wang Haomei, were last arrested in July 2016 and were both sentenced to five years in prison.
Mr. Zheng was ordered to serve time at Xinmi Prison, where his health declined quickly to the point that he couldn't eat. He received fluid food through a feeding tube. He developed throat cancer after undergoing a tracheotomy at the prison hospital. He was released on medical parole towards the end of 2018.
As most of his savings and personal assets were confiscated during numerous police raids in the persecution, Mr. Zheng couldn't afford the medical treatment and struggled to care for himself at home alone.
His wife is still serving time at Xinxiang Women's Prison and could not be with him when he passed away on August 11, 2019.
Shandong College Lecturer Develops Ovarian Cancer While Serving Time for Her Faith—Dies 14 Months After Release
Ms. Zhang Xiaojie, a college lecturer in Qinhuangdao City, Shandong Province, was relentlessly tortured while serving time for her faith in Falun Gong. She developed ovarian cancer in prison and passed away 14 months after her release. She was 51 years old.
Ms. Zhang was arrested along with sixteen other Falun Gong practitioners on June 10, 2013. The police confiscated two cars and over one million yuan in cash from her that were printed with messages about Falun Gong.
While Ms. Zhang was held at the Qinhuangdao City Detention Center, the guards ordered the inmates to pour cold water on her, slap her in the face, and use pepper spray on her.
When she complained about the abuse, the guards retaliated by putting shackles weighing several dozen pounds on her hands and feet and immobilized her for two weeks.
Ms. Zhang was transferred to the Hebei Province Women's Prison in late 2014 after she was sentenced to five years. She wasn't allowed to meet with her family or call them.
Four inmates monitored her and subjected her to brainwashing around the clock. Ms. Zhang was forced to listen to or watch slanderous programs attacking Falun Gong for nearly 19 hours every day. The inmates often ordered her to put her fingerprints on prepared statements to renounce Falun Gong or curse its founder. When she refused to comply, the inmates beat her, pulled her hair, and sometimes stepped on her hands, in order to force her to sign.
Ms. Zhang wasn't allowed to take showers while in detention. She also had to ask the inmates every morning whether she would be allowed to wash her face or brush her teeth for the day. She had a strong odor as a result of not being allowed to wash herself on a regular basis. Her cellmates often verbally abused and humiliated her.
The inmates also denied Ms. Zhang the right to buy daily necessities, including sanitary napkins. While she wasn't allowed to use her own money, the inmates used it at will. They also replaced Ms. Zhang's new pillow, clothes rack, and even toiletries with used ones.
As a result of the long-term, intensive mental and physical torture, Ms. Zhang's health declined quickly. She was found to have an ovarian tumor in early 2018, yet the prison refused to provide her with treatment.
By the time she was released in June 2018, the tumor had grown quite large.
Upon returning home, Ms. Zhang was appalled to find that she had been fired and denied pension benefits by her workplace, the Qinghuangdao Senior Vestibule School. With her savings and most valuable belongings confiscated by the police during the home raid of 2013, she was left destitute.
Ms. Zhang was in tremendous pain and unable to sleep in her final days. She passed away on August 24, 2019.
Deaths Due to Harassment and Long Term Persecution
After Twenty Years of Persecution for Her Faith, Woman Falls to Her Death Trying to Escape Another Arrest
A team of police officers knocked on Ms. Li Yanjie and Mr. Gong Fengqiang's apartment door in Yanshou County, Heilongjiang Province, at around 8 p.m. on December 7, 2019. Ms. Li, 41, attempted to call her family for help, only to find that their cellphone signal had been blocked.
The couple then heard the police knocking on the door of their neighbor across the hall, asking if they knew anything about Mr. Gong.
While the couple couldn't hear the neighbor's response clearly, they heard the police knocking on their door again and calling a locksmith. When the locksmith still didn't show up after 30 minutes, the couple heard the officers talk about securing a chainsaw to cut open their metal door.
Having suffered 20 years of harassment, incarceration, and torture for not giving up their faith in Falun Gong, Mr. Gong, 48, and Ms. Li didn't want to go through the same nightmare again. They decided to escape from their sixth-floor apartment.
They made a rope by tying several bedsheets and curtains together and fastened it to the window.
The sawing grew louder and louder. Just as the door was about to be broken through, the couple climbed out of the window, one after the other, and climbed down the makeshift rope.
When they were down to the fourth floor, the knotted bedsheets broke loose and they fell the rest of the way down.
When Mr. Gong came to several hours later, he found his wife's lifeless body next to him.
The officers were still in their home upstairs. They likely didn't expect that Mr. Gong had survived the fall.
Grief-stricken, Mr. Gong fled the scene to avoid arrest.
By dawn, the police had removed Ms. Li's body. The bedsheets hanging on the window were taken away and the broken door was replaced with a new one.
On the morning of December 9, the police found Ms. Li's parents, in their 80s, and threatened them in order to find out where Mr. Gong was, without mentioning a word about Ms. Li's death.
Incarcerated for 13 Years for His Faith, Shanghai Man Dies Months after Latest Arrest
Mr. Jiang Yong, a Shanghai resident, died on November 26, 2019, after suffering a brain hemorrhage following his latest arrest for practicing Falun Gong. He was 51.
Mr. Jiang credited Falun Gong for curing the duodenal ulcer that had bothered him for 15 years. Because he held firm to his faith, he was sentenced twice for a total of 13 years. He was brutally tortured while serving time in Tilanqiao Prison.
Less than five years after he was released from his second prison term, the police arrested Mr. Jiang and ransacked his home again on April 24, 2019. He had a stroke that day and was released on bail two days later when the local detention center refused to admit him.
The authorities continued to harass Mr. Jiang after he returned home. Around the time of the Communist Party's 70th National Day on October 1, 2019, the police monitored Mr. Jiang around the clock and followed him wherever he went between October 1 and 7.
Mr. Jiang was deeply distressed by the strict surveillance. He had a major brain hemorrhage on November 19 and died seven days later.
Kindergarten Teacher Incarcerated for Her Faith, Dies in Agony
Ms. Luo Dan, a Liuyang City, Hunan Province resident, passed away on December 1, 2019, after suffering years of persecution for her faith in Falun Gong. She was 50.
Ms. Luo had taken up Falun Gong with her parents in October 1997. Because of not renouncing their faith, the family was repeatedly harassed after the onset of the persecution two years later. The kindergarten school where Ms. Luo worked was pressured by the authorities to fire her.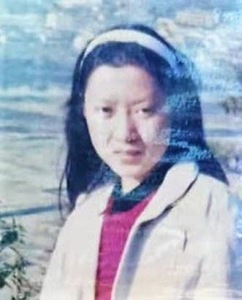 Ms. Luo Dan
Ms. Luo was arrested in November 2006 for distributing informational materials about Falun Gong. The police ransacked her home and gave her 1.5 years at Baimalong Forced Labor Camp. She was forced to do unpaid labor and was abused for upholding her faith.
Ms. Luo was arrested again on April 17, 2014, and sentenced to four years in prison on August 25, 2014, without her family's knowledge.
The prison didn't allow her father to visit her and forbade her from calling or receiving letters from her father, as retaliation for her not renouncing her faith.
The guards forced Ms. Luo to do unpaid labor and tortured her, including forcing her into a straitjacket and hanging her up for hours. Most of the torture didn't cause visible external injury, but led to severe internal injuries.
The authorities continued to harass Ms. Luo after she was released. To support herself and her father, she found a job in a bookstore in June 2018. Only a few days after Ms. Luo started working, the authorities forced the owner of the bookstore to fire her.
Ms. Luo found another job as a sales associate for a clothing store in August 2018. The police arrested her again and sent her to Laodaohe Brainwashing Center.
Still trying to recover from the abuse-induced health problems sustained during her imprisonment, Ms. Luo fell ill after she was released from the brainwashing center. She became bedridden and emaciated.
She passed away on December 1, 2019 in tremendous pain, leaving behind her 80-year-old father.
Shandong Woman Dies Two Months Following Arrest for Practicing Falun Gong
Ms. Li Furong, a resident of Qingdao City, Shandong Province, fell ill after being traumatized by her arrest and brief detention for practicing Falun Gong. Her condition continued to deteriorate after the police constantly harassed and interrogated her at her home. She passed away on October 15, 2019, at the age of 78.
Ms. Li was arrested on August 6, 2019 after being reported for distributing informational materials about Falun Gong and talking to people about the practice and the persecution.
Officers from the Lingshanwei Town Police Station ransacked her home that afternoon and confiscated her Falun Gong books and related materials.
After Ms. Li was released later that evening, she became bedridden and was unable to eat.
The police came to her home five times during the two months following her arrest, interrogating her and photographing her without permission.
Ms. Li eventually fell into a coma and passed away.
Beijing Man Serving Time Outside of Prison for Practicing Falun Gong Dies Weeks After Being Harassed
Mr. Hou Junwen, a retired professional, died on January 29, 2019, weeks after he was fitted with an electronic monitoring device and harassed by the authorities, while serving time outside of prison for practicing Falun Gong.
Mr. Hou was arrested in May 2017 after being reported for distributing informational materials about Falun Gong. Officers from the Hepingjie Police Station confiscated his Falun Gong books and other personal belongings. The detention center refused to admit Mr. Hou due to his physical condition and he was released on bail.
Mr. Hou was tried by the Wenyuhe Court on September 29, 2017 and sentenced to two years in prison with a 4,000-yuan fine in December 2017.
He appealed to the Beijing No. 3 Intermediate Court, which held a hearing on January 31, 2018, and upheld his sentence. He was ordered to serve time outside of prison because of his poor health.
Mr. Hou was harassed by staff members of the local justice bureau and forced to wear an electronic monitoring bracelet in January 2019, four months before his term was to expire. He was deeply distressed by the strict surveillance and fell seriously ill. He passed away a few weeks later.
Download a list of Falun Gong practitioners who died from persecution in 2019.
More death cases can be found here.
Related reports:
Minghui Report: 45 Falun Gong Practitioners Die As a Result of Persecution in First Half of 2019 (Graphic Photo)
69 Falun Gong Practitioners Confirmed to Have Died in 2018 as a Result of Arrests and Torture (Graphic Photos)