After Twenty Years of Persecution for Her Faith, Woman Falls to Her Death Trying to Escape Another Arrest
Dec. 16, 2019 | By a Minghui correspondent in Heilongjiang Province, China
(Minghui.org) A team of police officers knocked on an apartment door at around 8 p.m. on December 7, 2019.
"Gong Fengqiang, we know you are here! We have ways to get you even if you don't open the door!" the officers shouted.
Mr. Gong's wife, Ms. Li Yanjie, 41, attempted to call her family for help, only to find their cellphone signal had been blocked.
The couple then heard the police knocking on the door of their neighbor across the hall and asked if they knew anything about Mr. Gong.
While the couple couldn't hear the neighbor's response clearly, they heard the police knocking on their door again and calling a locksmith. When the locksmith still didn't show up after 30 minutes, the couple heard the officers talk about borrowing a chainsaw to cut open their metal door.
Having suffered 20 years of harassment, incarceration, and torture for not giving up their faith in Falun Gong, Mr. Gong, 48, and Ms. Li didn't want to go through the same nightmare again. They decided to escape from their sixth-floor apartment.
They made a rope by tying several bedsheets and curtains together and fastened it to the window.
The sawing grew louder and louder. Just as the door was about to be broken through, the couple climbed out of the window, one after the other, and down the makeshift rope.
When they were down to the fourth floor, the knotted bedsheets broke loose and they fell the rest of the way down.
When Mr. Gong came to several hours later, he found his wife lifeless next to him.
The officers were still in their home upstairs and the police cars still had their lights on. The police likely didn't expect that Mr. Gong had survived the fall.
Grief-stricken, Mr. Gong fled the scene to avoid arrest.
By dawn, the police had already removed Ms. Li's body. The bedsheets hanging on the window were taken away. The broken door was replaced with a new one.
On the morning of December 9, the police found Ms. Li's parents, in their 80s, and threatened them to find out where Mr. Gong was, without mentioning a word about Ms. Li's death.
Young Couple's Happy Life Shattered
Ms. Li was born in a small town in Yilan County, Heilongjiang Province.
When Falun Gong (also known as Falun Dafa, an ancient spiritual discipline) was introduced to the public in 1992, it quickly spread to the college Ms. Li was attending. She was impressed with Falun Gong's universal values, "Truthfulness, Compassion, Forbearance," and took up the practice.
After graduating, she returned to her hometown and became a kindergarten teacher. She later met her husband, Mr. Gong, who worked as a truck driver for the local coal company.
In 1997, Ms. Li opened a noodle factory with her eldest sister, and the business boomed.
While Ms. Li and Mr. Gong enjoyed a well-to-do life together, Mr. Gong was plagued by a hard-to-cure disease. When nothing worked on his symptoms, he turned to Falun Gong in July 1997 and soon became healthy.
The couple's happy life was shattered when the communist regime launched the nationwide suppression of Falun Gong in July 1999. Every Falun Gong practitioner in every corner of the country was targeted.
For holding firm to their faith, the couple was repeatedly harassed, arrested, and detained. Mr. Gong was fired from his job, sent to a forced labor camp for two years and given a five-year prison term. The torture left him mentally disabled and on the verge of death.
Harassment During Pregnancy
Ms. Li filed a lawsuit against Jiang Zemin, the former head of the communist regime, in 2015 for initiating the persecution of Falun Gong. She detailed some of the persecution her family had suffered in the prior 20 years.
Ms. Li said she went to the provincial government on July 20, 1999, to appeal for Falun Gong but was arrested and held in a stadium for a day. The stadium was full of Falun Gong practitioners being held against their will, and speakers blasted propaganda slandering Falun Gong and its founder nonstop.
Mr. Gong was arrested on February 18, 2000, while appealing for the right to practice Falun Gong in Beijing. He was held at Yilan County Detention Center, where he was beaten, tortured and shocked with electric batons.
During his one-month detention, the police spread rumors that Mr. Gong did not care about his family or job in an attempt to turn his family and colleagues against Falun Gong. They also searched his home without a warrant. An officer threatened Ms. Li, who was already four or five months pregnant, that he would have been arrested and tortured her were she not pregnant.
Another officer threatened Ms. Li with a forced abortion on another occasion.
Eight people assigned by Mr. Gong's workplace monitored Ms. Li around the clock, including when she ate, slept, used the restroom, or visited her husband at the detention center. She lived in constant fear of being arrested.
The police attempted to force her to write a statement to renounce Falun Gong. She refused. They confiscated her ID and forcibly collected her fingerprints and other personal information, including height and shoe size.
The police later extorted 8,000 yuan from Mr. Gong's family before releasing him.
After Mr. Gong was released, his workplace extorted from him 900 yuan to pay for the travel expenses of staff who went to Beijing to take him home. They reduced his monthly pay from 1,900 yuan to 180 yuan as punishment, adding that the only reason they kept his job was to prevent him from going to Beijing again.
Those who were monitoring Ms. Li didn't leave until early July 2000, when her baby was about due. With a strong wish to seek justice for Falun Gong, she went alone to Beijing to appeal as soon as they left.
When the authorities found that Ms. Li wasn't home that evening, they arrested Mr. Gong and held him at a local detention facility.
Ms. Li didn't make it very far. She was arrested in Harbin City, about 180 miles from Yilan and taken back home overnight.
She gave birth to a baby girl on July 15, 2000.
Only 18 days after her daughter was born, the police arrested her husband again. They searched everywhere, including under the baby's bedding. Mr. Gong's mother, who had a severe heart condition, ran after them but fainted in the yard.
While Mr. Gong was detained this time, Ms. Li had to shut down their noodle factory because she couldn't manage it anymore.
Fearing being implicated in the persecution, most of her family didn't dare to offer her any help.
Wife Forced into Displacement, Husband Tortured in Detention
Shortly after Mr. Gong was released, the couple brought their five-and-a-half-month-old baby to Beijing to appeal for Falun Gong on December 26, 2000. They were arrested for holding a banner at Tiananmen Square.
Although Ms. Li and her daughter were released after three days of detention, she was forced into displacement for 17 months to avoid being arrested again.
Mr. Gong was held at Fengtai Detention Center in Beijing for 24 days and brutally beaten. He was taken back to Yilan County No.2 Detention Center on January 23, 2001 and later given two years of forced labor.
He developed scabies all over his body and other physical conditions. The police extorted 12,000 yuan from his father and released him on bail.
After Mr. Gong was released, the authorities kept harassing his family and attempted to force them to give up their faith.
His workplace fired him in May 2006.
Husband on the Verge of Death after Five Years of Imprisonment
Mr. Gong was arrested again around 10 p.m. on December 12, 2006.
Officers poured cold water onto Mr. Gong's neck and beat him. When he lost consciousness, they poured water to wake him up. The police also deprived him of restroom use and force-fed him in order to force him to disclose information about other practitioners. He didn't comply.
Ms. Li was forced into displacement again after she escaped the arrest. Her six-year-old daughter moved to her grandmother's home. The young girl often cried and asked for her parents. Sometimes she would hold her parents' photo in hand and cry nonstop.
The little girl once said to her grandmother, "I saw someone in the park who looked exactly like my mom. But there were so many people around us. I didn't dare to get close to her, as I feared mom would be arrested again."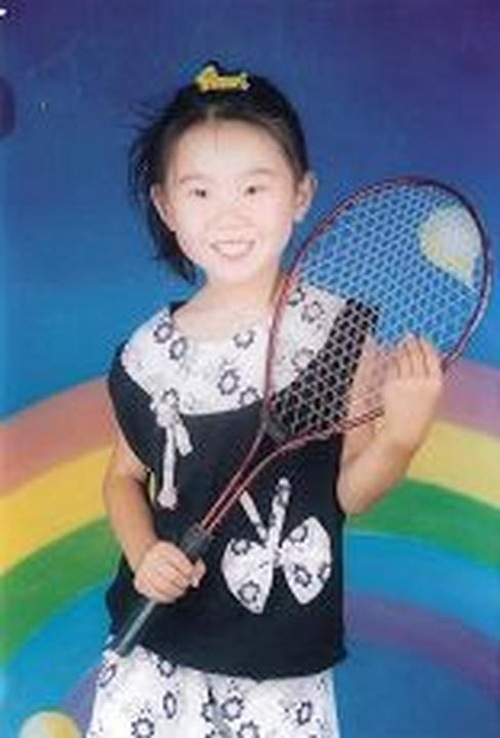 Ms. Li's daughter, Gong Yu, at age 7
Mr. Gong's parents both fell ill after his arrest.
Mr. Gong was sentenced to five years in prison by Yilan County Court on April 20, 2007. He was transferred to Jiamusi City Prison on June 4.
Due to the torture in the detention center, Mr. Gong suffered a mental breakdown and lost his hearing.
Despite his condition, the prison still ordered him to do unpaid labor. Seeing that he couldn't work, the guards beat and kicked him. They ordered four inmates to carry him back to his cell. When the inmates became tired, they threw him on the floor, causing severe internal injuries.
When officials came to inspect the prison, the guards hid Mr. Gong in a corner to prevent the inspectors from seeing him.
After more than a year of constant requests from Mr. Gong's family, the prison finally released him on medical parole in December 2008.
By then, Mr. Gong had lost his memory. He couldn't recognize anyone at home. He didn't know how to talk, eat, or take care of himself. He often fainted. His urine was milky-white. He suffered constant chest pain and had trouble breathing. He also had heavy sweats that often soaked his bedding and clothes.
Miraculously, he survived and gradually regained his memory after resuming practicing Falun Gong.
Mr. Gong, when he got married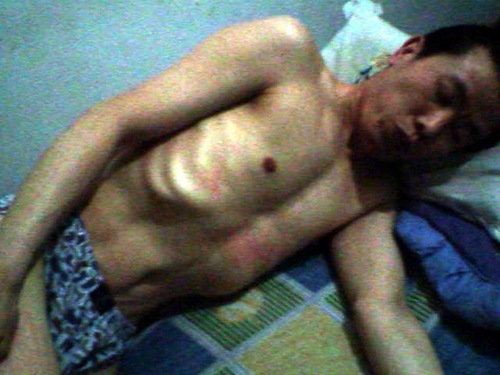 Mr. Gong, one month after he was released from prison
To avoid being arrested again, Mr. Gong and Ms. Li moved to Yanshou County, about 100 miles from Yilan County. Both of them bought cars and became taxi drivers. Ms. Li received several commendations from her employer for returning lost valuables found in her taxi.
Before long, the police in Yilan found out where they were. The couple was forced to sell their cars at a loss and began to move frequently. They later went to Qitaihe City in the southeast of Yilan, about 90 miles away. Ms. Li made a living tutoring middle school students, and Mr. Gong did odd jobs.
The police in Yilan never stopped looking for them.
During the latest harassment on December 7, 2019, Ms. Li fell to her death while trying to escape, at the age of 41. Mr. Gong now lives in hiding, heartbroken over the passing of his wife and his own uncertain future.
Because the couple had asked Ms. Li's sister to help care for their daughter, now 19, while they were on the run, the police are now also looking for them.
Ms. Li's family and friends have vowed to seek justice for her.
Related reports:
Practitioner Mr. Gong Fengqiang Suffers Continued Abuse after Mental Collapse at Jiamusi Prison in Heilongjiang Province
Mr. Gong Fengqiang Mentally Disabled As a Result of Persecution, Medical Parole Denied
Three Practitioners Sentenced and Others Arrested Outside Yilan County Court in Heilongjiang Province
Related report in Chinese: