Canada: Tian Guo Marching Band Stirs Excitement in Christmas Parades
Dec. 16, 2019 | By a Minghui Correspondent in Toronto
(Mighui.org) The Tian Guo Marching Band from Toronto was invited to participate in two Christmas parades on December 7, 2019, the Lakeshore Etobicoke Santa Claus Parade, and the Port Perry Santa Claus Parade. Many spectators were excited to see the Falun Gong entry, and some said they could feel powerful energy from the music.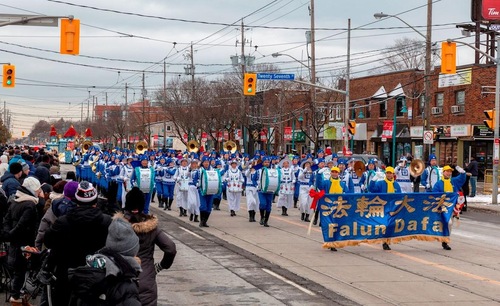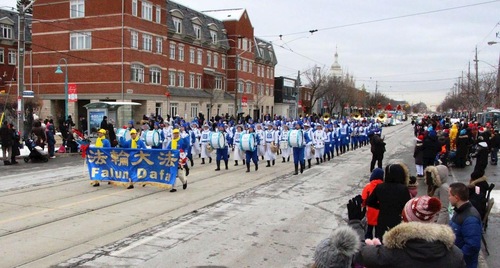 The Tian Guo Marching Band from Toronto performed in two Christmas parades on December 7, 2019.
A woman from Tianjin, China watched the parade in Etobicoke with her mother and daughter. They applauded the Falun Gong practitioners, and one of them said, "I've seen practitioners in several parades. It's the most exciting! They have the most magnificent entry in the entire parade!"
Ms. Lin from Harbin, Heilongjiang Province, immigrated to Canada 6 years ago. She said, "I've seen practitioners in several parades. They are always the best and most impressive! People can freely practice Falun Gong here, but not in China. People in China aren't even allowed to watch whichever news they want. So many Falun Gong practitioners in China have been arrested and persecuted, but they are kind people. I don't understand why the Communist Party is persecuting Falun Gong practitioners!"
Mrs. Yang and her daughter, who had emigrated from Beijing, watched as the Tian Guo Marching Band rehearsed. Ms. Yang expressed support for Falun Gong.
Mrs. Zheng, a new immigrant from China, watched the parade with her son. She said, "I took a picture as soon as I saw the words 'Falun Dafa.' My mother practices Falun Gong in China. She is in her 80s but has great health. The situation in China was nerve-racking when the persecution began. I didn't dare to read any Falun Gong books even though my mother had several copies." She talked to a practitioner and learned that all the Falun Gong books were available online outside of China. Mrs. Zheng said she would read them.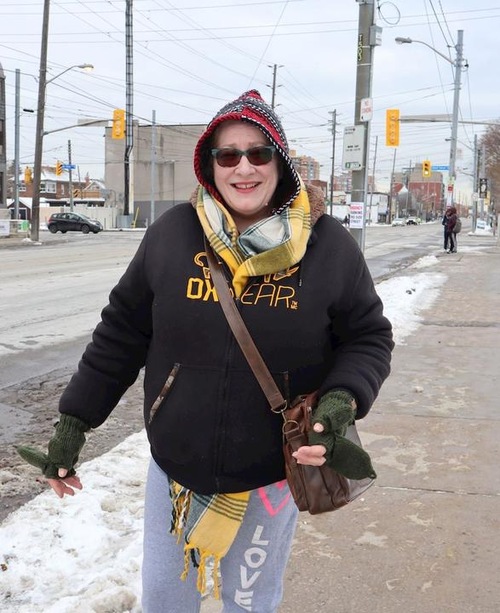 Lynne would like send her best wishes to practitioners in China.
A woman named Lynne recorded the Tian Guo Marching Band's performance and danced to the music. Smiling, she said, "I love this band so much! They come every year. Their music, beats, and smiles...all these make me feel powerful energy. I really like their devotion and hardworking spirit!"
When she heard that the band members practice Falun Gong, Lynne said, "I see the band every year, but it's the first time I've heard about Falun Gong. I know cultivation has a lot of benefits. I do meditation too. That's why I could feel their enormous energy as they passed!"
Lynne was saddened to hear about the persecution of practitioners in China and said, "They don't harm anyone and even bring peace. It's terrible that people in China are thrown into prison for their spiritual practice. I hope our friends in China will be released soon, and I hope they will have the freedom of doing their exercises openly without persecution. Please send my best wishes to China!"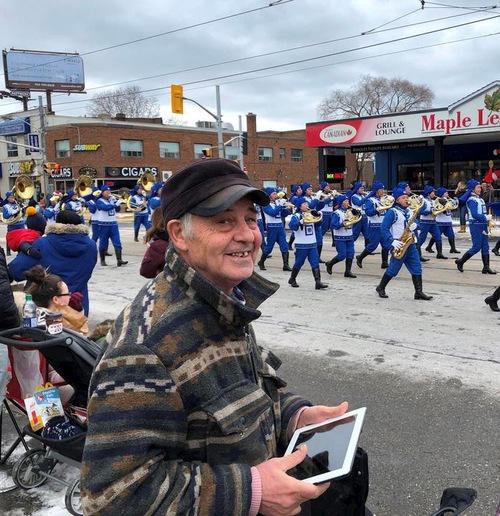 Marco identifies with Falun Gong's principles of Truthfulness-Compassion-Forbearance.
Marco took many photos of the Tian Guo Marching Band. He said, "I really like this band! It's unique. I like Chinese culture and history." He commented on the CCP's persecution of Falun Gong, "It's because of power. The Communist Party is only concerned about its power and could do anything with its power. But no one believes in communism."
A woman named Effie sympathized with Falun Gong practitioners in China. She hoped to learn more about Chinese culture. When she heard about the upcoming Shen Yun show in Toronto, she was excited and planned to buy tickets for herself and her niece.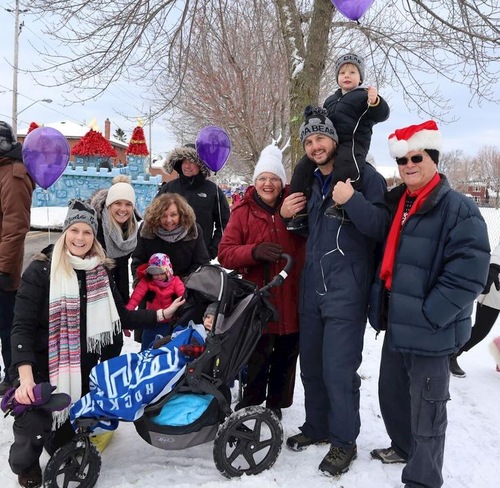 Marco (second from right) and his family cheered for the Tian Guo Marching Band.
As the band passed by, Marco and his family called out, "We love you! Great music!" When he heard a brief introduction about Falun Gong, Marco called out to the band, "Great cultivation practice!"