Gunshots, Violence, and Deceit in Arrests of Falun Gong Practitioners
April 05, 2019 | By a Falun Gong practitioner in China
(Minghui.org) A Chinese Falun Gong practitioner reports on cases that involve gunshots, violence, deception, and torture by Chinese law enforcement, as well as the implication policy by the Chinese regime, affecting family members of practitioners, including children and the elderly.
Police Use Guns on Innocent Practitioners
Mr. Jiang Honglu Shot in Left Leg
Mr. Jiang Honglu worked for a highway management bureau in Heilongjiang Province. He began to practice Falun Gong in October 1998.
After the persecution of Falun Gong started in July 1999, Mr. Jiang traveled 1,000 miles to Beijing twice to appeal for the right to practice Falun Gong.
When he put up posters with phrases related to Falun Gong on February 12, 2002, police officers chased him. One officer shot at him and a bullet got lodged in his left leg. After he fell to the ground, two officers kicked his head, injuring and deforming his face and head.
Mr. Jiang was bleeding and lost consciousness. Meng Qingqi, a manager from the Political Security Division of the police department, and another officer took him to a hospital. They asked that he be put in the police van on a stretcher. They then took him to a detention center. No further medical treatment was provided, nor were family visits allowed.
Despite his injuries, guards beat him with rubber tubes and poured a pungent liquid in his nose. Mr. Jiang was later sentenced to 14 years of imprisonment by the Mishan Court.
Cable Television Intercept
Practitioners in Changchun City, Jilin Province, intercepted the cable television network on March 5, 2002, allowing about one million residents to learn the facts of Falun Gong.
As a result, Jiang Zemin, the former head of the communist regime, gave the order to punish those responsible for the incident. He also gave the order that killing would nor result in punishment. This order was passed onto local officials by Liu Jing, then head of the Central Government 610 Office.
Within a short time, over 5,000 practitioners in Changchun were arrested and detained, with at least six practitioners tortured to death during the arrest.
Mr. Liu Chengjun Shot Twice in the Leg
Mr. Liu Chengjun, one of the practitioners, was chased by over seven police vans and one officer shot him twice in the leg. Mr. Liu was sentenced to a 19-year term of imprisonment in September 2002 and died in December 2003 at the age of 32.
Mr. Feng Kiu Shot in Right Cheek
When Mr. Feng Kui and his wife, along with other Falun Gong practitioners gave out DVDs of Shen Yun performances to local residents in June 2011, dozens of police officers chased them. Zhang Zhengpeng, the assistant director of the Shuangchengbao Police Station, shot Mr. Feng in the right cheek. Blood trickled down his ears and covered his face and neck. No officer was held responsible, and Mr. Feng was sentenced to life in prison in November 2011.
Practitioners Face Violence
Mr. Zhang Jingquan and Ms. Liu Jinru
Beatings and other physical abuse are very common when police arrest practitioners. Mr. Zhang Jingquan and Ms. Liu Jinru were arrested at their home in Jilin Province on June 16, 2016. Officials ransacked their residence and confiscated more than 180,000 yuan.
Ms. Liu was tortured at the police station. She suffered a torn muscle and ruptured tendon in her left calf and underwent surgery. Upon returning home, she had symptoms of dizziness, vomiting, and high blood pressure. She frequently fainted and was mentally disoriented. Ms. Liu Jinru died on October 22, 2018.
Mr. Zhang was secretly tried and sentenced to an eight-and-a-half year prison term in November 2016.
Mr. Wang Zheng Tortured by Police
Mr. Wang Zheng was doing laundry at home in Beijing on the morning of October 11, 2017, when someone called from the outside, "Wang Zheng, come down. Your car is blocking traffic." As soon as he opened the door, an officer shoved him to the ground. Officers then pulled him up and slammed his head against a wall. Mr. Wang immediately became dizzy and disoriented. At the police station, and after being transferred to the detention center, he kept telling them that he had a headache and that he felt nauseous, but no one paid attention to him. The next morning, Mr. Wang vomited and fainted. Neither the doctor or the local procurator took care of Mr. Wang.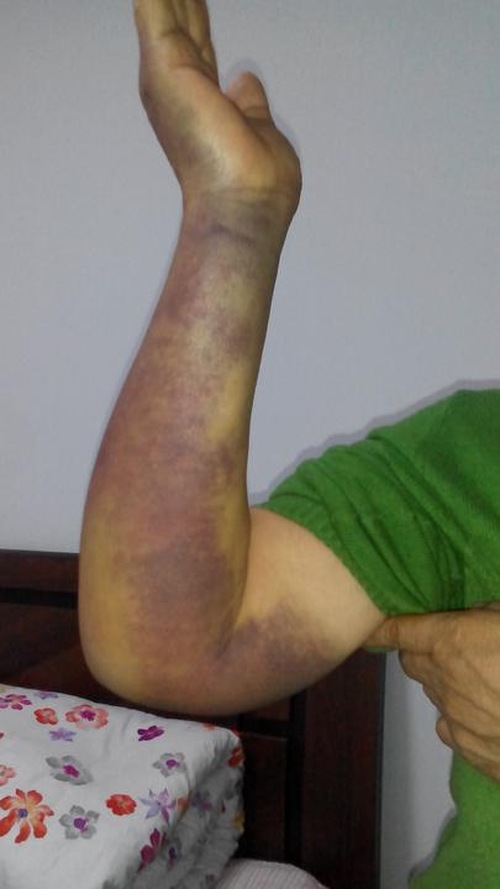 Gao Guoqing's wife sprained her arm when the police pushed her.

Mr. Gao Guoqing's Wife Pushed to Ground
A group of police officers, who had been waiting outside of Mr. Gao Guoqing's home, pushed him aside as soon as he opened the door on November 9, 2018. They held him down on the couch and attempted to handcuff him. His wife tried to stop the police but was pushed to the ground. She sprained her arm and suffered a bone fracture in her elbow. She had to have surgery. Mr. Gao was later taken to Daqing No. 4 Detention Center and denied family visits.
Police Use Deception
Mr. Liu Xiaxiong
Officials often deceived practitioners to open the door to arrest them. Mr. Liu Xiaoxiong, a 32-year-old native of Jinzhou City moved to Dalian City for a new job. He was informed by police to apply for a temporary residency permit. He went to the police station on July 25, 2018. Instead of getting the permit, he was arrested on arrival and his cellphone was confiscated.
The police ransacked his home twice and confiscated his computer and Falun Gong books. Police recently submitted his case for the third time, as the prosecutor had rejected it twice for insufficient evidence.
Elderly Practitioners Deceived
Elderly practitioners were no exception for the deceit. Officials at Taiyuan, Shanxi Province, arrested 7 practitioners in their 60s and 70s in June 2018 and detained another 6 between October 18 and 19, 2018.
Ms. Wang Lanmei: The police first targeted Ms. Wang Lanmei on October 18. After Ms. Wang refused to open the door for the plainclothes officers, they hid in her apartment building and waited until she went out later that afternoon. They arrested her and ransacked her home.
Six Unnamed Practitioners Deceived: The police went to the homes of six practitioners the next evening pretending to be plumbers to fix leaking pipes. As practitioners opened the doors, they ransacked the practitioners' homes and did not allow the practitioners to be present. Four were released after they failed to pass the physical tests for detention admission, and two were taken to the detention center, despite suffering from medical conditions.
Breaking and Entering
After Ms. Han Guirong in Daqing City, Heilongjiang Province, filed a criminal complaint against Jiang Zemin for persecuting Falun Gong, police officers went to her place in November 2015. They pretended to be staff from the utility company collecting water usage fees. When Ms. Han refused to open the door, the police pried open the door.
Ms. Han had a heart attack, and the officers left. They returned in April 2017 and arrested her. She was not released until she had very high blood pressure. Officials continued to harass her after she returned home.
Family Members Implicated
During the persecution of Falun Gong, not only practitioners but also their family members are subjected to mistreatment and harassment. It is known that the communist regime subscribes to an implication policy, harming family, relatives, and friends of practitioners.
Using Extortion
When police tried to arrest Ms. Zhao Renxia, a 48-year-old resident in Shandong Province, they did not find her, they took her husband Xing Zigan to the police station instead. Officers told her son Xing Haodong they would not release him until Ms. Zhao showed up. It also happened to this family in July 2017 when police arrested Ms. Zhao's husband and son since she was not at home.
Leaving Children Unattended
Children, especially young children, have been left unattended during the suppression. As police came to Houzhai Village in Henan Province one evening in September 2018 to arrest Ms. Guo Yuxiao, three children—with ages two to nine—hugged their mother crying and not letting her go. Ms. Guo's mother-in-law begged police for one night so that Ms. Guo could make arrangements for the children. But police denied the request and took her away. At that time, the children's father Mr. Liu Weitao had been detained for four months facing trial.
Breaking and Entry
On August 29, 2018, more than 20 armed police officers broke into the home of Ms. Lin Yanmei in Guangdong Province after she refused to open the door. The police ransacked her home and when her father tried to stop them, officers grabbed the 85-year-old man's arms and injured it. They also confiscated the man's pension savings. Besides arresting Ms. Lin and her nephew on August 29, police also detained her sister and cousin two days later when they were hiring a lawyer to defend her.
Disabled Woman Arrested
Mr. Yuan Yulong from Shaanxi Province often credited Falun Gong for helping his disabled wife Ms. Li Meihua. Zhashui County police ransacked their home on October 11, 2017. When Ms. Li refused to let them in, over 40 fully armed Special Weapons and Tactics Unit (SWAT) showed up in front of the disabled woman.
Mr. Yuan and Ms. Li were sentenced by the Zhashui Court on July 19, 2018. Mr. Yuan was sentenced to a three-year prison term, while the wife was sentenced to a three-and-a-half year term. Their 9-year-old son is taken care of by a teacher.
Related Reports:
GunshotsMr. Jiang Honglu Shot by Police, Then SentencedMore Details Related to Mr. Liu Chengjun's Arrest in 2002Police Shoot Practitioner Mr. Feng Kui from Changchun
ViolenceWife Dies from Injuries of Police Brutality Following Arrest—Husband Still Serving 8.5 Years in Prison for Their FaithMr. Wang Zheng Injured During Arrest; Family Files Suit against Police
Judge Among Victims of Mass Arrest in Heilongjiang Province, Wife Sprained Arm Due to Police Brutality
DeceptionDalian Software Engineer Arrested after Being Deceived by PoliceSix Elderly Falun Gong Practitioners from Shanxi Province Targeted for Their Faith
Implications on Family Members85-year-old Father Subjected to Police Brutality During Home RansackingShaanxi Couple Imprisoned for Upholding Faith That Returned Them to Health