Mr. Jiang Honglu Shot by Police, Then Sentenced
September 14, 2013 | By a Minghui correspondent from Heilongjiang
(Minghui.org)
Summary of Key Persecution Facts:
Name: Jiang Honglu (姜洪禄)
Gender: Male
Age: Unknown
Address: Taiping Township, Mishan City
Occupation: Former worker of the Taiping Section, Mishan City Road Administration
Date of Most Recent Arrest: February 12, 2002
Most Recent Place of Detention: Mudanjiang Prison (牡丹江监狱)
City: Mudanjiang
Province: Heilongjiang
Persecution Suffered: Detention, home ransacked, interrogation, beatings, illegal sentencing, solitary confinement, physical restraint, sleep deprivation, torture, brainwashing
Mr. Jiang Honglu, a Falun Gong practitioner from Mishan City, was shot by officer Meng Qingqi on February 12, 2002. He was then sentenced to 14 years of imprisonment. He was incarcerated in Hada Prison in Jixi City and then in Mudanjiang Prison. He was released in August 2010.
Mr. Jiang worked at the Taiping Section of the Road Administration in Mishan City. After the persecution began on July 20, 1999, he publicly appealed for Falun Gong, and was shot by officer Meng Qingqi from the Mishan Police Department. A bone in his left leg was broken. He was also kicked so brutally that his eyes were dislodged from their sockets and protruded. He was sentenced to prison once, sentenced to forced labor once, and detained twice.
Arrested and Fined
Mr. Jiang Honglu, his wife, and son went to Beijing by train on July 22, 1999, to protest the persecution. When they arrived at Tiananmen Square, local police officers forcibly put them in a car and took them to the train station. They were then escorted back to Mishan City and detained at the Shuangsheng Township Police Station.
Officers Meng Qingqi and Du Yongshan from the Mishan Police Department were in charge of the persecution. The officers told Mr. Jiang and his family that if they agreed to sign a statement renouncing Falun Gong, they would be released.
All three refused to sign. Meng Qingqi and Du Yongshan forced Mr. Jiang's other relatives to come to the police station to see them His relatives signed the renouncement on behalf of Mr. Jiang. When Mr. Jiang returned home, he decided to continue practicing Falun Dafa because he was sure that Falun Dafa was good.
Meng Qingqi and Du Yongshan broke into Mr. Jiang's house on October 16, 1999, and ransacked it. They confiscated Dafa books, a recorder, a video player, and other personal belongings. Mr. Jiang and his wife were held for a month in the detention center, where they were tortured by guards and criminal inmates.
Mr. Jiang went to Beijing to again appeal on behalf of Falun Gong on December 3, 1999. He was detained in the Mishan Detention Center on December 18. There, Du Yongshan ordered him to take off his pants and whipped Mr. Jiang's lower body fiercely with a leather belt. His buttocks and thighs turned black and blue.

Torture re-enactment: Whipping
After being held in the detention center for 13 days, Mr. Jiang was sentenced to three years of forced labor. On December 31, 1999, he was sent to the Jixi City Forced Labor Camp. Guard Wang Hongwu beat Mr. Jiang savagely with a baton, and guard Lin Yongjun brutally punched and kicked him. The guards also instigated other inmates to participate in torturing him. After suffering for one year and three months in the labor camp, when Mr. Jiang's family went to see him on March 25, 2001, they signed the guarantee statement on his behalf and had him released.
Shot by Police Then Sentenced to 14 Years
Mr. Jiang went out to clarify the truth on the first day of the 2002 Chinese New Year, February 12. He was shot in the left leg by officer Meng Qingqi. The bullet fractured a bone in his lower leg. When he fell down down, officers Meng Qingqi and Du Yongshan ran up to him and kicked him in the head. Mr. Jiang fainted. After that, his eyes protruded. The officers drove him to Shuangsheng Township Police Station in Mishan City and threw him on the floor. His blood was everywhere, including the car and the floor.
Afraid Mr. Jiang would die in the police station, the officers drove him to the hospital, handcuffed him to a bed, and had the doctor push his eyeballs back in place. He wasn't given any other treatment, and his family wasn't allowed to see him.
They drove him, along with the mattress, back to the detention center, with his head covered by a quilt. As they drove out of the hospital gate, somebody asked, "What happened to him?" Deputy head of the police department Liu Qin lied and said, "He caught a cold."
Mishan City Court put Mr. Jiang on trial around October 23, 2002. In court, officer Meng Qingqi lied and said that he shot Mr. Jiang because Mr. Jiang attacked him. Mr. Jiang firmly denied this accusation Mishan Court nonetheless sentenced him to 14 years of imprisonment. The bailiff who took Mr. Jiang to the detention center was a relative of Meng Qingqi. He kept punching Mr. Jiang in the head in the police car, all the way from the courthouse to the detention center.
Mr. Jiang appealed the sentence to the Jixi City Intermediate Court, but his appeal was rejected. He was jailed in the Comprehensive Training Team of Hada Prison in Jixi City. Because he was shaking and could not run, he was forced to stand for over two hours at a time. When he returned to the cell, he was ordered to recite the prison rules. Because he was still delirious from being beaten about the head by Meng Qingqi, he was unable to recite anything. The guards then ordered the criminal inmates to torture him.
Two months later, he was transferred from Hada Prison to the Comprehensive Training Team of Mudanjiang Prison. Guard Li Fucheng ordered him to sweep the floor of the workshop every day, and guard Lin Yongming arranged several inmates to monitor him.
A month before the 2004 Chinese New Year, division head Wang Wei went to talk to Mr. Jiang and told him to write the "four statements" (renouncing Falun Gong). Mr. Jiang refused and said that his entire family had benefited from the practice. Wang Wei said that he was only acting under his superiors' instructions.
One day, the guards didn't let the detained practitioners go to the workshop to work. They instead tried to force them to write guarantee statements renouncing Falun Gong. Mr. Jiang refused to write anything.
The guards then ordered inmates Peng Baohua, Fu Jun, and Zhao Mihu to brutally beat him. They didn't stop until Mr. Jiang threw up. Guard Lin Yongming locked Mr. Jiang in a small cell, handcuffed him, and put shackles weighing 42 pounds on him. The guards then attempted to force him to write the four statements.
Fifteen days later, only one week prior to the Chinese New Year, he was taken out of the small cell. However, after the Chinese New Year, he was put in the small cell again for two more weeks. When he was taken out, he couldn't stand up straight and always leaned to one side.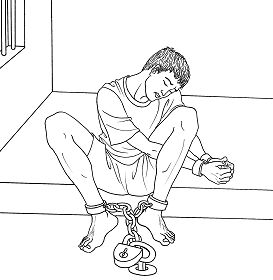 Torture re-enactment: Cuffing and shackling
Mr. Jiang became unable to speak on June 6, 2008. The prison launched a new round of torture in October 2009 and ordered all divisions to achieve a 75% or above "transformation" rate. Mr. Jiang still refused to cooperate, so he was deprived of sleep.
Mr. Jiang filed a request for medical parole on May 1, 2010. The guards took this chance to force him to write the four statements. They deceived him by saying, "If you write them, you'll be released in less than a month." One inmate told him, "If you write them, they will all get a lot of money. The guards, division heads, everybody will get at least 10,000 yuan, according to their ranks."
Mr. Jiang's wife and his younger sister began living in Mudanjiang City in May 2010. They went to the prison to ask for Mr. Jiang's release every two to three days.
Mr. Jiang Honglu was released on August 10, 2010, after his wife and younger sister had been living in Mudanjiang City for just over three months.