3,500 Hebei Residents Call for Investigation of Jiang Zemin's Crimes
(Minghui.org) From January to July 2015, more than 3,500 people from Zhangjiakou City and nearby areas in Hebei Province, China, signed a petition calling for an investigation of former Chinese head Jiang Zemin for crimes committed during the persecution of Falun Gong, especially the organ harvesting from living Falun Gong practitioners.
Unlike the over 130,000 people who've recently filed criminal complaints against Jiang Zemin, these petition signers are not Falun Gong practitioners. Encouraged by the flood of lawsuits against Jiang, and shocked by the brutality of the 16-year persecution of Falun Gong, these Chinese citizens from all walks of life chose to stand up and speak for justice.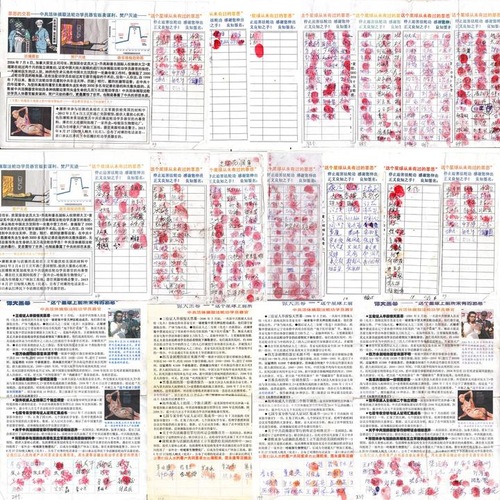 Thousands of signatures and fingerprints on a petition calling for an investigation into Jiang Zemin's crimes
Hebei Province is one of the areas where the persecution of Falun Gong is most severe. In the first half of 2015, 136 practitioners from Hebei were arrested, among whom 15 were sentenced, and seven passed away due to torture, including three from Tianjin and one from Beijing.
A History of Peaceful Resistance
Hebei also has a history of widespread peaceful resistance to the persecution. The Minghui website has published several reports on non-practitioners in Hebei signing petitions and calling for an end to the persecution.
As early as 2012, 979 people signed and fingerprinted a petition, requesting the release of Zheng Xiangxing, a Falun Gong practitioner from Tangshan City, Hebei. (Fingerprints on a Petition to Rescue a Practitioner Signify Strong Support for Falun Gong)
In 2014, over 300 people from Langfang City, Hebei, signed a petition, requesting the release of four practitioners – Kang Jingtai, Wang Zhanqing, Ma Weishan, and Wen Jie – who were illegally arrested by the Sanhe City police on April 22, 2014. (Sanhe City, Hebei Province: Over 300 People Sign Petition on Behalf of Four Arrested Practitioners) In early 2015, this number reached nearly 1,000. (Nearly 1,000 Sanhe Residents Petition for Falsely Accused Falun Gong Practitioners)
In July 2015, Minghui received a petition with 5,038 signatures from three areas in Hebei Province – Baoding, Qinhuangdao, and Zhangjiakou –condemning the state-sanctioned killing of imprisoned Falun Gong practitioners for their organs. (5,038 Signatures in Hebei Province Condemn State-Sanctioned Forced Organ Harvesting)
Today, 3,500 more from Zhangjiakou City came in.
Many signers expressed their support for the lawsuits against Jiang Zemin. A villager said to the person collecting signatures: "Jiang Zemin did nothing good for the country. He is evil. Organ harvesting is so inhuman. I must sign the petition. Jiang has brought disaster to the nation and people. He should be brought to justice."
Perhaps a 60-year-old farmer's words are representative of many signers: "Organ harvesting is something that even the Nazis didn't dare do. These animals should be brought to justice. Falun Gong teaches Truthfulness-Compassion-Forbearance. Practitioners are good people. Persecuting Falun Gong is really evil. The Communist Party is really inhuman. I cannot think of anything that is more evil than this. Heaven will punish them."