Sanhe City, Hebei Province: Over 300 People Sign Petition on Behalf of Four Arrested Practitioners
August 18, 2014 | By a Minghui correspondent from Hebei Province, China
(Minghui.org) Falun Gong practitioners Mr. Kang Jingtai, Mr. Wang Zhanqing, Mr. Ma Weishan, and Ms. Wen Jie (also known as Lin Xiaohui) were illegally arrested by the Sanhe City police on April 22, 2014.
All four practitioners were detained at the Langfang City Brainwashing Center. Local practitioners collected at least 334 signatures from local residents, calling for the release of the four practitioners. At this time, only Mr. Kang Jingtai and Mr. Wang Zhanqing have been released.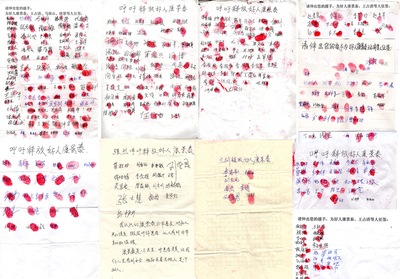 Over 300 people signed a petition calling for the release of the four practitioners
Political commissar Qiao Chunjiang of the Domestic Security Division and more than ten officers broke into Mr. Kang Jingtai's private clinic on April 22, 2014. Qiao first pretended that he was a patient and asked if Mr. Kang was there. When a staff asked his name, he said his last name was Shi, hoping others would think that it was captain Shi Liandong of the Domestic Security Division who was in charge of the arrest.
The four arrested practitioners were taken to the Sanhe City Detention Center. In order to rescue them, other practitioners collected signatures from local residents. Despite the pressure from the Chinese Communist Party (CCP), many residents signed and put their fingerprints on the petition calling for the release of the four practitioners.
When asked to sign, a resident who works with Mr. Kang said he had already signed it. His wife heard it and said, "Let me sign it too."A business owner in Sanhe City heard about the persecution and he not only signed his fingerprints, but also said, "Can I help in Dr. Kang's lawsuit?"
Near Mr. Kang's home, his family, friends, and neighbors didn't hesitate to sign the petition calling for his release. Some elderly people who were illiterate asked their children and grandchildren to write their names for them.
A school teacher heard about the arrest of the practitioners and immediately signed the petition.
In a village in Xinji Town, a signature collector asked the villagers whether they knew Dr. Kang who used to work in Sanhe City's Chinese Medicine Hospital. One female villager about 40 years old said, "Yes, I do. Dr. Kang is a good person." After hearing about his arrest, she said, "Why wouldn't we sign to rescue such a good person? What's there to be afraid of? I am not afraid and I'll sign." The people standing around her heard her response and many followed suit.
Only Mr. Ma Weishan and Mr. Kang have been released from the Langfang Brainwashing Center at this time, but Mr. Wang Zhanqing and Ms. Wen Jie are still detained. The police are adamant to have them sentenced.