Nearly 1,000 Sanhe Residents Petition for Falsely Accused Falun Gong Practitioners
January 19, 2015 | By a Minghui correspondent from Hebei Province, China
(Minghui.org) Nearly one thousand Sanhe residents have signed a petition calling for authorities to drop charges against four Falun Gong practitioners who were arrested for sending group text messages exposing the persecution of their beliefs by the Chinese Communist regime.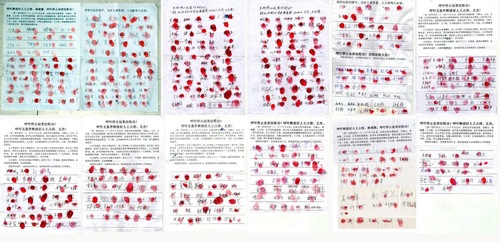 Sanhe residents' petition calling for the release of four practitioners
The prosecutor presented the four practitioners' case to Sanhe City Court on December 19. Two of the practitioners remain in detention, while two others are awaiting trial at home.
The practitioners' six defense lawyers filed a joint complaint on November 15 against Sanhe police officer Shi Liandong (石连东) for detaining their clients beyond the legally permissible term.
The arrest took place on April 22, 2014. The four arrested practitioners were:• Mr. Kang Jingtai (康景泰), 43, former doctor at Sanhe City Chinese Medicine Hospital• Mr. Wang Zhanqing (王占青), 39, former teacher at Sanhe No. 3 Middle School• Ms. Wen Jie (文杰), in her fifties, middle school teacher in Qiqihar• Mr. Ma Weishan (马维山), 74
Local Residents Defend Practitioners
A Falun Gong practitioner at a supermarket discussed the case with another customer, who said, "Wang Zhanqing is my son's teacher. He turned my son from a problem child to a great college student. Falun Gong practitioners are kind people. Jiang Zemin and the Communist Party's persecuting good people will be met with retribution. My husband, my son and I will all sign the petition to rescue Mr. Wang."
A villager from Qixinzhuang Township said, "I've never seen a better doctor than Dr. Kang. When he is released, I'll go see him. Such a good person should not be persecuted."
Even the wife of a village Communist Party Secretary put her fingerprint on the petition and said, "I know Falun Dafa is good! I say it every day! I know it in my heart that these practitioners should not be arrested and persecuted."Another passerby who signed the petition said, "Practicing Falun Gong is a personal belief. There is nothing wrong with it."
Related reports:
Four Practitioners Arrested for Sending Group Text MessagesAuthorities in Sanhe City Harass Falun Gong Practitioner's Family and Interfere with Defense AttorneyHuman Rights Lawyers File Complaints Against Police Officer for False Imprisonment of Falun Gong PractitionersLawyers Demand Police Drop Allegations against Four Falun Gong Practitioners