5,038 Signatures in Hebei Province Condemn State-Sanctioned Forced Organ Harvesting
(Minghui.org) Minghui.org has received a petition with 5,038 signatures from three areas in Hebei province–Baoding, Qinhuangdao, and Zhangjiakou–condemning the state-sanctioned killing of imprisoned Falun Gong practitioners for their organs.
As of today, more than 50,000 people in China have signed their names to condemn this atrocity.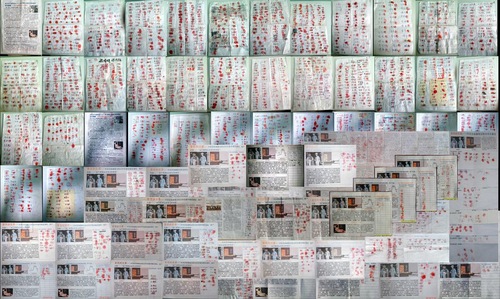 The petition from Hebei province with 5,038 signatures condemning the killing of Falun Gong practitioners for their organs in China
The illegal harvesting of organs from non-willing prisoners of conscience was first exposed in 2006. Since then, independent investigators have collected a great deal of evidence, as detailed in several books, including Bloody Harvest by Matas and Kilgour, and The Slaughter by Ethan Gutmann.
A documentary titled David & Goliath (Human Harvesting) on this topic has been screened in several cities around the world, and won the Peabody Award this May.
The Chinese Communist Party's (CCP) crimes have shocked the international community. In 2013, the organization "Doctors Against Forced Organ Harvesting" submitted petitions with 1.5 million signatures from 53 countries to the United Nations, condemning the crime and calling for action to stop it.
Despite living under the oppressive communist regime, more and more Chinese people have courageously stood up and spoken out for Falun Gong. The signature campaign in China began in December 2013 and has amassed 52,461 signatures by the end of June 2015.
Many Chinese people have learned about the persecution through the persistent efforts of Falun Gong practitioners in China. In addition to signing their names, some wrote comments.
One retired government official wrote, "The CCP is the origin of all the disasters in China. The Chinese people will have a bright future, but only if we disintegrate this evil Party and eliminate communism."
Another man said: "My family members and I have learned a lot about the persecution of Falun Gong and the organ harvesting. We are shocked by the evilness of the CCP. Such a bloody and cruel crime can only be done by demons. It is completely against humanity. I support Falun Gong's peaceful resistance. These crimes should be exposed to the public."