Mother of Canadian Resident Sentenced to Four Years for Speaking Up for Her Faith
August 31, 2019 | By a Minghui correspondent in Beijing, China
(Minghui.org) An award-winning teacher in Beijing and mother of a Canadian resident was sentenced to a four-year prison term for not renouncing her faith in Falun Gong, a spiritual and meditation discipline that has been persecuted by the Chinese communist regime since 1999.
Her family is preparing to file an appeal for her.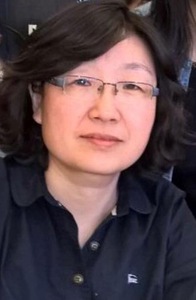 Ms. Chen Yan
Detained Teacher Draws Wide Support
Ms. Chen Yan, 51, a chemistry teacher at Beijing No. 9 Middle School, was arrested on December 3, 2018 after being reported for passing out calendars with information about Falun Gong.
Her case has received widespread attention in and out of China.
Upon hearing about her arrest, many of her former students called the Shijingshan District Procuratorate and demanded her release.
On the other side of the globe, her daughter, Karen, currently residing in Montreal, Canada, took to the street to call for more international support to secure her mother's release.
At the same time, Amnesty International initiated a campaign to rescue Ms. Chen. They urged people to contact Wang Chunfeng, the prosecutor in charge of Ms. Chen's case, and Cui Tiankai, the Chinese Ambassador to the United States.
Some Canadians who've heard about her case wrote letters to the prosecutor, and some posted information about Ms. Chen's case on social media.
In response to the global rescuing efforts, the prosecutor said that they would release her as long as she wrote a statement to renounce Falun Gong.
Ms. Chen refused to comply.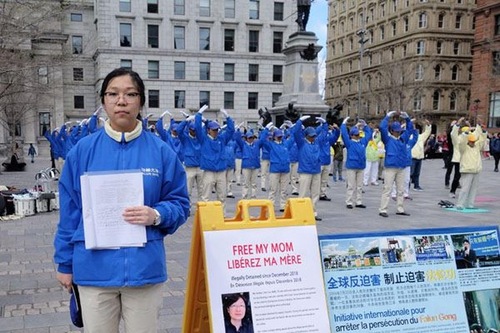 Karen, currently residing in Montreal, Canada, called on the public to help rescue her mother.
A screenshot of Amnesty's Urgent Action
Wrongful Sentence
Ms. Chen appeared in Shijingshan District Court on August 16, 2019. She was charged with "undermining law enforcement," a standard pretext used by the authorities to frame and imprison Falun Gong practitioners.
She wasn't represented by a lawyer and testified in her own defense.
Lu Linyan, the presiding judge in charge of Ms. Chen's case, manipulated the evidence against her by counting the materials she didn't distribute as having been distributed, and also treated the booklets with only a few pages as books to charge her.
Lu announced the verdict against Ms. Chen one week later. She was taken to Beijing Women's Prison.
Related reports:
Mother of Canadian Resident Facing Further Prosecution for Her Faith
Beijing Middle School Teacher Arrested for Passing Out Information about Falun Gong
Rescue Efforts: Practitioners and Supporters of Falun Gong Call for Release of Detained Prisoners of Conscience