Mother of Canadian Resident Facing Further Prosecution for Her Faith
June 24, 2019 | By a Minghui correspondent in Beijing, China
(Minghui.org) The mother of a Canadian resident was recently indicted and is facing further prosecution in China for not renouncing her faith in Falun Gong, a spiritual discipline being persecuted by the Chinese communist regime since 1999.
Ms. Chen Yan, 51, a chemistry teacher at the Ninth Middle School in Beijing, was arrested on December 3, 2018 for passing out calendars with information about Falun Gong. She has been held incommunicado at Shijingshan Detention Center since. The procuratorate recently submitted her case to the Shijingshan District Court and she is soon to stand trial.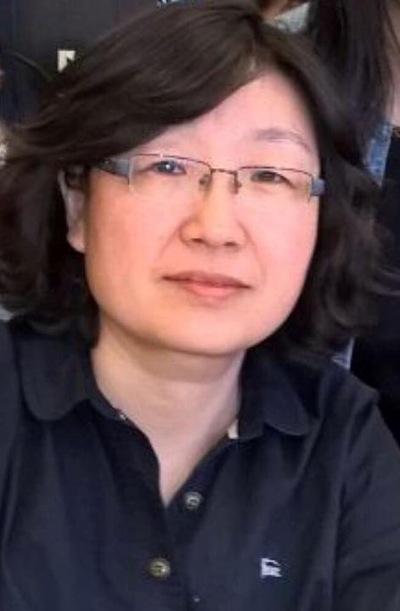 Ms. Chen Yan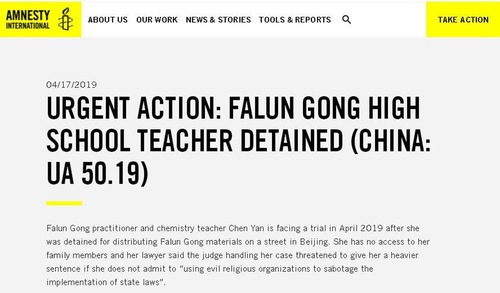 A screenshot of Amnesty's Urgent Action
Amnesty International has reported on Ms. Chen's case and urged people to contact Wang Chunfeng, the prosecutor in charge of Ms. Chen's case, and Cui Tiankai, the Chinese Ambassador to the United States.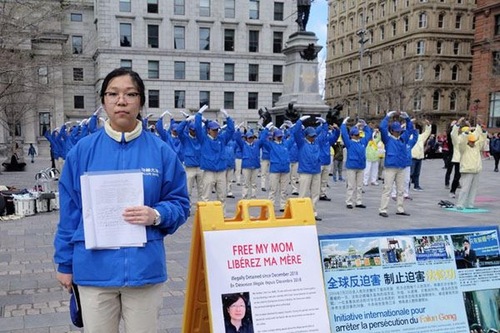 Karen called on the public to help rescue her mother who is detained by the communist regime for her belief in Falun Gong.
Ms. Chen's daughter Karen, currently residing in Montreal, Canada, is calling for more international support to secure her mother's release.
Wang ChunfengProcurator-General of the Shijingshan District Procuratorate in BeijingJia No. 2, GuchengnanliShijingshan Qu, Beijing Shi 100043People's Republic of China
Ambassador Cui TiankaiEmbassy of the People's Republic of China3505 International Place NW, Washington DC 20008Phone: 202 495 2266 I Fax: 202 495 2138Email:chinaembpress_us@mfa.gov.cn
Related reports:
Rescue Efforts: Practitioners and Supporters of Falun Gong Call for Release of Detained Prisoners of Conscience
Beijing Middle School Teacher Arrested for Passing Out Information about Falun Gong