Rescue Efforts: Practitioners and Supporters of Falun Gong Call for Release of Detained Prisoners of Conscience
June 07, 2019 | By Minghui correspondent Wang Ying
(Minghui.org) The persecution of Falun Gong in China has not stopped, and nor has the peaceful resistance.
Practitioners and supporters of this spiritual self-improvement practice, which is also known as Falun Dafa, will not stop calling for the release of those who are jailed for their belief until they are all free. This report covers two recent activities that aimed to free two imprisoned Falun Gong practitioners in China: Chen Yan and Gao Suming.
Calling for the Release of Chen Yan
Amnesty International issued an Urgent Action on April 17, calling for help to rescue detained high school teacher Chen Yan.
Chen Yan, 55, is a well recognized teacher at the Ninth High School in Shijingshan District, Beijing. She was arrested on December 3, 2018. The authorities have tried to force her to renounce Falun Gong, but she continues to refuse because she sees nothing wrong with the practice and freedom of belief is protected by the Chinese Constitution.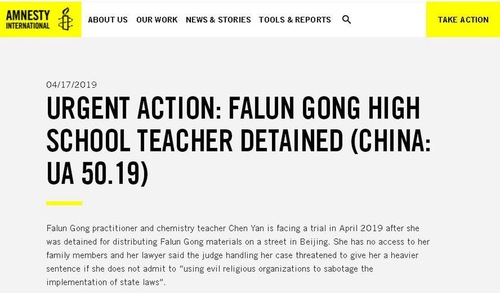 A screenshot of Amnesty's Urgent Action
Amnesty International reported, "Falun Gong practitioner and chemistry teacher Chen Yan is facing a trial in April 2019 after she was detained for distributing Falun Gong materials on a street in Beijing. She has no access to family members and her lawyer said the judge handling her case threatened to give her a heavier sentence if she does not admit to 'using evil religious organizations to sabotage the implementation of state laws'."
Amnesty is urging readers to "write a letter in your own words or using the sample below as a guide to one or both government officials listed. You can also email, fax, call or Tweet them."
Wang Chunfeng
Procurator-General of Shijingshan District Procuratorate in Beijing
Jia No. 2, Guchengnanli
Shijingshan Qu, Beijing Shi 100043
People's Republic of China
Ambassador Cui Tiankai
Embassy of the People's Republic of China
3505 International Place NW, Washington DC 20008
Phone: 202 495 2266 I Fax: 202 495 2138
Email:chinaembpress_us@mfa.gov.cn
The sample letter reads: "Although Chen Yan has been able to meet her lawyer in the detention center, she has not been given family visitation rights. Chen Yan's family, including her 88-year-old mother-in-law who was hospitalized after the shock of learning about her detention, are worried about Chen Yan's situation.
"Therefore, I call on you to immediately and unconditionally release and drop charges against Chen Yan, unless there is sufficient credible and admissible evidence that she has committed an internationally recognized offense, and is given a fair trial in conformity with international standards. Additionally, we demand that Chen Yan is not subjected to torture or other ill-treatment. Chen Yan must be given regular and unrestricted access to a lawyer of her choice, and able to communicate with family members, without interference, unless justified in conformity with international human rights law."
Calling for the Release of Detained Gao Suming
Another activity took place in Vancouver, Canada, on May 9. Local practitioners, including the sister of the victim, held a peaceful protest in front of the Chinese consulate calling for the release of Gao Suming. Gao is a practitioner from Liwan District in Guangzhou City, Guangdong Province.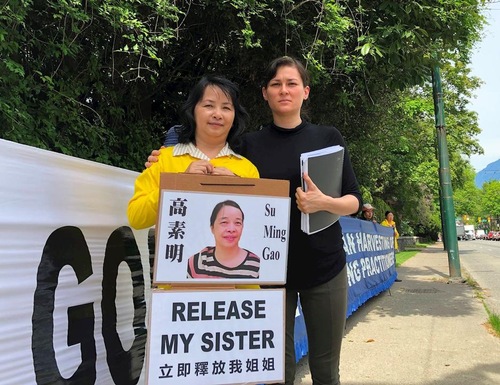 Gao Qiaoming (left), the sister of Gao Suming, and Ms. Lin, a local human rights activist, outside the Chinese consulate in Vancouver. Ms. Lin expressed her strong support for Falun Gong practitioners.
Local law enforcement began to harass Gao Suming in April 2018. They cut off electricity to her apartment, and monitored her. On April 23 they broke into her apartment and arrested her. Ms. Gao is now imprisoned in the First Detention Center in Guangzhou, and is not allowed contact with anyone from the outside world.
Gao Suming, 55, is disabled. Since she refused to give up her belief in Falun Gong, she was fired from her workplace and has been detained multiple times.
Her sister, Gao Qiaoming, said at the protest, "My sister is a law-abiding citizen but has been persecuted for 20 years. This time, I cannot get any information about her. Nobody has told us how she is. I cannot imagine what kind of torture she has suffered during the past 20 some days."
Gao Qiaoming said that the general public in China is kept in the dark when it comes to the persecution of Falun Gong practitioners. However, it doesn't mean that the persecution has stopped. The government blocks the information, but the suppression is continuing.
A spokeswoman for the Vancouver Falun Dafa Association said the association has added Gao Suming to the list of persecuted family members of Canadian citizens or permanent residents. There are 11 names on the list. The association will submit the list to the Canadian government, calling for action to secure their release.
The protesters urged the Chinese regime to release Gao Suming and stop the 20-year long persecution of Falun Gong.