Seven Heilongjiang Province Residents, Including One with a Severe Medical Condition, Sentenced for Their Faith in Falun Gong
June 07, 2019 | By a Minghui correspondent in Heilongjiang Province, China
(Minghui.org) Seven residents of Suihua City, Heilongjiang Province were sentenced to prison for not renouncing their faith in Falun Gong on May 24, 2019. All of them have appealed against the verdicts.
Falun Gong, also known as Falun Dafa, is a spiritual discipline that has been persecuted by the Chinese communist regime since 1999.
Mr. Yang Chuanhou, Ms. Wang Fang, Ms. Wang Fuhua, Ms. Bai Xia and Ms. Zhao Tingting were sentenced to two years in prison. Ms. Song Hongwei received one year and a half. Ms. Gao Jinshu, who has been suffering severe high blood pressure since her arrest last October, was given one year in prison. Each was also fined 5,000 yuan.
The seven practitioners first appeared in the Anda City Court on April 16, 2019. The hearing was halted minutes after it started when Ms. Gao became incoherent and started vomiting due to her high blood pressure.
Despite the fact that the court agreed to grant Ms. Gao's release on bail for medical treatment after the first hearing in April, the director of the local Political and Legal Affairs Committee (PLAC) blocked it.
The PLAC is a non-judicial agency tasked with the persecution of Falun Gong and that has the power to override the judicial system.
Ms. Gao was wheeled into the courtroom for the second hearing, held on May 14. The hearing lasted from 9:10 a.m. to 8 p.m. Six lawyers entered a not guilty plea for the seven practitioners. They argued that the persecution of Falun Gong has no legal basis. The lawyers also emphasized that practitioners living by Falun Gong's principles of Truthfulness, Compassion, Forbearance can only benefit the society without causing any harm to anyone.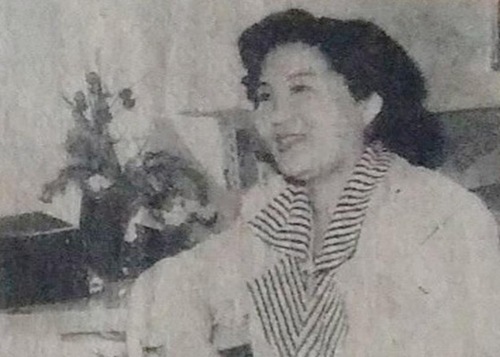 Ms. Gao Shujin
Arrests
Five of the practitioners, including Mr. Yang, Ms. Bai, Ms. Wang Fang, Ms. Wang Fuhua and Ms. Zhao, were arrested on October 3, 2018, while distributing informational materials about Falun Gong.
When Ms. Gao accompanied Mr. Yang's wife, Ms. Song to the Domestic Security Division on October 10 to inquire about his case, both of them were also arrested.
Mr. Yang was detained at the Lanxi County Detention Center, while all of the female practitioners were sent to the Anda City Detention Center. Ms. Gao was released on bail after the detention center refused to admit her due to high blood pressure.
However, over the next six months, she was constantly harassed and eventually subpoenaed by the authorities.
On February 26, 2019, Ms. Gao was deceived by a court staff member into coming to the court to pick up her indictment notice. When she went there, she was arrested and sent to the detention center.
Ms. Gao's lawyer visited her on March 14 and learned that she was suffering from dangerously high blood pressure and severe headaches. Her family demanded her release, but the court cited orders from higher-up to keep her detained.
Court Hearing Halted Due to Ms. Gao's Medical Condition
The seven practitioners were tried by the Anda City Court on April 16, 2019. According to a witness, Ms. Gao was carried into the court by three or four people, and the other six practitioners were escorted by two bailiffs. They all had black hoods over their heads.
Mr. Yang entered the courtroom first. He was emaciated.
During the hearing, two bailiffs stood behind the practitioners, blocking their family from seeing their loved ones.
Ms. Gao sat in a chair. She supported her head in her hands and appeared to be in pain.
Only five or six minutes into the hearing, Ms. Gao became incoherent and started vomiting. She was carried out of the courtroom. Her sister-in-law burst into tears but was threatened by a bailiff that they would remove her from the gallery if she didn't stop crying.
The judge initially wanted to proceed with the hearing of the six other practitioners, but later changed her mind at the lawyers' protests.
The judge agreed to grant bail to Ms. Gao so that she could receive medical treatment before the next hearing, but the decision was later rejected by the local PLAC.
Related reports:
Court Hearing Halted as Woman With Medical Issues Becomes Incoherent Midway Through Trial
Suihua, Heilongjiang Province: Eight Arrested in One Week for Their Faith, Seven Facing Trial
Related reports in Chinese: