Ms. Kong Hongyun Remains in Coma and on Life Support
May 21, 2019 | By a Minghui correspondent in Hebei Province, China
(Minghui.org) Ms. Kong Hongyun lost consciousness after two months on a hunger strike to protest her latest arrest for practicing Falun Gong, a spiritual discipline that has been persecuted by the Chinese communist regime since 1999.
Only then was she taken to a hospital, where doctors inserted a breathing tube into her trachea and connected it to a ventilator. To this day, Ms. Kong remains unconscious and on life support.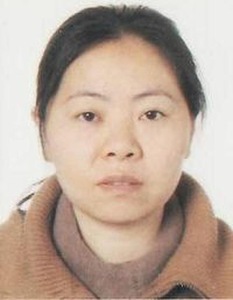 Ms. Kong Hongyun
Ms. Kong, a 47-year-old resident of Baoding City, Hebei Province, was arrested on January 2, 2019, after being reported for talking to people about Falun Gong. She was held at the Baoding City Detention Center, where she went on a hunger strike to protest the persecution.
Ms. Kong's lawyer was notified in early March 2019 to come as soon as possible to do the paperwork for her release on bail. When the lawyer and Ms. Kong's family rushed to the detention center a few days later, she had already been sent to the hospital.
Sentenced Twice for Her Faith that Gave Her Hope to Pull Through Misfortunes in Life
Ms. Kong began practicing Falun Gong in 2007. She credited the practice for giving her strength to restart a new life after she divorced and had to sell her house to pay the debt for her personal clinic after a medical accident. She was bankrupt and desperate when she heard about Falun Gong.
After reading Zhuan Falun, the main text of Falun Gong, Ms. Kong understood the deeper meaning of life and the karmic relationships of the unfortunate events that had befallen her. Her hope in life was rekindled and she had the courage to face hardship again.
Ms. Kong reopened her clinic and lived by Falun Gong's principles of Truthfulness-Compassion-Forbearance as she cared for her patients. She quickly built up her reputation and the business was back on track.
Just after she started a new life, Ms. Kong was arrested for talking to a patient about Falun Gong on March 13, 2008, and sentenced to three years in prison. Her daughter, who lived with her, was only eight years old at the time.
The police constantly harassed Ms. Kong after she was released in March 2011.
Ms. Kong was arrested again in January 2014 after being reported for talking to people about Falun Gong in a park. She was sentenced to four years in prison and suffered numerous tortures, including forced-feedings, electric shocks, being hung up, and beatings. She was released on January 4, 2018, only to be arrested again one year later.
Related reports:
Hebei Woman Hospitalized after Nearly Three Months on Hunger Strike Following Arrest for Her Faith
Daughter Faces Third Trial; Elderly Mother Appeals for Her Release
Authorities Refuse to Release Falun Gong Practitioner Despite Three Failed Trial Attempts
Lack of Evidence Postpones Medical Worker's Trial Three Times
Prosecutor Unable to Disprove Defense Arguments, Lawyer Requests Client's Release
Lawyer Demands Ms. Kong Hongyun's Release
Family Suspects Disoriented Practitioner Was Drugged After Fifth Arrest
Baoding Court Tries But Fails to Frame Ms. Kong Hongyun
Ms. Kong Hongyun from Baoding, Hebei Province Arrested Again
Ms. Kong Hongyun from Hebei Province, Baoding City Arrested; Her Family Requests Her Release