Three Hebei Residents Sentenced to Prison for Their Faith After More Than Three Years of Incarceration
April 15, 2019 | By a Minghui correspondent in Hebei Province, China
(Minghui.org) Three residents from Qian'an City, Hebei Province, were recently sentenced to prison for practicing Falun Gong, after being arrested and incarcerated nearly 3.5 years ago.
Falun Gong, also known as Falun Dafa, is a spiritual discipline that has been persecuted by the communist regime since 1999.
Ms. Wan Yonghong was sentenced to a 4-year term and fined 8,000 yuan. Both Ms. Zhou Xiuxia and Ms. Liu Xiaoyuan were sentenced to 3.5 years with a 7,000 yuan fine.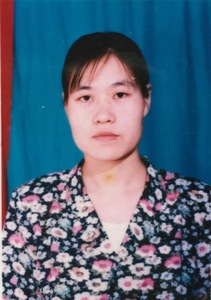 Ms. Zhou Xiuixa
The three women were arrested on December 15, 2015, for not renouncing their faith. The police took them to the Tangshan City No.1 Detention Center the next day, where they have since remained in criminal detention.
Qian'an City Procuratorate approved their arrests on January 18, 2016, and filed formal indictments on July 11.
The three women appeared in Qian'an City Court on October 28, 2016. Their lawyers entered not-guilty pleas for them. The practitioners also testified in their own defense. They argued that they have a constitutional right to practice Falun Gong and they didn't violate any laws by refusing to give up their spiritual belief.
The judge waited more than two years before announcing the verdicts.
The practitioners' ordeal and arbitrary detention left their families in tremendous distress. Their elderly parents' health quickly deteriorated. Ms. Zhou's mother in her 70s, Ms. Wan's father in his 80s, and Ms. Liu's mother-in-law passed away one after another in May, June, and December 2017, leaving behind their ailing and elderly spouses.
The practitioners' families frequented different agencies to seek justice for them and demand their releases but were given the run-around and told to keep waiting for further notice.
Seeing their demands not being addressed by the authorities, the three families co-filed complaints in December 2018 against Pu Yonglai, head of the Qian'an City Domestic Security Division, Wang Xiaojing, a prosecutor with the Qian'an Procuratorate, and Wang Ziliang, a Qian'an Court judge, for their involvement in the persecution. They also demanded the immediate release of their loved ones.
Repeatedly Targeted for Their Faith
All three practitioners learned Falun Gong before the persecution campaign began in July 1999. They credit the practice for improving their health and broadening their outlook.
Because they did not renounce their faith, they have been repeatedly arrested and detained during the past two decades.
Ms. Wan Yonghong
Ms. Wan was previously a director at the Industrial and Commercial Bank in Qian'an City. She was arrested numerous times and her home ransacked. She sustained irreversible spine and leg injuries in 2007 while trying to escape police detention from a fourth-floor window. Eight years later, she still has two metal plates in her back and leg, and her left leg remains numb. She cannot squat and has trouble maintaining her balance while walking.
Ms. Wan has spent more than 70,000 yuan on medical expenses but her company refused to compensate her. In addition, under pressure from the local 610 Office, the company also suspended her salary, pension, and other fringe benefits. She estimates her economic losses alone at more than 600,000 yuan.
Ms. Liu Xiaoyuan
Ms. Liu also worked at the Industrial and Commercial Bank in Qian'an City. She has been arrested seven times for practicing Falun Gong. The police have ransacked her home and confiscated many of her personal belongings. She was fired from her job shortly after she was arrested in October 2007, resulting in a financial loss of over 600,000 yuan.
Ms. Zhou Xiuxia
Ms. Zhou, a former employee at Qian'an City Food Company, began practicing Falun Gong in March 1999. She has been arrested six times and spent two years in a forced labor camp, where she was subjected to various tortures aimed at forcing her to give up her Falun Gong practice.
On September 1, 2003, she was arrested for distributing information about Falun Gong, held at a detention center for a month, then sent to a brainwashing center. The staff there put unknown drugs in the food given to the four Falun Gong practitioners. Each of the four began experiencing blurred eyesight and numbness in their legs and feet. Ms. Zhou's eyesight remains weak. Her employer withheld more than 200,000 yuan of her salary while she was detained.
Related reports:
Disabled 8 Years Ago, Bank Employee Sues Jiang Zemin for Economic Loss and Emotional Distress
Qian'an, Hebei Province: 33 Locals Harassed by Police for Suing Former Chinese Dictator
Li Qingson and Zhou Xiuxia from Qian'an City, Hebei Province Suffer Frequent Persecution