Daughter Sentenced to Prison for Her Faith, Mother Not Allowed to See Her Until Third Try
March 27, 2019 | By a Minghui correspondent in Shandong Province, China
(Minghui.org) A Laixi City, Shandong Province resident was sentenced to five years after a secret trial for her faith in Falun Gong. The detention center guards attempted to block her 89-year-old mother from visiting her before she was taken to the prison.
Falun Gong, also known as Falun Dafa, is a spiritual and meditation discipline that has been persecuted by the communist regime since 1999.
Ms. Jiang Shu'e, 51, was arrested on April 28, 2018. She appeared in Laixi Court on October 9, 2018. The presiding judge didn't inform his lawyer or her family of the hearing.
When her lawyer discovered the secret hearing, the judge refused to allow him to get involved in the case and even dared him to file a complaint against the [judge's] violation of legal procedures.
The judge later sentenced Ms. Jiang to five years in prison. The guards at Pudong Detention Center at first withheld her appeal. It was only after she said she would file a complaint against them, that they forwarded her appeal to the intermediate court.
Ms. Jiang prepared a defense script for her appeal hearing. The judge at the intermediate court confiscated the script during a pretrial meeting and didn't give her enough time to prepare for a new one before the hearing. The judge ruled to uphold her prison sentence on February 28, 2019.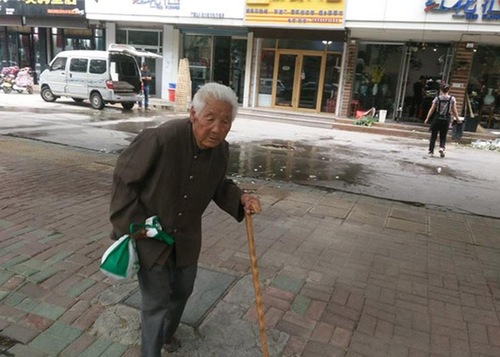 Ms. Jiang's mother
Accompanied by her family members, Ms. Jiang's 89-year-old mother went to the detention center to visit her on March 6, 2019. After she struggled to walk up to the entrance, a guard stopped her and said visitation of Ms. Jiang was prohibited.
The elderly mother returned on March 13. One officer surnamed Gao demanded a notary letter from her village officials to prove her blood relationship with Ms. Jiang. The elderly woman was desperate and had wet eyes upon hearing that.
Her family members immediately returned to their village and obtained the letter demanded by officer Gao. The elderly mother finally met with Ms. Jiang in the afternoon.
Ms. Jiang has been repeatedly persecuted in the past 20 years for practicing Falun Gong. She was fired from her job in 1999, given two years of forced labor in 2001 and forced to divorce in 2002. She has been arrested and constantly harassed by police since 2010.
Her brother and sister-in-law were also targeted by the police and kept at the police station for a few days for their efforts to secure her release after her latest arrest.
Related reports:
Shandong Woman Secretly Tried Without Family or Lawyer's Knowledge
Ms. Jiang Detained Ahead of SCO Summit, 90-Year-Old Mother Demands Her Release