Persecuted for His Beliefs: Hebei Man Beaten and Force-Fed Human Feces While Held in Detention
March 27, 2019 | By a Minghui correspondent in Hebei Province, China
(Minghui.org) Tian Kaishan is a 55-year-old Falun Gong practitioner from the city of Baoding, Hebei Province, just southwest of Beijing. Because he practiced Falun Gong, he was arrested in early 2017 and sent to the Yi County Detention Center.
While awaiting the court's verdict, Mr. Tian suffered tremendously, enduring extreme methods of torture inflicted on him during his detainment at Yi County.
The abuse continued when he was subsequently sentenced to a two-year term of imprisonment and transferred to Jidong Prison on August 2, 2017.
Concerned and worried about his son, the strain proved too much to bear for Kaishan's 80-year-old father, who died from grief.
Falun Gong, also known as Falun Dafa, is a self-cultivation system that includes gentle exercises and emphasizes the improvement of one's moral character. Its teachings are rooted in the principles of Truthfulness, Compassion, and Forbearance.
Since the Chinese Communist Party (CCP) began persecuting the practice in July of 1999, a large number of practitioners have been detained, imprisoned, tortured, and murdered.
Below is Tian Kaishan's personal account of the torture he endured for practicing Falun Gong.
* * *
I have been detained numerous times for practicing my faith.
One incident occurred on October 5, 2016, when I went with other practitioners to the town of Zijingguan to distribute Falun Gong materials exposing the persecution. Because of poor health, I was released two weeks later, but officials continued to harass me.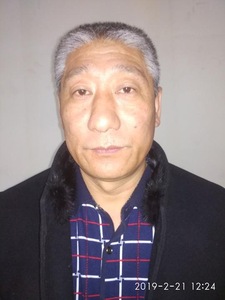 Mr. Tian Kaishan, 55, lived in Baoding City, Hebei Province.
A few months later, on February 10, 2017, I went to a local bank in Laiyuan County on business. I didn't realize the police were monitoring me. After I left, they tricked me into returning to the bank, where I was arrested by police from both Laiyuan County and Yi County.
The head of the Yi County Domestic Security Division, Tian Guojun, attempted to interrogate me, but I refused to answer. So he held me in the Yi County Detention Center for further interrogation.
After five days, I decided to go on a hunger strike to protest my mistreatment. My family was finally allowed to visit me briefly.
I was put on trial on May 4, 2017. For my defense, my family hired a human rights attorney, who requested my immediate release. However, pressured by agents of the 610 Office, court officials continued to hold me, as they decided on a plan to sentence me to prison.
While being held in detention against my will for practicing my belief, numerous torture methods were inflicted on me by guards, inmates, and officials.
Hunger Strikes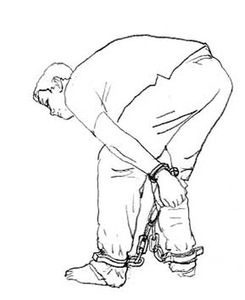 Torture illustration: Hands cuffed close to one leg
To protest the wrongful treatment I was being subjected to, I went on a hunger strike. This angered the guards, and they handcuffed me and chained my feet together. One guard made his threats clear: If I continued on my hunger strike for more than three or four days, he would handcuff my hands to my legs, bending me in half with my head down, making it very difficult to walk.
Several days later the guards made good on this threat and did indeed handcuff me that way.
I went on multiple hunger strikes while I was detained. Guards would order felons to beat me viciously and force me to temporarily stop my hunger strike. The inmates would often comply to appease the guards and avoid harsh mistreatment themselves. I was beaten and humiliated by them at will.
They often assaulted me in the bathroom, where there were no security cameras.
Everyone was trying to force me to give up my belief in Falun Gong.
Beatings and Force-Feedings
Guards and inmates would team up during torture sessions and violent attempts to force-feed me. They would pin me down with chairs and go at it. With my hands cuffed to my leg chains, I had no ability to resist. They took turns slapping my face, and kicking and punching me. They would strike the bottoms of my feet with an iron rod or bamboo sticks.
This went on for three days straight. One of the detention center's assistant directors, Zhao Hua, got involved in the torture.
They did not hold back when torturing and force-feeding me, and I endured brutal beatings. One time, they did not stop the torture until I lost consciousness, passing out during force-feeding due to suffocation.
The days of force-feeding were violent, and brutal. Inmates assisting guards tried with all their might to squeeze my cheeks and force my mouth open. I had bruises and wounds on my cheeks and face, and in my mouth.
On one occasion, to force my mouth open, an inmate stood with all his weight on my chained ankle. I screamed in pain. As I screamed, they started stuffing things into my open mouth. "We are quite experienced," one guard said. "We have many ways to make you yield and eat."
Cigarette Butts
One time, when the group was holding me down and beating me, one of them came up with an idea. He grabbed an ash tray from the bathroom and dumped its cigarette butts and ash into a meal of soup and steamed buns, and force-fed me this vile mixture. I suffocated, then coughed out the cigarette butts, which landed on another assistant director of the detention center, Liu Yu.
He became furious, and started slapping and beating me. Then he stuffed the cigarette butts back into my mouth.
Human Feces
As they were about to force-feed me, the director of the detention center, Wang Zhenghua, called several guards together that day before the torture began. I could not hear what they were planning.
Halfway through the force-feeding, Wang demanded I stop the hunger strike, and eat food willfully, on my own. Again I said no.
"If that is the case, we will force you to eat feces," he sneered at me. He ordered one guard to pick up a bag of feces. An assistant director, Zhong Cheng, put on gloves, and stuffed feces into my mouth. I tried my best to resist, but could not do much, as my hands were chained to my leg.
Officers and guards held me down, and force-fed me feces. They rubbed it in my face, on my head, and on my body. It was awful.
Turning Inmates Against Me
Inside the cell, a head inmate hit my face with the bottom of his shoes. Some inmates who witnessed these torture sessions approached me and told me they saw that the beatings and force-feeding were too extreme, too violent.
For others, officials ordered guards to make inmates write testimonials against me. These statements were to be sent to court officials, saying how I refused to give up Falun Gong; how I told other inmates about Falun Gong and how they should quit the Chinese Communist Party (CCP) to avoid karmic retribution.
Director Wang attempted to blackmail me, saying if I continued to refuse to eat he would forward the statements to the court, so that I would receive a longer sentence when a verdict was reached.
Sleep Deprivation, Slander and Mental Abuse
The pressure was relentless. Guards had inmates beat me in locations where there were no security cameras. They also told inmates that the cameras would be turned off at 8:00 p.m., so they could continue the assault through the night.
I could not sleep, as inmates assigned to watch me would beat me whenever I dozed off. Although inmates lacked sleep as well, they dared not complain to the guards. Instead they vented their anger at me.
This period of sleep deprivation lasted four days and three nights.
Another technique used to force me to give up my belief was having inmates write the name of Falun Gong founder Li Hongzhi on a piece of white cloth, and hanging it on my back. They asked other inmates to slander Mr. Li when they were around me. I asked them to stop, but they refused to listen, and instead did it more intensely.
This was not good for them, and according to my beliefs was committing a bad deed. To stop them from doing this, I quit my hunger strike, and began to eat.
When I realized later it was a trick setup between the guards and inmates, I resumed my hunger strike.
Handcuffed in the Hospital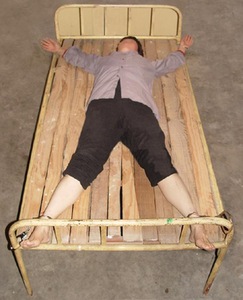 Handcuffed in a spread eagle position
Officials feared I could die from torture in the detention center, so they sent me to a hospital. There the guards stretched out my four limbs and restrained them with handcuffs on the corners of the bed. They twisted the handcuffs to make them tighter, to inflict more pain, cutting into my flesh.
They also used a new type of electronic chain on my legs and feet.
Again I was denied sleep during this torture. As soon as I dozed off, guards would pour cold water on my head and body.
At the hospital, guards force-fed me large amounts of water, filling my stomach. The urge to urinate was very strong, and guards would often make excuses to delay me from using the bathroom. One time they made me wait two hours, and I lost control of my bladder.
All of these techniques were attempts to constantly wear me down and destroy my will, and my faith in Falun Dafa.
One time I overheard a high official order a guard to "give him a hard time." The officer seemed concerned about intensifying the torture sessions. "I am afraid he will die soon," I heard him say.
Returned to Detention Center
Seeing I was unwilling to yield, the guards took me back to the detention center.
An officer told me that if I stopped the hunger strike, I would receive a shorter sentence. I told him that despite all the brutal treatment, I had done nothing wrong.
When I returned to the detention center, many inmates were shocked by my appearance and what I had endured. I calmly explained to them that I had done nothing wrong. Falun Gong is good, and the CCP was wrong to persecute it. I told them they should distance themselves from the party, and be responsible for their future. Some of them decided to quit the CCP and its organizations.
Because I continued my hunger strike at the detention center, guards chained my hands and feet together for 45 days. My ankles were badly swollen, and filled with pus and blood.
Even now, my ankles bear the scars from the chains.
Out of fear I would die while being held in the detention center, the court abruptly announced that it had reached a verdict. They sentenced me to two years in prison.
Key Parties Responsible:
Yi County Detention Center: +86-312-4700162Zhao Hua: Assistant director of Yi County Detention Center, +86-15931848519
Related Articles:
Hebei Man Sentenced to Jail Term for His FaithPolice Injure Falun Gong Practitioner's Father Seeking His Son's Release