Accounts of People Learning about Falun Gong at Tianti Bookstore in New York
March 27, 2019 | By a Falun Gong practitioner in New York
(Minghui.org) I have been a helper in the Tianti Bookstore in Manhattan for quite a while. I feel that the people coming to learn about Falun Gong recently are different from before. Here are some examples of people seeking out Falun Gong books.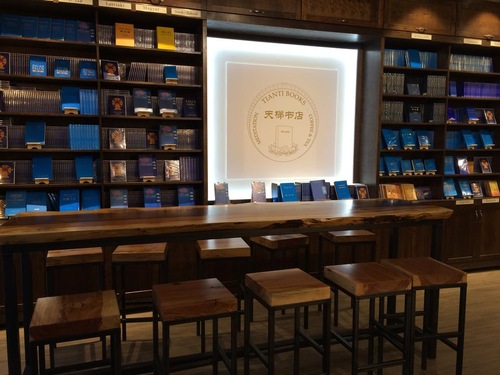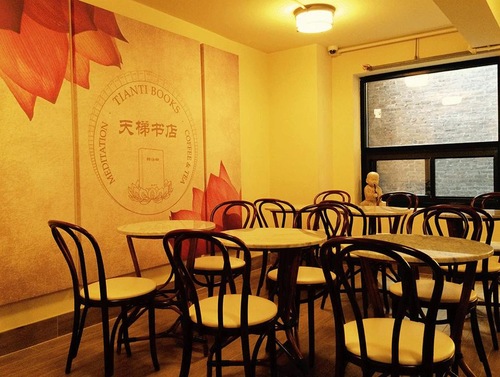 Tianti Bookstore in Manhattan, New York
A Chinese-American man from another state who works in finance came to the bookstore. He told me he stops by the bookstore when he comes to New York each time. He shared his issues in practicing Falun Gong.
From our conversation, I learned that there were Falun Gong practitioners around him, but he did not learn Falun Gong until last year. He read Zhuan Falun, the main book of Falun Gong but did not experience any enlightenment about it.
Because he wanted to learn the practice, he read other Falun Gong books. After he finished reading more than 40 more, he read Zhuan Falun again and began to enlighten to how great the book is. He started practicing Falun Gong and spread the practice to his colleagues and family members.
Another Chinese visitor said his Falun Gong friends had told him for years that he should practice it, but he didn't learn as he wasn't convinced. His friends told him to visit the Tianti Bookstore when he was in New York.
During our conversation, he suddenly enlightened to something and he changed his attitude. He was able to calm down and read the books with an open heart.
A Western man came to ask about the dates of the next nine-day free meditation workshop. A practitioner told him that he could start reading the book Falun Gong or Zhuan Falun without waiting for the teaching session.
The visitor did not agree with the practitioner. I taught him the first Falun Gong exercise. From our conversation, I noticed that he was looking for a shortcut to reach a level similar to or higher than those spiritual practitioners in temples.
He had been to the bookstore a few days earlier and bought the books Essentials for Further Advancement and Essentials for Further Advancement II. So he declined the practitioner's recommendation to first start reading Falun Gong or Zhuan Falun.
As he had not read Falun Gong or Zhuan Falun, he had many questions that beginners have, such as why is it important to read the books. I told him that his questions indicated the importance of reading the book Zhuan Falun.
He enlightened, "Can reading the book answer my questions?"
"Yes," I answered. "Read the book again if you have the same question. Or you can come to discuss it with us. You can join our group study and share with everyone else."
He said, "Can you guarantee that you will answer me after I read the two books?"
I answered, "Read the books as soon as you can. Remember to read from the beginning to the end without skipping a single page. Otherwise, you will miss something."
"Sure, I will return," he said.
There are many other examples. The commonality of these experiences is that these newcomers read books carefully but had difficulty understanding Zhuan Falun initially if they read only Zhuan Falun. They needed to read other Falun Gong books to help them understand.
Unfortunately, there are only five books printed in English. Coincidentally, these people tend to have an aversion to reading books on a smartphone or computer.
Some Western practitioners specifically came to the bookstore to give feedback that the newest version of the English translation of Zhuan Falun is similar to the edition published in 2002. New practitioners can read it initially but need to read other versions when they decide to practice Falun Gong.
A Caucasian man in his 30s or 40s owns a computer company and has lived in Manhattan for many years. He has seen the practitioners' protest in front of the Chinese Consulate for nearly eight years. He could not understand the meaning of the protest and what Falun Gong is.
He came to the Tianti Bookstore one day and spoke for half an hour with a practitioner. He was impressed, as it is hard to find another shop with such a quiet environment in the bustle of Manhattan and one that provides free consultation for such a long time.
The practitioner explained the mission of Tianti Bookstore to him, what Falun Gong is, the marvelous effects of Falun Gong in healing illness and keeping fit, the Chinese Communist Party's (CCP) persecution of the practice in China, the nature of the CCP, and so on. He finally understood and appreciated the practitioner taking so much time to speak with him. He said he would browse online to learn more.
A man who has worked on Wall Street for a few decades looked around in the bookstore. During our conversation, he told me that he had cancer. A doctor had told him that he only had a few more months to live.
After we spoke, he selected the book Hearts and Minds Uplifted. He sat down and read it for more than 40 minutes without moving. As it was getting dark, he stood up and bought the book. He sighed, "So valuable. I never knew that such information was available."
Watching him leave I was inevitably touched. In this special historical moment, I sincerely wish that the predestined people do not miss the opportunity to learn about Falun Gong.