Ms. Jiang Detained Ahead of SCO Summit, 90-Year-Old Mother Demands Her Release
July 05, 2018 | By a Minghui correspondent in Shandong Province, China
(Minghui.org) The 90-year-old mother of Ms. Jiang Shue demanded that the Laixi City Police Department release her daughter on June 19, 2018. The police claimed that Ms. Jiang, a Falun Gong practitioner, had been detained for security reasons because the Shanghai Cooperation Organization (SCO) Summit was being held in Qingdao City.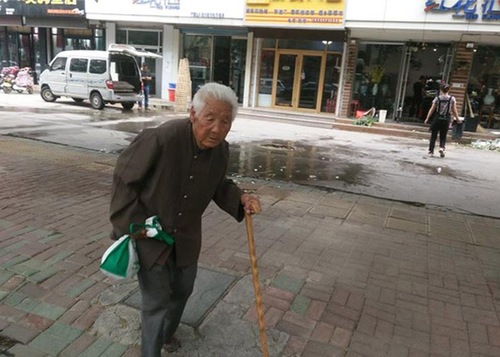 Ms. Jiang's 90-year-old mother outside the police department
Large-Scale Arrests
The SCO summit was held in Qingdao City, Shandong Province, on June 9 and 10, 2018. Ahead of the summit, authorities in Qingdao and its neighboring cities carried out large-scale arrests of local Falun Gong practitioners.
Ms. Jiang Shue was arrested by three plainclothes officers on her way home from work, at 5:30 p.m. on April 28, 2018. She was taken to the Pudong Detention Center.
Ms. Jiang's brother went to the police department on April 29 after he learned about his sister's arrest. He was not allowed to enter. When he phoned Li Weikui, the section chief of the Domestic Security Division, he was told that she would be released or sentenced after the SCO summit.
Ms. Jiang's family tried to keep the bad news from her 90-year-old mother because they were concerned that it might affect her health. But because Ms. Jiang had been taking care of her mother's daily needs for years, the elderly lady soon learned what had happened. She was heartbroken. She went to the Laixi City Police Department to demand her daughter's release, but guards stopped her at the entrance.
A month later, on June 19, 2018, Ms. Jiang's mother returned to the Laixi City Police Department with the help of her daughter-in-law. She was determined to get her daughter back. The guards stopped her at the gate, so she sat on a small stool in front of the police department gate and waited for an answer.
Notified by the police, the village secretary of the Chinese Communist Party (CCP) and Ms. Jiang's brother came around 11:00 a.m. in a car. The old lady did not want to leave, but four guards put her into the car. She said to the village secretary, "If you take me home, you have to take my daughter home, too."
Ms. Jiang Shue had a good job and a happy family. After Jiang Zemin started the persecution of Falun Gong, she was fired from her post as a civil servant, and her family was impacted. She has been arrested and persecuted many times since the onset of the persecution, and her family has suffered tremendously.