Shandong Woman Secretly Tried Without Family or Lawyer's Knowledge
October 24, 2018 | By a Minghui correspondent in Shandong Province, China
(Minghui.org) A 51-year-old woman in Laixi City was ordered to stand trial on October 9, 2018 without her family's knowledge. When her lawyer discovered the secret hearing, the presiding judge refused to allow him to get involved in the case and even dared him to file a complaint against the [judge's] violation of legal procedures.
Ms. Jiang Shu'e was arrested on April 28, 2018 for refusing to renounce Falun Gong, a mind-body practice being persecuted by the Chinese communist regime. While in custody, she was restrained tightly and had her blood drawn and X-ray taken against her will. She sustained severe injuries during the procedures. Her right hand shook uncontrollably and she wasn't able to walk for a few days.
Her family has since been denied visits with her. The local police refused to talk to her family and detained her sister-in-law for five days when they requested her release.
This is not the first time that Ms. Jiang has experienced persecution. After former Chinese dictator Jiang Zemin started the persecution of Falun Gong, she was fired from her job, and her husband was forced to divorce her.
Her latest arrest was preceded by an earlier arrest in 2013, when she was detained for four days and put under surveillance for six months. Her then-83-year-old mother was harassed to the point of becoming absent-minded and sustaining a motorcycle accident.
While Ms. Jiang was visiting her mother in the hospital, Officer Li Weikui, head of the local Domestic Security Office, burst into Ms. Jiang's mother's hospital ward. The elderly woman was startled, and Ms. Jiang pushed Li outside. Li threatened to "punish her severely" if he ever arrested her again.
Li's threat materialized five years later, when he ordered the most recent arrest of Ms. Jiang.
Falun Dafa Changed Ms. Jiang
Ms. Jiang was a former employee of Qingdao City Transportation Group, Laixi Branch. Before she began practicing Falun Gong, she was well known for having a very bad temper. At work, she often quarreled with passengers and even with her general manager. Due to her bad temper, she had many physical ailments, including stomachache, liver disease, cholecystitis, headache, and gynecological disease.
After she took up Falun Gong, also known as Falun Dafa, in 1996, Ms. Jiang disciplined herself according to Falun Gong's principles of Truthfulness-Compassion-Forbearance. She treated others kindly, considered others first, and never fought back or contended in conflicts. Gradually, she developed a good temper and no longer quarreled with passengers. Her general manager was happy to see her change and said, "I never would have expected that Falun Dafa could change Jiang Shu'e. Falun Dafa is so great!"
In the meantime, her physical problems were all gone, and Ms. Jiang has enjoyed good health over the past two decades.
Previous Arrest in 2013
Ms. Jiang detailed her earlier arrest in a complaint she filed against Officer Li Weikui.
"Police officers Shen Tao and Li Weikui arrested me on May 3, 2013, while I was on my way to work. My elderly mother took me back home four days later, but I lived under surveillance for the following six months. The police took turns monitoring me in front of my home. My 83-year-old mother was also humiliated and harassed by the police.
"One day, after she was humiliated again by the policeman Sui Guoqin, she became absent-minded and went to a street fair. On her way there, she had a motorcycle accident and lost consciousness. When she was taken to the emergency center, police officers followed us to the ward to continue monitoring me.
"A doctor diagnosed my mother with a serious cerebral hemorrhage and notified us of her critical condition. When the doctor learned about the police harassment of me and my mother, he was furious and told me not to be afraid of these policemen. He applied conservative medical treatment to my mother, as surgery could be risky due to her advanced age.
"When my mother was still recovering in the hospital, Officer Li broke into her ward one night to harass us. My mother was startled, and I pushed Li out of the ward. He shouted at me furiously, 'Jiang Shu'e, do not come near me again; otherwise, I will not go easy on you!'
"My mother spent RMB 8,000 yuan on her ten days' hospitalization. The Laixi Police Department should shoulder the responsibility and compensate us for the medical expenses."
Latest Arrest, 2018
Ms. Jiang has filed a second complaint against Officer Li for her recent arrest. She detailed her ordeal below:
"At approximately 5:30 p.m. on April 28, 2018, as soon as I finished work, about eight police officers who were waiting downstairs arrested me and took me to the Qingdao Road Police Station. Many officers took turns interrogating me. They photographed me and forcibly took my fingerprints.
"Later, they took me to the Pudong Detention Center, where I was forced to go through a medical examination. At the window where the blood test was to be taken, two policemen pinned me against the wall with their knees. I couldn't move or breathe. I managed to utter a few words, but it didn't sound like me at all. A doctor yanked my arm through the window and drew my blood.
"Then I was held down on a bed to have X-rays taken. I struggled to get up, but they pressed me down even harder, causing serious damage to my body. My right hand couldn't stop trembling. I felt weak all over and was not able to walk on my own. Finally, police officers dragged me out of the examination room.
"By the time I was carried into a cell by seven police officers, it was almost 10:30 p.m. My hands were still trembling. I couldn't stand up and I vomited. Two days later, I still couldn't walk, nor could I eat anything. I needed someone to support me while going to the restroom.
"One month later, officials from the Laixi Procuratorate twice came to the detention center to interrogate me.
"I have been detained at the detention center for more than five months, but my health still has not recovered. I can only eat a very little for each meal. I am very weak and cannot stand for a long time. My back hurts and I often have a stomachache. If anyone accidentally bumps into me, I experience a very painful stomachache. I have a headache and am often drowsy."
Family's Efforts to Seek Ms. Jiang's Release
Ms. Jiang's family tried to keep her latest arrest from her elderly mother because they were concerned that it might affect her health. But because Ms. Jiang had been taking care of her mother's daily needs for years, the elderly lady soon learned what had happened.
The old woman went to the Laixi Police Department in early May 2018, but she was turned away. Her son called the local police station the same day and was told to meet them at the station. He went, only to be restrained and handcuffed to a chair.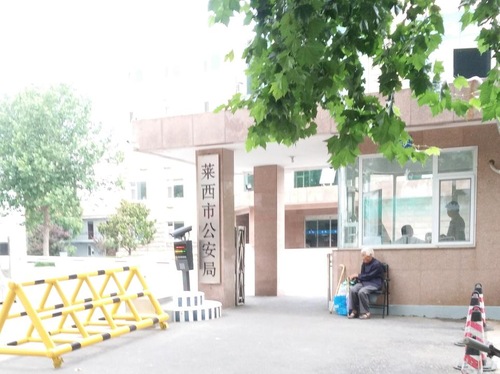 Photo: Ms. Jiang's 90-year-old mother outside the Laixi Police Department, seeking help for her daughter.
Ms. Jiang's mother returned to the police department on June 19, with the help of her daughter-in-law, Ms. Ding Huaying. They were stopped at the gate, and the mother sat on a small stool outside the gate for hours. No officer came out to talk to her.
The two women tried again on July 2, but the police arrested Ms. Ding and detained her at the Laixi Detention Center for five days.
Secret Court Hearing
Ms. Jiang was issued a formal arrest warrant on June 4, 2018, and her case was transferred to the local procuratorate on June 27. She appeared at the Laixi City Court on October 9.
The court didn't notify Ms. Jiang's family of the trial, so they didn't have a chance to attend the hearing. When Ms. Jiang's elderly mother hired an attorney for her, the trial had already been held.
On October 10, the attorney went to Pudong Detention Center, where he learned about the secret hearing from Ms. Jiang. He then visited the Laixi Court, but judge Fang Xichun refused to accept his application to represent Ms. Jiang, on the grounds that a hearing had already been held.
The attorney countered that by law lawyers are allowed to participate in a legal case before a verdict is issued. Fang replied, "Just go ahead and file a complaint against me as you like. I will not accept [your application] anyway."
Related Report:Ms. Jiang Detained Ahead of SCO Summit, 90-Year-Old Mother Demands Her Release