Cihu, Taiwan: Welcoming Chinese Tourists and Raising Awareness of the Persecution (Part 1)
February 10, 2019 | By Minghui correspondents Huang Yu-sheng, Cheng Yu-yan, and Fang Hui-tai
(Minghui.org)
Raising Awareness of the Persecution at Scenic Sites in Taiwan
Taiwan approved visiting rights for tourists from China in 2008. The most frequently visited destinations by Chinese tourists are Cihu, Ximending, Kenting, Sun Moon Lake, Taipei 101, Yehliu, Shilin Night Market, Liutai Night Market, Taroko, Alishan, National Palace Museum, and others.
Falun Dafa (also called Falun Gong) practitioners raise awareness of the Chinese Communist Party's (CCP) persecution at these scenic sites. They demonstrate the Falun Gong exercises and hand out this cultivation practices informational materials.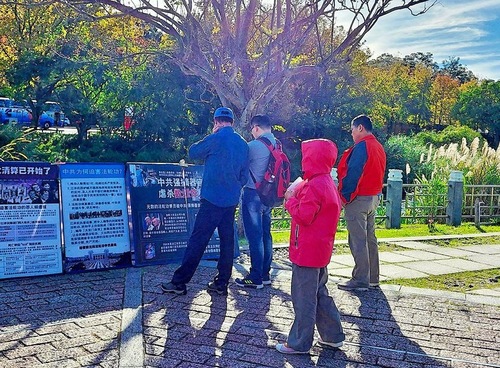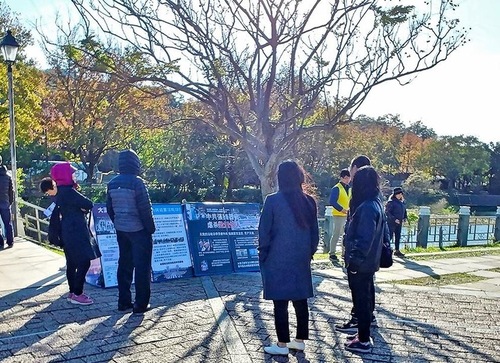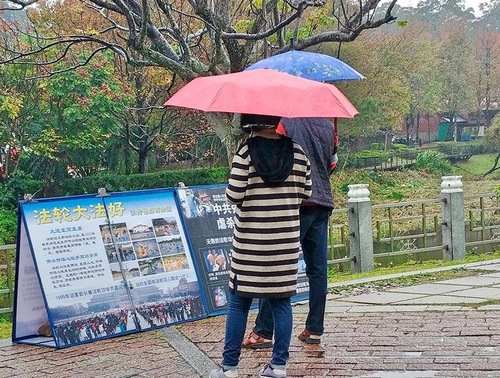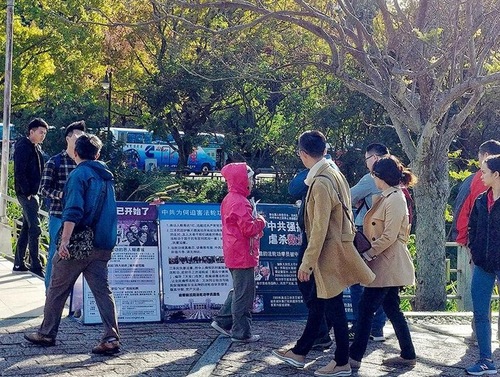 Chinese tourists read the Falun Gong posters, which inform them about the CCP's persecution.
Practitioners voluntarily participate in efforts to raise awareness about Falun Dafa. In a series of reports, we will share touching stories regarding the background of these volunteers, collected during our truth-clarifying efforts.
Recovering from Illnesses after Practicing Falun Dafa
Wang Mei-chen, a practitioner who helps raise awareness in Cihu, has been practicing Falun Dafa for 15 years. She recalled that she was in poor health before beginning to practice Dafa. She had three surgeries within three years, for a uterine tumor, ovarian fibroids, and intestinal adhesions, by the time she was 40 years old. She was depressed. Her children were still young and she had no one to look after them.
Her younger brother and his wife, who practice Falun Dafa, introduced her to this cultivation practice. She participated in a nine-day free seminar, despite being in pain.
She recalled that when she saw a video of Master Li's teachings for the first time she was very moved and close to tears. After practicing Dafa, she became relaxed, and let go of her worries. She recovered fully after practicing for more than a year. She did not return to the hospital for treatments. She was very grateful to Master Li Hongzhi, the founder of Falun Dafa, as she benefited greatly from the practice.
Wang is very busy, but knowing that Falun Gong practitioners are being persecuted in China, she voluntarily goes to Cihu two or three days each week to distribute Dafa materials and promote withdrawing from the CCP and its youth organizations.
Wang greets and chats with the tourists in a caring manner. Usually, as soon as she says a few words, the tourists feel her goodwill and agree to quit the CCP. After the tourists renounce the Party, she feels happy.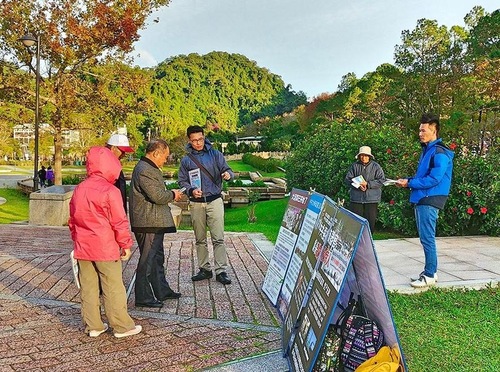 A practitioner explains the posters to the tourists.
Merchants Touched—Advise Tourists to Listen to Practitioners
Lu Wen-nian is an electrical engineer in the Hukou Industrial Zone. During the 2013 Hsinchu Lantern Festival, he saw the spectacular Falun Gong float, decorated as a sailing vessel, and decided to learn Falun Dafa.
In November of that year, some Taoyuan practitioners shared experiences of raising awareness in Cihu. He has since participated in that effort on Saturday afternoons.
He shared that many people had been thinking about Falun Gong, and are gradually becoming aware the CCPs persecution of innocent Falun Gong practitioners.
There are also vendors selling peaches at booths. They initially thought that the practitioners prevented them from doing business, but were moved by the gentle and rational explanations and performances by the practitioners. They have sometimes advised the Chinese tourists to listen to the practitioners' explanations, as it is beneficial to them.
Unmoved When Facing Cursing from Chinese Tourists
Huang Mao-chi said that there are many Chinese tourists visiting Cihu. Some of the practitioners distribute informational materials, some demonstrate the exercises, and some advise tourists to renounce the CCP.
He shared, "We often meet Chinese tourists who curse at us. I do not talk back, as we are practitioners, and they were misled by the CCP propaganda."
Some tourists do not dare to move close to the posters due to the presence of other people in their group. But they still read them. Some tourists, however, talk with the practitioners and announced their withdrawals from the Party.
He said emotionally, "Some tourists are pitiful. They listened to our explanations but dared not quit the CCP right away, as someone in the group was monitoring them. But they returned to see the practitioners again after touring the scenic site, and then quit the CCP and its youth organizations."
Tour Guide Encourages His Group to Learn about Falun Gong
Huang Rui-e, a retired primary school teacher, practiced in many qigong schools before encountering Falun Dafa. She traveled afar, seeking the meaning of life. She went to the highest Tibetan Buddhist lama temple in the Himalayas, but she did not find any information about the meaning of life.
She was deceived by a fake Tantra practitioner and owed a lot of money. She paid the debt with one-third of her salary every month.
One day she went to a restaurant that was owned by a Falun Dafa practitioner. She and her family of three started practicing Falun Dafa soon after.
Her family went to Alishan for a tour in October 2008 and learned that Falun Dafa practitioners were raising awareness at that area's scenic site. She has since often joined the effort in Alishan during her vacation. She discussed with practitioners in her area the possibility of starting a Dafa site. They decided to raise awareness in a nearby scenic site, and have been raising awareness in Cihu since November 25, 2013.
Huang finds it easy to approach tourists, as she is very familiar with raising awareness about the practice and the persecution. She once saw a man drinking tea, and approached him. She discussed the value of tea with him, including the price and the quality.
He said that he was a tour guide and had been to Cihu many times. He knew about Falun Dafa and had quit his membership in the CCP. Huang asked him to encourage the members of his tour groups to learn about Falun Dafa.
The young tour guide asked Huang, "Why will Heaven disintegrate the CCP?" Huang explained that the CCP does not represent China. He understood right away and said, "I will let my group listen to Falun Dafa information from you in the future."
When another tour guide was waiting for his group near the entrance, Huang chatted with him. He said he had been to Cihu 70 times. The tour guide spoke his group before they got off the bus, saying, "As you leave the bus, listen to this lady tell you about Falun Dafa."
Many tourists surrounded Huang and listened to her introduce Falun Dafa and the persecution of the cultivation practice. She also talked about the staged Tiananmen self-immolation incident. She encouraged the tourists to learn more while visiting Taiwan.
(Continued in Part 2)