London: "This Is What I Need!" Businessman Learns Falun Gong at Hyde Park
February 10, 2019 | By a Minghui correspondent
(Minghui.org) Seeking peace during a recent trip to London, Tunisian businessman Mohamed Taher Ali decided to walk through Hyde Park on February 6, 2019. As soon as he saw two Falun Gong practitioners practicing the sitting meditation in Buckhill Shelter in the park, he said, "This is what I need!"
Mr. Ali lives in Doha, Qatar, and is the CEO of MTA Global Group, a multinational company. He noticed two practitioners meditating as he was walking back to his hotel. He quietly sat down beside them.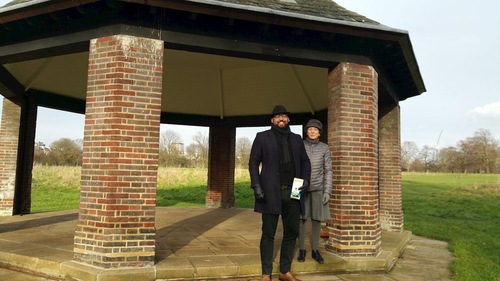 Mohamed Taher Ali poses for a photo with a Falun Gong practitioner.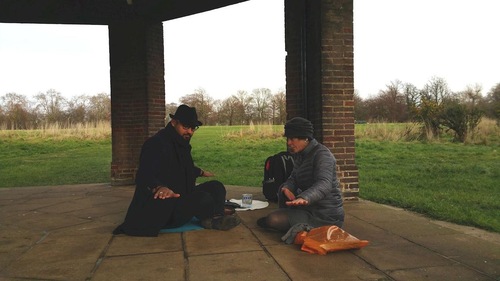 Mr. Ali (left) and Falun Gong practitioner Nathalie practice the sitting meditation in Hyde Park's Buckhill Shelter.
Drawn to Practitioners' Positive Energy
Mr. Ali said he was drawn by the strong, positive energy he felt coming from the practitioners while they meditated. He said, "I've recently encountered many difficulties. This time I came to London to relax, and to get on the right path. But in today's society in London it's noisy and people are fighting. I decided I'd walk back to my hotel through the park."
"As I walked through the park, I appealed to the universe in my heart to guide me to positive energy and good people, and let me be committed to something positive.
"Then I saw you. I didn't know what you were doing, but I just had an overwhelming urge to join you."
He said he felt surrounded by peace and strong energy when he stepped into the shelter. After he finished the sitting meditation Mr. Ali said he felt superb and great.
Practicing Falun Gong is "Worthwhile"
Mr. Ali was eager to learn more about Falun Gong. Nathalie gave him some materials and suggested that he read information on the Internet and watch the video which demonstrates the exercises. When she told him that there were five exercises that take two hours, he said, "It's worthwhile."
Mr. Ali said he planned to return to Qatar, and that he was interested in spirituality. Practitioners at the park told him that Falun Gong teaches the principles of Truthfulness-Compassion-Forbearance, which are morally upright and uplifting.
He said, "This is what I've been looking for: inner peace. I have been seeking such a path."
The practitioners talked about their cultivation experiences. One said, "You are seeking positive energy. When we follow the universal principles of Truthfulness-Compassion-Forbearance in our daily lives, we are communicating with the universe's positive energy."
Mr. Ali said, "I felt strong energy when I sat down next to you. Thank you."
When he was told that Falun Gong practitioners teach the exercises for free to anyone who is interested, Mr. Ali was surprised. He said that people nowadays seek opportunities to make money, including those offering spiritual practices.
"Positive Energy Cannot Be Stopped"
When Nathalie told Mr. Ali about the Chinese Communist Party's (CCP) brutal persecution of Falun Gong, he said he believes the Party will fail and the persecution will end. He said, "Positive energy cannot be stopped."
He said that he planned to learn more about Falun Gong.