Taoyuan, Taiwan: Welcoming Chinese Tourists and Raising Awareness of the Persecution (Part 2)
(Minghui.org) (Continued from Part 1)
Raising Awareness at the Taoyuan Airport
Taiwan, due to its proximity to China, is a popular destination for Chinese tourists. When they land at Taoyuan International Airport, Falun Gong practitioners are there to warmly greet and help them. They also tell them about the Chinese Communist Party's (CCP) persecution.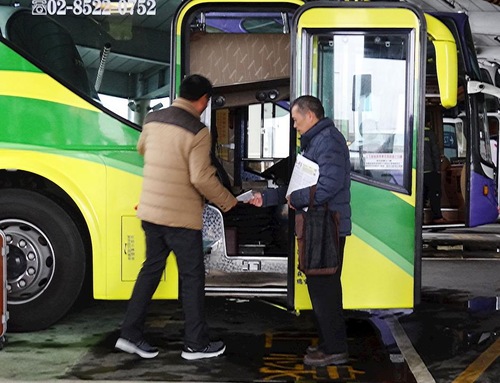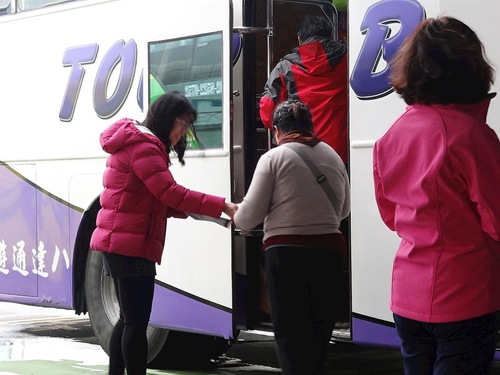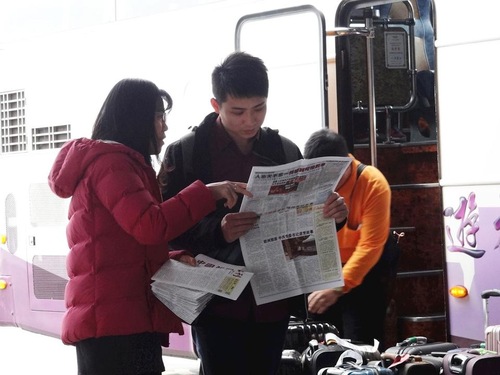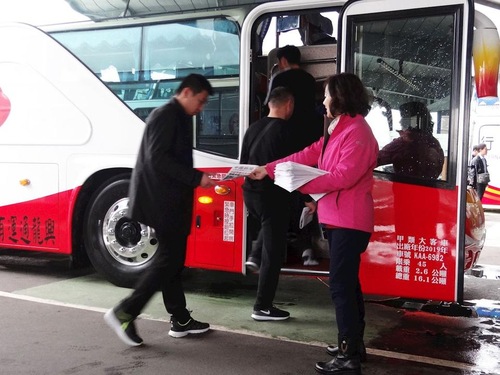 Practitioners distribute information about Falun Gong to Chinese tourists at the Taoyuan International Airport.
Airport Police Attitudes Change
When practitioner Chen Rui-jiao first began talking to people about the persecution at the Taoyuan Airport she said that some airport police cursed at the practitioners.
When one airport officer yelled at her, several passengers stopped and stared. At that moment she remembered Master's teaching,
"...never retaliating or responding to malice in kind," (from The Ninth Talk, Zhuan Falun)
She peacefully explained why practitioners were distributing Falun Gong informational materials there. She told the officer about the CCP's persecution and how people worldwide wanted the brutality to be stopped.
The police eventually changed their attitudes and began to greet the practitioners when they saw them.
Jiang Ren-sheng said that initially the airport police bureau did not understand why Falun Gong practitioners distributed information there. After they read the materials themselves, they understood the extent of the brutality in China, and told practitioners that as long as they did not hinder tour groups from entering or leaving, they could talk to them and offer them information.
Before practitioners explained why they were there, the tour guides and security personnel stopped them. After they explained the urgency of what they were doing, they were allowed to talk to tourists.
The practitioners also assist the tour groups by helping to organize and collect luggage carts, and they greet each tour guide and wish them a happy trip.
Practitioners have recently been allowed to hold posters containing Falun Gong information inside the airport.
Distributing Information at All Hours
Passengers usually hurry to the ground transportation exit as soon as they collect their luggage. When she sees people waiting for their bus, practitioner Ms. Chen and other practitioners give them information about Falun Gong and explain why millions of Chinese have already quit the CCP and its affiliated organizations.
Chinese tourists sometimes seek out practitioners to ask for materials, or ask for help in withdrawing from the CCP.
Ms. Chen has been coming to the airport for nine years. She said that sometimes there were so many tourists that she had to run down the line and hand them information while they were boarding their bus. Many people eagerly accepted the information.
When she was about to leave one day at midnight, five or six groups of Chinese tourists suddenly arrived, so she stayed and continued distributing materials. She finally returned home at 1:30 a.m.
One day when it was especially cold, an airport officer saw Ms. Chen and said in surprise, "It is so cold and late now, but you've still come!"
Drivers and Tour Guides Express Support
The practitioners also greet the bus drivers, and wish travel agents good business. The bus drivers' attitudes have gradually changed from indifference to warm responses.
A group of Chinese students were recently waiting to board their bus, and Ms. Chen walked over and began distributing copies of The Ultimate Goal of Communism.
When one student refused to take it, the bus driver said, "She's offering you something good. Why won't you accept it? You are not polite!" The young man accepted it and then the other students also took copies. Ms. Chen thanked the driver and wished him a good trip. The driver said, "You work hard."
Practitioner Yang Hsiu-ya said that one day she met a 70-year-old lady who was urgently looking for the airport restroom. Ms. Yang took her to the restroom, and advised the lady to quit the Party.
She thought, "The airport is so big that the elderly lady might get lost, and her tour group would have to wait for her." So she waited for her and then brought her back to the bus. When he saw Ms. Yang's kindness, the tour guide praised her and said, "You are the nicest person I've ever met. You even brought her back."
Ms. Yang was pleased because this tour guide did not previously have a good impression of Falun Gong practitioners.