Subjected to Over 40 Different Methods of Torture, Chongqing Physician Imprisoned Again
December 31, 2019 | By a Minghui correspondent in Chongqing, China
(Minghui.org) Dr. Wu Qun, a physician and former pharmacy owner in Chongqing, China, has been incarcerated and taken to forced labor camps multiple times for practicing Falun Gong. He has been tortured in over 40 different ways.
One November 28, 2018, Dr. Wu was arrested again and sentenced to 3.5 years in prison. He was taken to Yongchuan Prison in October 2019. His family has been prohibited from visiting him, and they suspect that he is being tortured again.
This is Dr. Wu's second stint in Yongchuan Prison, where he served four years starting in 2011. He was tortured so severely that he ended up in the prison hospital.
Falun Gong, also known as Falun Dafa, is a self-cultivation discipline based on the principles of Truthfulness, Compassion, and Forbearance. Since the Chinese Communist Party (CCP) began to suppress the group in July 1999, untold numbers of practitioners have been detained, imprisoned, and tortured.
Life-Threatening Condition in Prison
Dr. Wu used to be a physician at the Chongqing Ceramics Company clinic. After he was laid off, he opened a pharmacy in 1997. His health improved significantly when he started to practice Falun Gong in 1996. Within a month, many of his ailments disappeared, including severe rhinitis, stomach problems, arthritis, and insomnia. Following the principles of Truthfulness-Compassion-Forbearance, he became kinder and more honest. "There is no one as good as you in our area," a school principal once told him.
When Dr. Wu told others about the benefits of Falun Gong, however, officers from Yuzhong District Police Station arrested him on July 19, 2010, and held him at Liziba Detention Center. He was sentenced to four years in Yongchuan Prison by Yuzhong Court in August 2011.
In prison, Dr. Wu refused to renounce his belief and joined other practitioners on a hunger strike to oppose the persecution. Guards and inmates force-fed him and other practitioners. Dr. Wu's health deteriorated severely, leaving him in critical condition. He had to be taken to the prison hospital.
On August 1, 2012, Dr. Wu's family, including his uncle, who is in his 80s, traveled to the prison in the hot summer to visit him. But their visitation request was denied. In January 2013, Dr. Wu was released on bail for medical reasons.
Over 40 Types of Torture
Prior to his most recent imprisonment, Dr. Wu was taken to forced labor camps three times and imprisoned once. He was also held in criminal detention six times, all for refusing to give up practicing Falun Gong. During those nearly eight years, he suffered more than 40 types of torture, including being beaten and burned, having his eyebrows and hair plucked out, and being almost choked to death.
Some forms of torture had unusual names:
Spicy chicken: Kicking or hitting inside and outside the legs, injuring the tendons so that the victim is unable to stand or squat down to use the toilet.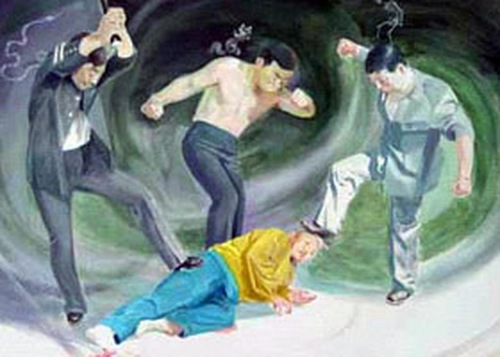 Torture illustration: Beating
Fritillary bulb: The victim is forced to bend over 90 degrees, then struck on the back with such force as to be knocked down instantly. The victim often vomits blood and can sustain internal damage and kidney failure.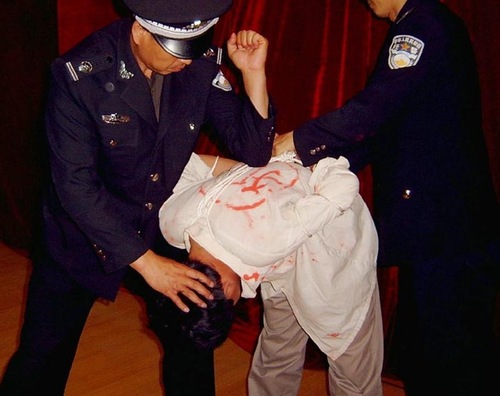 Torture illustration: Fritillary bulb (beating)
Throat tablet: The victim is punched in the throat.
Knocking through the heart: The victim is struck in the chest and back at the same time. This can be deadly.
Hoof flower soup: The ankles are struck with a cup or foot-long bamboo stick. The pain is beyond description.
Five-thunder strike: A bench or other object is used to hit the victim on the head.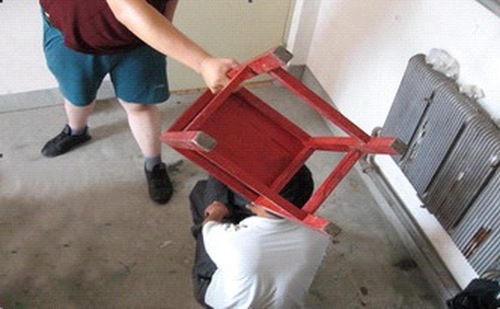 Torture illustration: Hitting the head with a bench
Other torture methods include stabbing the fingers or thighs with a needle, burning the eyebrows or fingertips with a cigarette lighter, burning the palms with a cigarette, enclosing the victim with burning mosquito coils, and plucking out hair.
Torture illustration: Stabbing the fingertips with a needle
Key Responsible Personnel:
Yang Daobin, manager of Domestic Security Division of Ba'nan Police Department: +86-23-66371361 (O), +86-15123085410, +86-23-66229612 (H)Yongchuan Prison: +86-23-49890547, +86-23-49331314
Related Reports:
Chongqing Physician Sues Former Chinese Dictator for Torture During Years of Incarceration
Doctor Wu Qun Subjected to Severe Abuse in Yongchuan Prison and Denied Family Visits