Gansu Engineer Sentenced to Three Years in Prison for His Faith
December 31, 2019 | By a Minghui correspondent in Gansu Province, China
(Minghui.org) Mr. Qu Tao of Xiahe County, Gannan Tibetan Autonomous Prefecture, was sentenced to three years in prison on November 15, 2019 for refusing to renounce his faith in Falun Gong, an ancient spiritual discipline that has been persecuted by the Chinese communist regime since 1999.
The sentence came more than two years after he was arrested. Mr. Qu, who is currently held at Xiguoyuan No. 3 Detention Center, has since appealed the verdict.
Details of Arrest
Mr. Qu, a 46-year-old engineer in the Transportation Bureau, was arrested at home on August 31, 2017 together with his wife. A team of officers from the Domestic Security Division and local police station had impersonated property management staff and deceived the couple into opening their door. They confiscated many personal items, including Falun Gong books, computer, cell phones, and 90,000 yuan in cash.
After Mr. Qu was taken to Chenguanying Police Station, he was hung up on a tree and beaten in his chest and stomach. He was also deprived of sleep. Mr. Qu's wife was released four days later, while Mr. Qu remained in custody.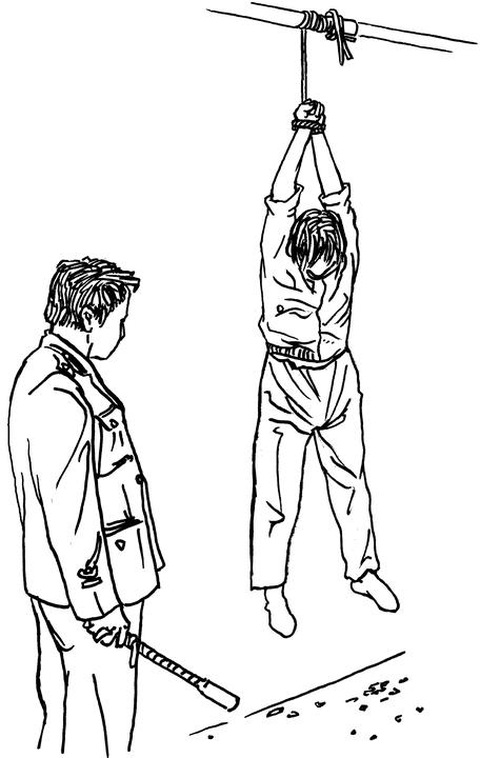 Torture illustration: Hung up and beaten
The Domestic Security Division submitted Mr. Qu's case to the Xigu District Procuratorate, but the case was returned. The Chengguan District Procuratorate later accepted his case. A month later, Mr. Qu was indicted.
Family and Friends Barred from Attending Trial
Mr. Qu stood trial on November 2, 2018. His wife, son, parents, younger brother and sister-in-law, and colleagues and friends traveled to the Chengguan District Court, only to be rejected at the door by the authorities.
During the trial, which lasted about an hour, Mr. Qu's lawyer entered a not guilty plea for him. Mr. Qu also defended himself.
When the hearing ended, Mr. Qu was taken out of the courtroom in handcuffs. When his mother saw him, she rushed up to hug him and refused to let go. Mr. Qu's wife also hugged him tightly. The police pulled them down the stairs and stuffed Mr. Qu into a police car before driving off.
Older Brother Forced to Leave Home
A day after Mr. Qu and his wife were arrested, the police ransacked the home of Mr. Qu's older brother, Mr. Qu Yuan, also a Falun Gong practitioner. The police confiscated his Falun Gong books, a computer, a laptop, and a printer.
Mr. Qu Yuan, 50, who works at the State Economic and Trade Commission, was forced to leave home to avoid the persecution.