French Falun Dafa Practitioners Wish Master Li a Happy New Year
December 31, 2019 | By a Minghui correspondent in Paris, France
(Minghui.org) Falun Dafa practitioners in France gathered at the Arc de Triomphe, a world renowned Parisian tourist attraction, to wish Master Li Hongzhi a happy new year and to convey their gratitude.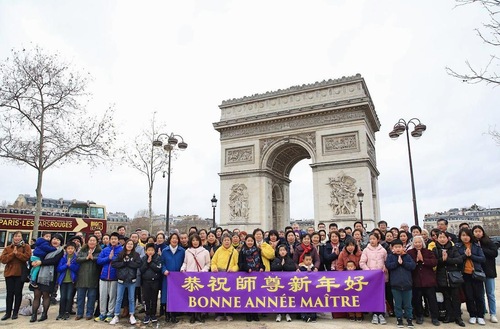 Practitioners in France gathered at the Arc de Triomphe in Paris to wish Falun Dafa's founder, Mr. Li Hongzhi, a happy new year.
Westerner practitioners shared their experiences of how practicing Falun Dafa helped them become better people and improved their health.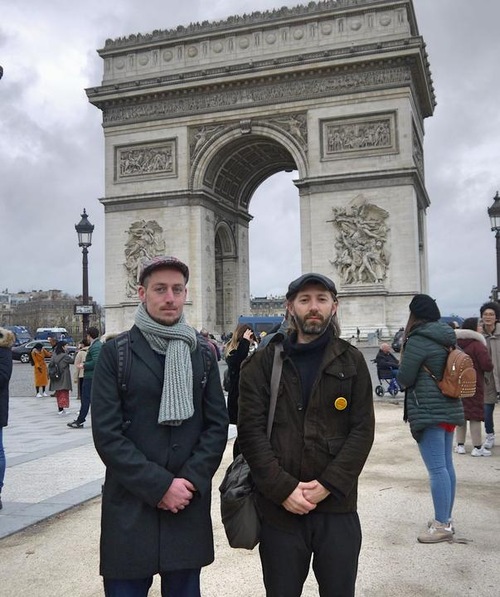 French practitioners Vladia (left) and Christophe.
Vladia is an assistant for after-class activities at an elementary school and kindergarten. He first heard of Falun Dafa many years ago when he was given a flier about the state-sponsored forced organ harvesting from practitioners in China. He started practicing Falun Dafa in 2016 and soon quit smoking and drinking. He felt stronger and healthier. "People around me noticed that my outlook and demeanor became positive. Falun Dafa is really powerful," Vladia said.
Vladia said he also became more modest and considerate of others. "My attitude in art training also changed. Now I can attend every activity humbly. After I adjusted myself, many things turned out better," he added.
"I follow the principles of 'Truthfulness, Compassion, and Tolerance.' I take care of my family, and I am truthful. Even when people provoke me, I'm able to tolerate stressful situations. The changes in my body and mind are tremendous."
Christophe, a baker, said that after he began practicing Falun Dafa, his mind became more focused and clear. "I have fewer negative thoughts and can work more efficiently. My body is full of energy, and I rarely feel tired now," he said. "The meditation is very effective. I've become calmer and more attentive to the people around me."
He had a short temper in the past and easily lost patience when things were not as he expected. "By following Falun Dafa's teachings, I can control myself. I noticed that many problems were just resolved by themselves. The quality of my life is better," Christophe said.
"I truly appreciate Master Li for introducing Falun Dafa. We can freely practice Falun Dafa in France. I hope the persecution in China will end immediately," he said.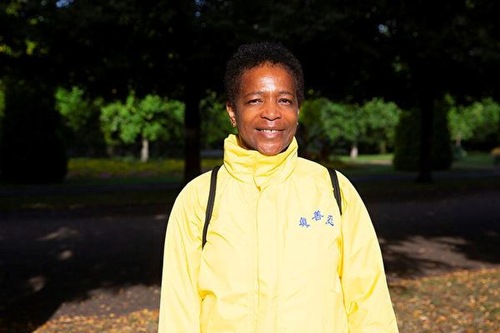 French Falun Dafa practitioner Veronique
Veronique retired as the dean of a medical center. In 2001, her sister visited her in Guadeloupe and brought her the main book of Falun Dafa's teachings, Zhuan Falun . She loved the book very much and read it many times. In 2003, she contacted several local practitioners and started practicing Falun Dafa.
She said her long-term ailments, including facial paralysis, sciatica, and fibroma soon disappeared. But some symptoms of old ailments reappeared, like bronchitis, joint pain, and intercostal herpes. She knew it was part of the cleansing process and continued practicing the exercises and studying Dafa. After a month, all the symptoms were gone.
Veronique said happily, "I feel young. I am stronger and more resilient." She said practicing Falun Dafa helps her feel energetic; she doesn't need to sleep long but is alert, relaxed and patient.
The teachings of Falun Dafa also enabled her to handle problems of family, friends and work with ease. Veronique recalled her experience of attending the Falun Dafa Experience Sharing Conference in Washington, D.C. in 2007, "As I sat in the conference hall, I felt immersed in a powerful energy. Every cell in my body, my every thought, and my entire body was breathing in Dafa elements. I became a particle of Dafa, and my heart was filled with Truthfulness, Compassion, and Tolerance.
"Thank you, Master, for giving us the opportunity to cultivate!" Veronique said.