Mother of Teenager Dies in Prison Hospital While Serving Time for Her Faith
October 30, 2019 | By a Minghui correspondent in Shanxi Province, China
(Minghui.org) Ms. Cui Yutao, a Falun Gong practitioner in Datong City, Shanxi Province, died in Taiyuan Prison Hospital on October 23, 2019, at the age of 50.
Ms. Cui had been detained at least ten times during the past two decades because of her belief. Her most recent arrest occurred on December 1, 2016, when she was distributing Falun Gong materials. She was taken to Datong First Detention Center, leaving her then 10-year-old son without his mother's care.
Ms. Cui was sentenced to 3.5 years in Shanxi Women's Prison, where her health deteriorated due to the abuse she had suffered. She was listed in critical condition on more than one occasion, yet the prison authorities refused to release her or allow her family to visit. She didn't get to see her teenage son or other family members before her death.
Falun Gong, also known as Falun Dafa, is a meditation system based on the principles of Truthfulness-Compassion-Forbearance. After the Chinese Communist Party (CCP) began to persecute the practice in July 1999, a large number of practitioners have been arrested, detained, imprisoned and tortured.
Sentence and Imprisonment
Ms. Cui appeared in Kuangqu Court on January 17, 2017, and only three of her family members were allowed to enter the courtroom. Even before she was brought in, people could hear the sound of her shackles. Her family noted that her handcuffs and shackles were linked together, and she had great difficulty walking.
A court marshal ordered Ms. Cui to sit in a metal chair used for restraining felons. When asked by another defendant's lawyer to remove the restraints, the court marshal removed the handcuffs from Ms. Cui, but then fastened her hands to the two iron rings connected to a wooden board on the metal chair. Her own lawyer protested the intensified physical abuse and humiliation, but to no avail.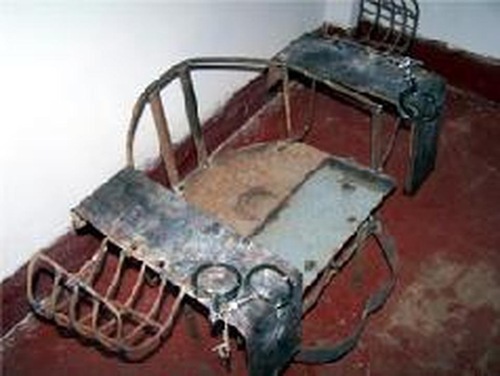 Torture illustration: Metal Chair
The prosecutor accused Ms. Cui of being a fugitive. However, she had been going to work regularly before she was arrested. Her lawyer refuted the charges against her and requested her release. Ms. Cui also defended her own innocence, saying that her freedom of belief should be protected and she did not cause any harm to anyone. The trial lasted 7 hours.
The Kuangqu Court sentenced her to 3.5 years on March 12, 2017, and she was taken to Shanxi Women's Prison four months later.
The physical and mental abuse continued in prison. Due to her poor health, Ms. Cui's family repeatedly requested her release, but they were ignored and denied a chance to see her for the last time before her death.
Force-fed at Detention Center
Ms. Cui, 50, was a former employee of the Datong Mining Industry and Commerce Bureau. After she began to practice Falun Gong, she followed the principles of Truthfulness-Compassion-Forbearance to be a better person, which won the respect of her neighbors. She worked hard and never took advantage of her role for her own benefit like other coworkers.
After the persecution of Falun Gong began in 1999, Ms. Cui was arrested more than 10 times. She went on hunger strikes over 10 times to protest and was mistreated harshly.
Shengjie police arrested Ms. Cui in July 2009 as she talked with someone about Falun Gong. The local detention center guards forced her and other detainees to make string lights without pay. She was only allowed to sleep for less than two hours a day and the food given to her was bad.
As Ms. Cui protested with a hunger strike, the guards ordered some inmates to force-feed her. The inmates took turns stuffing food or water into her mouth. When Ms. Cui refused to yield, they slapped her in the face, did not allow her to speak, and deprived her of meals and toilet paper.
On July 31, 2009, the guards ordered 10 inmates to hold Ms. Cui down on the floor. Some held her arms and legs, while others force-fed her. When she resisted, the guards ordered the inmates to beat her. They slammed her head against the wall and swore at her. The force-feeding lasted five days, and Ms. Cui's mouth and tongue were injured. The detention center management was aware of her abuse, but they ignored it.
Cheng Hong, Deputy Director of the Detention Center, hit Ms. Cui in the head twice when he first saw her. He also beat her again at a later time and slandered Falun Gong. Ms. Cui was sent to the Xindian Labor Camp on August 6, 2009, but she was denied admission for health reasons. She returned home the next day.
Beaten at Black Jail
Datong police, Datong 610 Office, and local police officers arrested many Falun Gong practitioners on December 23, 2010, and ransacked their homes. The practitioners were then kept at a black jail on the third floor of Meixiangchun Hotel.
Upon being brought to the hotel, Ms. Cui was tied in a chair for interrogation, and she called out "Falun Dafa is good" as well as "Truthfulness-Compassion-Forbearance is good." When a deputy director of the Datong Police Department came on the next day and heard this, he beat Ms. Cui with a black leather notebook. After he struck her over 10 times and the notebook was broken, he continued the beating with the leather cover. People at the scene were shocked by his brutality. By then, fluid came out of Ms. Cui's eyes and her eyes were swollen shut. She also felt as if her eyeballs were about to pop out due to the beating.
Ms. Cui was on a hunger strike since she was arrested. She was force-fed as soon as she was moved to a detention center on December 26, 2010. Guard Ma Xiuhua force-fed her three times a day. Several inmates pinched her face and nose, leaving bruises on the face. They also poked her mouth with spoons until the spoons were damaged. After force-feeding, inmates threw her on a bed and grabbed her by the hair to prevent her from lying down.
Ms. Cui was sent back home on January 6, 2011. At that time, her blood pressure was not detectable and she was in a life-threatening condition.
Psychiatric Abuse
Wang Zhilong, Domestic Security Bureau chief from Datong Mining Police Department, and agents from Xinshengjia police arrested Ms. Cui on June 20, 2011. The officers did not present a search warrant or follow legal procedures during the arrest.
When her family was told to pick her up on July 1, the once-healthy Ms. Cui was on the verge of death. As a result of forced-feeding and injection of unknown drugs, she was mentally unstable.
Related Reports:Ms. Cui Yutao Sentenced to Three-and-a-Half Years in Prison
Ms. Cui Yutao from Datong City, Shanxi Province Suffers Mental Collapse in Police Custody (Photo)
Officers and Guards Cruelly Torture Ms. Cui Yutao in Datong City, Shanxi Province