Ms. Cui Yutao from Datong City, Shanxi Province Suffers Mental Collapse in Police Custody (Photo)
July 12, 2011 | By a Clearwisdom correspondent from Shanxi Province, China
(Clearwisdom.net) Ms. Cui Yutao was arrested at home around noon on June 20, 2011. Participating were Datong City Mining District Domestic Security Division head Wang Zhilong, a driver surnamed Liu, along with Wang Li and two other officers from Xinsheng Street Police Station. The police confiscated CDs containing information about Falun Gong and other personal belongings. Ms. Cui was later taken to the Datong City No.1 Detention Center.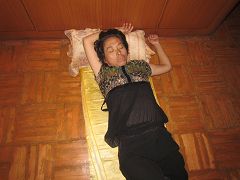 Photo of Ms. Cui Yutao after suffering a mental collapse in police custody
On July 1, 2011, police station officials contacted Ms. Cui's family and told them to go to the detention center and take her home. When they saw Ms. Cui, she appeared to be on the verge of death and exhibited severe symptoms of a mental breakdown. She has not recovered since returning home.
Ms. Cui has been arrested many times in the past and was subjected to beatings and force-feedings. Her symptoms are so severe after the recent arrest, her family is worried she may not survive.