Ms. Cui Yutao Sentenced to Three-and-a-Half Years in Prison
April 13, 2017 | By a Minghui correspondent in Shanxi Province, China
(Minghui.org) Ms. Cui Yutao from Datong City was sentenced to three-and-a-half years in prison on March 12, 2017, for practicing Falun Gong.
Ms. Cui was put on trial in the Kuangqu District Court on January 17, 2017. Only three of her family members were allowed to enter the courtroom. The other seats in the gallery were occupied by strangers.
When Ms. Cui was brought into the courtroom, she did not look good. She had difficulty walking because her handcuffs and shackles were tied together. The bailiff ordered Ms. Cui to sit on an iron chair, which is especially designed to torture prisoners.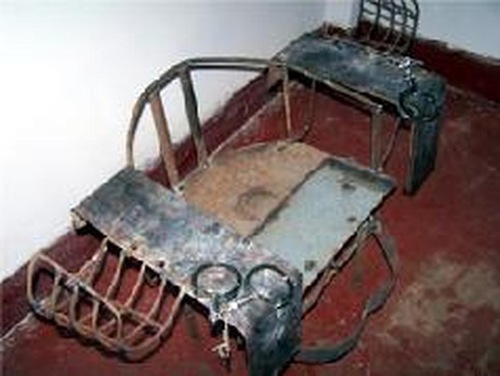 Torture Instrument: Iron chair
When another defendant's attorney demanded that they remove the shackles, the bailiff took off Ms. Cui's handcuffs but then fastened Ms. Cui's hands to the two iron rings connected to a wooden board on the iron chair. Ms. Cui's attorney protested strongly, arguing "This is not taking off her handcuffs, this just makes it worse."
Presiding judge Zhuang Guizhen ignored the attorney's protest and asked whether anyone needed to be recused. Ms. Cui's daughter requested that prosecutor Zhang Jinyu be recused. The attorney listed to her reasons and submitted the appropriate document.
Another defendant's attorney requested that another prosecutor to be recused, because he was not listed in the indictment.
The judge asked for a half-hour recess. The collegial panel decided that the judge's request was not valid. Ms. Cui was brought back into the courtroom in handcuffs and shackles again.
The judge asked Ms. Cui her name and her home address, but Ms. Cui could not answer. She seemed to be confused.
The prosecutor accused Ms. Cui of being a fugitive. However, she had been going to work regularly before she was arrested and taken away.
The prosecutor recommended that Ms. Cui be given a seven- to nine-year sentence. Her attorney stood up and refuted the prosecutor's accusations one by one. He demanded that Ms. Cui be released.
Ms. Cui asked the prosecutor, "Is it a crime to have a spiritual belief? Doesn't China's constitution guarantee freedom of belief? All I did was to try and help people, and I did not harm anyone."
The hearing lasted 7 hours. The verdict was delivered on March 12, 2017.
Related Articles:
Ms. Cui Yutao from Datong City, Shanxi Province Suffers Mental Collapse in Police Custody (Photo)Officers and Guards Cruelly Torture Ms. Cui Yutao in Datong City, Shanxi Province