Bringing Hope to People Stricken with Incurable Diseases
August 21, 2018 | By a Minghui correspondent
(Minghui.org) Many people who practice Falun Gong, an ancient spiritual and meditation practice, have found themselves enjoying good health and a high energy level, including those who used to suffer from devastating and incurable illnesses.
Despite rapid advances in modern medicine, many illnesses remain incurable. But that's usually not the case for Falun Gong practitioners.
Since its public introduction in May 1992, Falun Gong has brought improved health and well-being to more than 100 million people. The practice consists of moral teachings and five gentle exercises.
The ancients believed in a deep connection between one's mind and body. They believed that one can experience life-changing improvement in one's physical and mental health through disciplined spiritual practice without the aid of medicine.
According to a survey of 12,731 Falun Gong practitioners conducted in Beijing in 1998, 98% of respondents reported a drastic improvement in their health after they began the practice.
Many report complete recovery from chronic diseases, including cancer, diabetes, hepatitis and heart disease. Others lose the urge to smoke and let go of tobacco and other addictions almost overnight.
The following are several remarkable recoveries practitioners have made after they began to practice Falun Gong.
Polycystic Ovary Syndrome Patient Gives Birth to Healthy Baby
Becoming a mother is the dream of many women. However, this dream almost could not be realized for Christy.
She suffered from a rare polycystic ovary syndrome and had very irregular periods. Her doctors told her that her chances of getting pregnant were very slim.
In addition, she had trouble adapting to her surroundings and suffered from constant anxiety and depression. She often drank alcohol or locked herself in her room to relieve the pain of her struggle. Even after she began to take antidepressants and receive counseling, things didn't change much for her.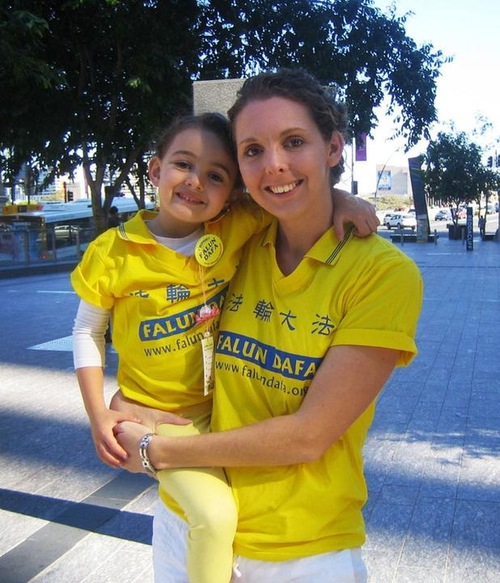 Christy and her daughter at a Falun Gong event in 2010
In 2003, Christy suddenly decided to travel to Australia. She would have never expected that her life would take a turn for the better.
In Australia, she fell in love with a Falun Gong practitioner, Steve. She gradually began to learn about Falun Gong and started practicing very soon after. Christy and Steve got married in November 2003. In February 2004, she was surprised to find that she was pregnant. Her daughter is now 14 years old.
In addition, Christy is no longer the introverted girl who lacked self-confidence and always felt downtrodden.
"Falun Dafa taught me to step back when I encounter problems. When facing adversity, I look inside and recognize: 'This is a blessing for me. It is giving me a good opportunity to improve my character.'" she said.
Longtime Sufferer of Degenerative Bone Disease Finds Renewed Health
Leon Lemmon worked for 23 years as a business coordinator for a petroleum giant in Houston. Despite his successful career, Leon suffered from pain in his upper femur.
Due to an injury when he was only eleven, he received surgery on both femurs. He couldn't sit with his legs crossed and had difficulty walking. Years of friction on these bones made his pain worse and worse. He was diagnosed with femur bone degeneration in 2001 and went through another surgery to have his right femur replaced. His doctor then informed him that his left one would require replacement in a few months.
In January 2002, his wife Julia began to practice Falun Gong and also suggested that Leon give it a try. Leon agreed.
When he learned the exercises from his wife, he could only meditate by sitting on a wooden stool due to the pain in his legs. Gradually, he felt his bones and muscles being strengthened as he did the exercise daily. Eventually, he could sit on the hard floor to meditate with his legs crossed. His left leg no longer required surgery. His high blood pressure also disappeared.
Now he is full of energy, and his back and bottom don't hurt even after he stands for a whole day.
Purdue Ph.D. Recovers from Rheumatoid Arthritis
Ms. Liao Pei-ju was studying at Purdue University for her Ph.D. degree when she began to suffer from rheumatoid arthritis in 2004. She had pain all over her body and often woke up in the middle of the night as a result.
While searching online for information about rheumatoid arthritis, she came across articles from Falun Gong practitioners in China who shared their experiences of recovering from incurable diseases.
She decided to give it a try. She downloaded Falun Gong books and an exercise instruction video.
She went back to her home in Taiwan, where there are many Falun Gong practitioners who could help her. She joined a practice site close to her home. Half a month later, she was surprised to find her symptoms going away, and she was able to walk normally again.
Many of her relatives also began to practice Falun Gong after witnessing her changes.
Poet's Life-Threatening Illness Disappears
Ms. Wang Lihua is a poet who teaches at the Chinese Language Department of Jing Yi University in Taiwan.
Although she enjoyed good health before, she began to feel weak and often collapsed with high blood pressure since 1990. Some doctors said she had hypertension, while others thought she had a stroke, intermittent cerebral ischemia, allergies, or asthma. None of them was able to pinpoint the root cause of the strange disease she had.
To cure her illness, Ms. Wang tried all kind of heart-disease medicine, but her condition still didn't improve. She even had internal bleeding due to an overdose of medication. Even a slight touch on her body would easily cause a buildup of blood.
Over time, her illness got worse. She couldn't use chopsticks, swallow food, or write. When she woke up, she was not able to get up, and she had to call her students to help her. Later on, she developed depression and lost hope for the future.
In 2004, Ms. Wang met a well-known cardiac doctor, who ruled out the possibility of a heart problem. He recommended that she see a neurological expert. After going through a number of checkups, she was diagnosed with Multiple Sclerosis, a disabling disease that can't be cured yet.
After her nephew heard about her condition, he suggested that she practice Falun Gong. Her nephew studied with another professor at the same university who practices Falun Gong and often shared with him stories of seriously ill patients regaining health after practicing Falun Gong.
Encouraged by her nephew, Ms. Wang asked for Falun Gong books from that professor.
"The moment I picked up the book Zhuan Falun and started reading it, I felt a surge of heat that circulated in my entire body. I couldn't describe how comfortable I felt," said Ms. Wang.
Three days later, Ms. Wang went back to the hospital for a follow-up exam. A puzzled doctor told her that her condition had improved.
Through consistent practice, her health gradually improved, and all of her symptoms eventually went away. Once at her wit's end, Ms. Wang is now full of inspiration to write poems again.
Former National-Level Basketball Player Healed of Debilitating Injuries
Ms. Wang Jinju, a former national-level basketball player in China, suffered multiple injuries and paralysis at age 40 due to year-round training. She was in pain all day and eventually became paralyzed and bedridden.
She saw many renowned doctors at the country's top hospitals, to no avail. Doctors told her that she would have to rely on a wheelchair for the rest of her life.
When she was in extreme pain with no hope of recovery, a friend recommended Falun Gong and told her that many people who had incurable illnesses recovered after learning the practice. She gave her a copy of Zhuan Falun, the main text of Falun Gong.
When she read the book, Ms. Wang was deeply drawn to the principles it expounded upon.
Several days after she began the practice, she was surprised to find that she could slowly sit up. Then she could slowly stand up, and later she could move around and take care of her daily needs. More miraculously, she returned to basketball and became a coach.
Many of her friends and relatives witnessed her changes and also started to practice Falun Gong.
Now in her 60s, Ms. Wang remains active and nimble. "Without Falun Gong, I would still be in a wheelchair today. Falun Gong renewed my life," she said.
Senior Engineer Recovers from Hepatitis B
Mr. Wang Zhongming, a senior engineer at China Metallurgical CISDI Engineering, struggled for eight years with Hepatitis B. He was diagnosed with the disease only one month after he started working at CISDI. This was a heavy blow to Mr. Wang, who had many goals and dreams to pursue in his life.
Mr. Wang lost a tremendous amount of weight as the illness progressed. He often felt dizzy and sick. He was hospitalized three times in seven years. He saw many doctors and tried both Western and Chinese medicine. He tried qigong, but nothing helped. Although married, he could not have children because he feared the disease would affect his child's health.
During a trip to Shanghai in 1996, he learned about Falun Gong. Soon after he began to practice the Falun Gong exercises, his health improved, and all symptoms of Hepatitis B vanished. A few months later, his family and friends were amazed to find him full of energy.
Mr. Wang's story turned to a new page. He and his wife had a child in 1997, and Wang was recognized for his outstanding achievements.
Managers and colleagues alike deeply appreciated his work. He received a Model Employee award four years in a row, and his story was posted on the bulletin board at the main entrance of his company.
80-Year-Old Retired University Provost Now Kinder and Younger-Looking
Professor Xie Kun, former Provost and Director of the Xi'an Shiyou University Library, was hospitalized many times due to kidney disease. Suffering from tachycardia and low blood pressure, he almost died in 1985 from a coronary artery blockage. His other ailments included stomach problems, cholecystitis, a cyst on his liver, a nervous disorder, and piles. Of the more than two thousand employees of the university, his health was one of the worst. He often kept 7 different medications with him and had to be hospitalized twice a year.
One morning in July 1997, Mr. Xie saw a group of people exercising together in a park. That evening, he was invited to watch video lectures given by Mr. Li Hongzhi, the founder of Falun Gong. He was impressed that the practice taught one to be a better person and to be considerate of others.
People who knew him first noticed that he was more patient than before. Mr. Xie had always been demanding and short-tempered. Now, he was more tolerant and got along well with family, friends, and coworkers. He was always willing to help anyone who needed it, at work or at home.
His health also improved significantly. Because of his gastritis, he had been picky about his food and had stomachaches. They disappeared, as did his insomnia and other ailments.
During a routine physical one year after beginning to practice Falun Gong, all of Mr. Xie's health indicators were normal. He has been full of life ever since and has not needed any medication in the past two decades.
Although he is almost 80, he appears to be only in his 60s.
Previous reports on above practitioners:
Toronto, Canada: A Rally and Parade to Celebrate the 20th Anniversary of Falun Dafa's Public Introduction
Recent Floods in China Bring to Mind Falun Gong Practitioners' Altruism during the Massive Floods of 1998
The Benefits of Falun Gong (Part 6): Two Senior Engineers
Textile Expert Joins Wave of Lawsuits Against Jiang Zemin
The Chief Engineer of the Textile Enterprise Group in Weihai City Has Disappeared After Intense Monitoring by 610 Office Agents
Former Deputy General Manager of Weihai Textile Group Missing for a Month
University Provost in The Benefits of Falun Gong (Part 1): Academics
Poet's Life Threatening Illness Disappears after Practicing Falun Gong
Internet Freedom Provides Hope
Long-time Sufferer of Degenerative Bone Disease Finds Renewed Health After Practicing Falun Dafa
Western Practitioner: "Practicing Falun Dafa Gave Me Good Health and Self-Confidence"